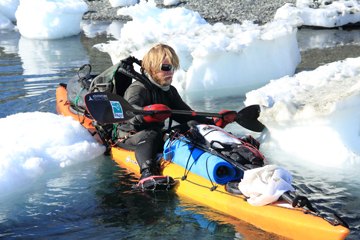 September 22, 2011 - Seattle, Wash. - Jon Turk, renowned explorer, and Erik Boomer, a professional kayaker, have become the first individuals to complete a full circumnavigation of
Ellesmere Island
; one of the closest points of land to the North Pole. The duo skied, trekked and sea kayaked over 1,400 miles on the rugged coastline, facing treacherous moving ice, imposing glaciers, and vast rock cliffs.
The team originally included a second professional kayaker, Tyler Bradt. Unfortunately, Bradt suffered a serious back injury just prior to the launch of the expedition and had to withdraw. With a 40-year age gap between Turk and Boomer and having never met prior to this expedition, the two relied on one mantra that they both brought from their respective fields, "patience and decisiveness."
This feat was not met without challenges along the way. Boomer had a close call with a territorial walrus that tried to attack his kayak while he was paddling along the coastline. Boomer was able to fight off the walrus with his paddle and avoid a potentially dangerous situation. On another occasion, while the team was trying to fall asleep, a polar bear took a bite out of Boomer and Turk's tent. After finding the tent un-appetizing, the bear and his friends moved on leaving the two to sleep with one-eye open for the rest of the night.
Despite a few frightening encounters with local wildlife, it was the day-to-day work of navigating the continuously changing paths of the floating ice fields that presented the most danger. Many times there were only inches that separated their boats from these massive ice glaciers. Both men had to regularly jump out of their kayaks and pull their boats up on the ice in order to avoid a collision; something that could have damaged their only means of transportation (and protection)
The two made the majority of their trek in
13-foot Wilderness System Tsunami 135 kayaks
. Largely considered a recreational sized boat. Boomer and Turk were regulated to these smaller boats because they were the largest the prop plane that would drop them off on Ellesmere could carry. This was also the key factor in determining what gear they could bring on this expedition. They were outfitted in
First Ascent
apparel through First Ascent's
BeFirst program
, which awards individuals who are taking part in "first ever" expeditions. They were also recipients of the
Polartec Challenge Grant
and were sponsored by
Wilderness Systems
and
AT Paddles
.
Turk noted that, "I didn't even have space to bring a down jacket. We used our life vests as insulation layers because everything we brought had to pull double duty. Our gear selection was crucial to our successful expedition and we are very thankful for our sponsors support."
The First Ascent gear of choice for the expedition was the
BC-200 Jacket
,
Rainier StormShell Pants
and the
Igniter Jacket
. Boomer and Turk also tested a prototype Eddie Bauer / First Ascent tent, which will be introduced into the First Ascent line this Spring.
To find out more information, please check out Jon Turk's website here:
http://www.jonturk.net/
Jon Turk and Erik Boomer are also available for interviews upon request.
About Eddie Bauer
Established in 1920 in Seattle, Eddie Bauer is a specialty retailer that sells sportswear, outerwear, gear and accessories for the active outdoor lifestyle. The Eddie Bauer brand is a nationally recognized brand that stands for high quality, innovation, style and customer service. Eddie Bauer products are available at approximately 352 stores throughout the United States and Canada, through catalog sales and online at
www.eddiebauer.com
. Eddie Bauer is proud to be named a J.D. Power 2011 Customer Service Champion and is only one of 40 companies so named in the U.S
About Polartecr Challenge Grant
Every year world-class athletes benefit from the Polartecr Challenge, an international award program encouraging the spirit and practice of outdoor adventure. From the sharp granite cliffs of Southern Africa to heights of the Himalayas, these men and women are dedicated to the pursuit of excitement and discovery. Read their accounts of these incredible once-in-a-lifetime experiences and how Polartecr helped them achieve their dreams of realizing them.