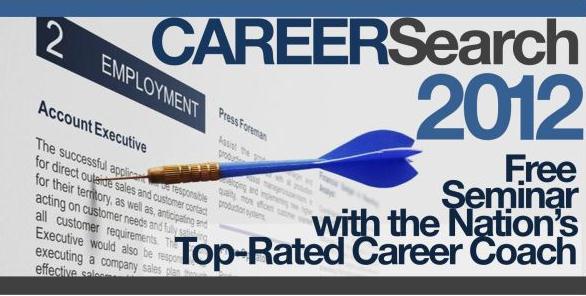 Job Seekers: Start 2012 off with the most cutting-edge career search tools and strategies for today's professional!
Facilitated by the Nation's Top Rated Career Coach, Dieter Hertling of Emprove Performance Group!
LIVE IN ORANGE COUNTY, CA - Saturday, January 14, 2012 - 9am-4pm
Career Search Strategies (CSS) 2.0 provides job seekers with proven strategies and tools for landing the ultimate career! Times are tough, and with the market being saturated with highly-qualified candidates, you have got to have an edge! This program is brought to you in community partnership by Emprove Performance Group and Friends Church of Yorba Linda.
Complimentary registration is now open for Career Search Strategies 2.0! This highly-acclaimed job search system that everyone is talking about, was recently rated by your colleagues as the #1 Job Search Strategy Program for 2011! Join the thousands of professionals who have landed jobs with this highly motivational and progressive program!
This full-day program will enable you to:
Build a POWERHOUSE Resume and get it to the top of the pile.
Learn how to optimize your resume with proprietary keyword optimization tools to ensure effectiveness and results with today's complex applicant tracking systems (ATSs).
Create a powerful career search brand...that actually WORKS!
Build a personal and professional career website in three simple steps.
Learn how to be found in a Google search and stay on top!
Maximize the use of LinkedIn™ by creating a Powerhouse Profile.
Build a career network of the people who actually make the hiring decision.
Maximize the use of Twitter and other social networking tools to create awareness and ex-citement about your job search brand.
Learn how to build, and communicate with, a database of over 2,000 qualified Recruiters.
Learn how to design and create press releases and email campaigns to promote your brand.
Understand how to use the power of LinkedIn™, Twitter™ and other social media tools for networking and marketing your profile.
Gain access to proven scripts, cover letters, email templates and more for powerful and direct communication to hiring managers and recruiters.
Learn how to facilitate today's behavioral interviews to effectively convey the value you bring!
Develop the critical skills required to deliver successful phone, Skype and face-to-face interviews.
Develop and execute a comprehensive career marketing strategy to blow the competition away!
Build a comprehensive interview presentation package to blow them away at the interview table.
Advance Registration is required and seating is limited so register early!
WHEN: SATURDAY, JANUARY 14th 2012
9:00 am to 4:00 pm
WHERE: Friends Church—Yorba Linda
5141 Lakeview Avenue
Yorba Linda, CA 92886
REGISTER AT: www.CareerSearch2012.com