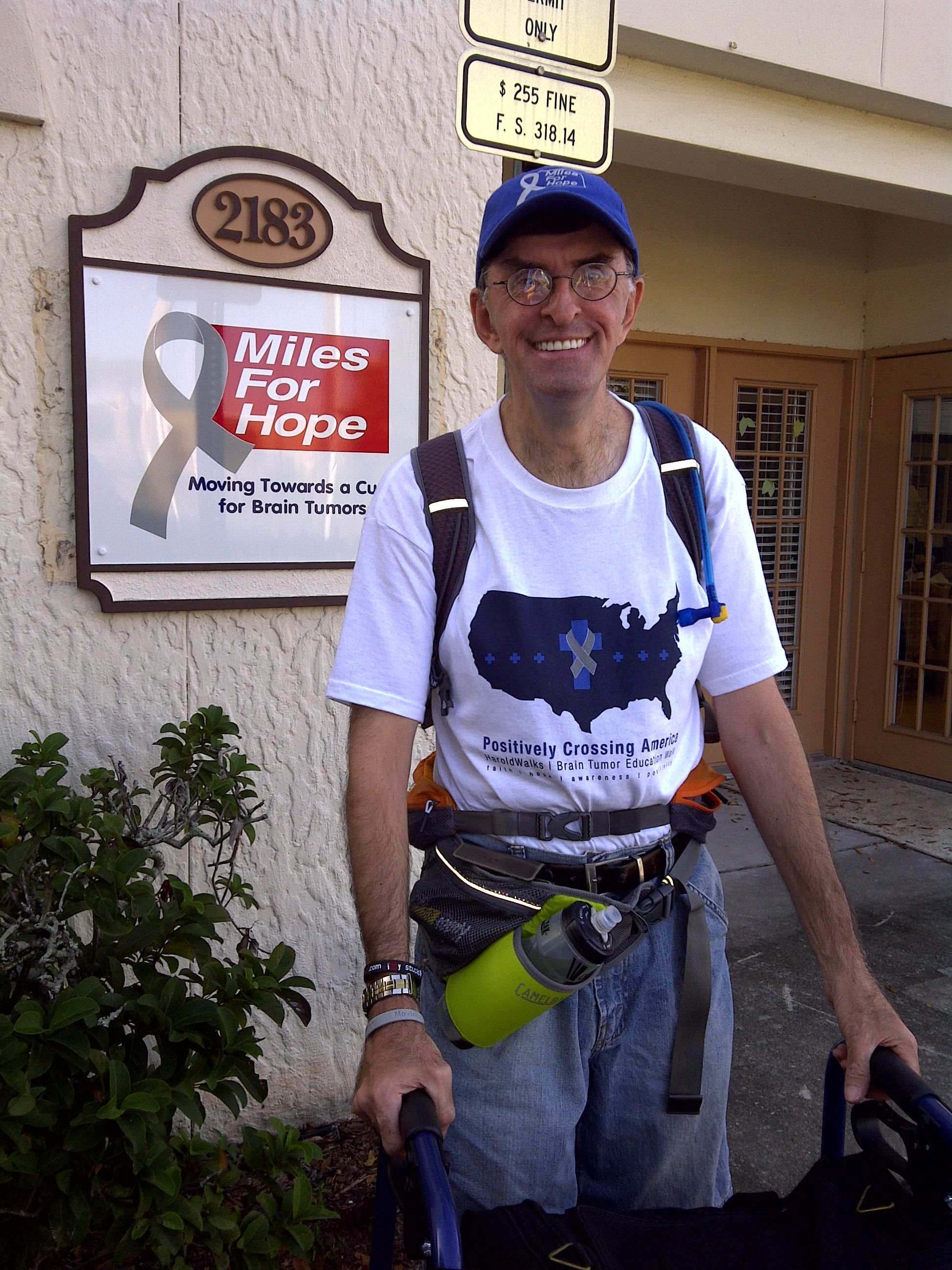 Just over 5 years ago, Harold Cameron was diagnosed with having 2 brain tumors; an Acoustic Neuroma and a Meningioma, and has treated that life event differently than anyone would have expected. Because of his exceptionally positive approach to life, Harold decided to devote every measure of his energy, time and resources to being an advocate for others.

"I have been given a great gift. I am able to share the good news of how having faith in God, a love for God and others and having hope can radically transform a person's life. It has mine," Harold says, "I am just an ordinary man who believes in an extraordinary God!"

Cameron launched his historic "Positively Crossing America And Back" charity walk on Saturday, April 2, 2011 in Scranton PA.
The "Positively Crossing America And Back" charity walk is for the benefit of the brain tumor charity, Miles For Hope www.milesforhope.org which provides awareness and education about Brain Tumors and Brain Cancer, as well as funds important clinical trials and provides patient transportation assistance to Cancer centers throughout the US.

Cameron is CEO & President as well as Consumer/Corporate Advocate for HaroldSays, Inc., a PA not-for-profit organization, based in Scranton PA. Harold is doing this historic walk across America and back with 2 brain tumors and a walker because he believes that hope is a powerful force.
"I am most excited about the opportunity to share a message of hope, the message that you can live life to the fullest, regardless of your circumstances," said Cameron.

Harold's "Positively Crossing America And Back" charity walk will bring him to venues, large and small, all across the United States. Major cities he will be visiting include: Harrisburg, PA., Philadelphia, Baltimore, Washington, D.C., Lynchburg, VA, Nashville, TN, Raleigh, N.C., Miami, New Orleans, Houston, Dallas, Los Angeles, Seattle, WA., Chicago, New York City, Bangor ME., and many more.

Over the past several months, Harold has lined up a number of corporate sponsors to support his mission, but now, just over a month into his walk, has found himself challenged with sleeping accommodations. In fact, Harold is now sleeping in his chase car in parking lots along his route.

As a proud corporate sponsors of Harold's amazing mission, Emprove Performance Group, a Seattle-based career development and career coaching firm and Top Recommended People, a LinkedIn networking group of the nation's top recommended professionals, are working to procure sleeping accommodations for Harold's walk. Currently, Harold is in Huntsville, AL and will be working/walking his way through Chattanooga and Knoxville TN, and will continue on to Asheville NC, and Winston/Salem NC on Saturday and Sunday.

Emprove's CEO, Dieter Hertling states, "On behalf of Emprove and Ross Dodwell of Top Recommended People, we are looking for individuals, families or hotels willing to assist Harold with accommodations along his route. It saddens me to hear that Harold is now forced to sleep in his chase car! Harold is an inspiration to us all and we would sadden us to see Harold's dream come to an end, due to lack of a place to sleep!"

Cameron is also looking to "partner" with companies, organizations, groups, churches, and individual "ambassadors" to help with the walk and to arrange "meet and greet events" in the communities he visits. He needs personal support from people all across the U.S. so that the basic material life needs are provided to him during the walk.

For details on Harold Cameron and his walk or to donate to the cause, people can visit www.PositivelyCrossingAmerica.com for more information.

Individuals and organizations willing to offer sleeping accommodations for Harold's walk can email Emprove Performance Group at: CSS@EmproveGroup.com. Emprove will be posting Harold's Walk Itinerary on their corporate website later today at www.emprovegroup.com.

For details on Top Recommended People, please visit their website, www.toprecommendedpeople.com.