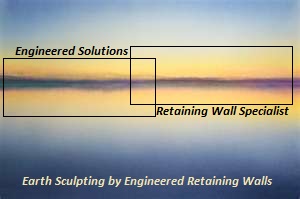 1. Get a free retaining wall project estimate, cost analysis and design consultation from a reputable local retaining wall company.
2. Be sure the retaining wall cost is in the contract and is all inclusive, (retaining wall price will not change).
3. Get proof of insurance from local retaining wall contractor before signing a contract.
4. Make sure the retaining wall project has proper permits and follows all local codes.
5. Be sure to get geotechnical engineering samples for structural sustainability.
6. Make sure retaining wall plans are stamped by state certified structural engineer.
7. Get a warranty for all retaining wall material and retaining wall construction.
8. Make sure work is performed by expirience retaining wall crews that follows engineered plans and manufacturer recomendations.
9. Be sure contract states work will be performed according to industry standards and follows a set project schedule.
10. Perform your due dilligence, get multiple retaining wall estimates and research through local companies what a quality retaining wall project will cost.
Visit www.engineeredsolutions.biz or call 1-800-651-9718 to set up an appointment!