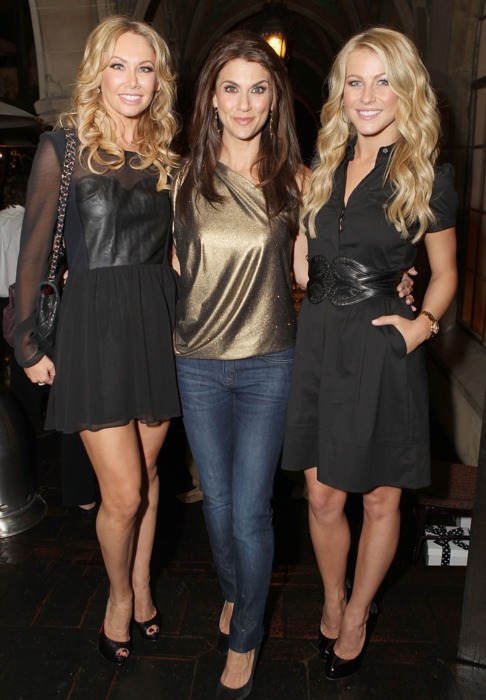 New York, NY (October 4, 2011) - In a quest to create the most "flexible" jean for women, national television personality, Samantha Harris (Entertainment Tonight) and iconic denim company, DL1961 Premium Denim, announce a new collaboration.

DL1961 Premium Denim will launch a signature jean titled the "Samantha" as part of their fall 2011 collection. After years of struggling to find the perfect jean, Harris discovered DL1961's coveted maternity jean while recently pregnant with her second child. With a design idea in mind, Harris was even further inspired by the brand's signature 4-way stretch fabric and their perfect fit, and was determined to create the jean she'd always searched for: one based on classic fit, comfort and quality construction, which are the cornerstones of DL1961's company philosophy. With a true hands-on approach, Harris and DL1961 reworked the fit of the waistband, inseam, and back pocket placement resulting in a clean and universally flattering garment that is effortlessly chic and perfect for all women.

"I am ecstatic to collaborate with DL1961 on a new concept for a stylish, sleek yet comfortably fitting jean. This new fit of jeans is something that I have wanted to do and upon meeting DL1961, I have now finally acted on it. The synergy between my idea and DL1961's expertise and already fabulous cut is perfect. I can't wait to wear them all day and night!", says Harris.

Echoing Harris' excitement, company spokesperson, Lauren Morris says, "DL is very excited to collaborate with Samantha Harris to bring a signature jean for today's women. From the moment you wear DL, you experience the fit and comfort like no other jeans you have ever worn!"
This product will retail for $178, will be available nationally at Bloomingdales, Nordstrom, Neiman Marcus, Shopbop.com and globally at www.dl1961.com



About DL1961 Premium Denim
DL1961 Premium Denim redefines what it means to have the perfect pair of jeans. DL is made with patented 4-way stretch fabric that moves 360 degrees and delivers superior shape retention, fit and comfort. The innovative fabric adapts to each unique body shape to ensure a custom fit and retains its shape from the first wash to the last - never sagging, bagging or stretching out. Please visit www.dl1961.com for more information.

About Samantha Harris
A seasoned entertainment news journalist and two-time Emmy-nominated TV personality, Samantha Harris is currently seen on the world's #1 entertainment news program, Entertainment Tonight, as correspondent.

Best-known for her eight seasons co-hosting the live ABC hit Dancing With The Stars, Harris has also shared hosting duties on The Insider, Who Wants To Be A Millionaire, The View, Good Morning America, E! News, Extra and The Next Joe Millionaire. One of her greatest honors was hosting alongside Regis Philbin, the live official red carpet pre-show for ABC's 80th Annual Academy Awards, which garnered nearly one billion viewers worldwide. Perhaps, most challenging and rewarding, Harris made her Broadway debut playing iconic 'Roxie Hart' in CHICAGO in Summer 2009.

Born and raised in Hopkins, MN, Samantha went on to graduate with honors from Northwestern University's Medill School of Journalism in Evanston, IL. She currently resides in Los Angeles, CA, with her husband, Michael, and their two daughters.