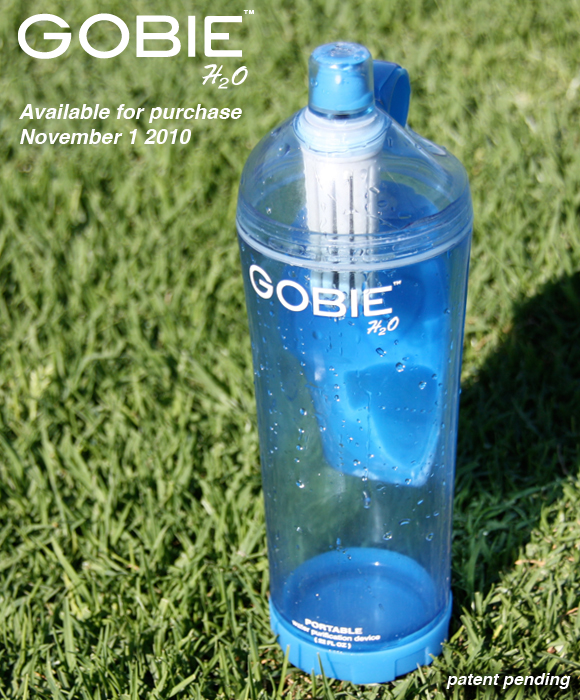 LOS ANGELES, CA (March 1, 2011) - After three years of research, design, and development GOBIE H2O is proud to announce the launch of its revolutionary filtered water bottle. GOBIE filtered water bottles were designed to quickly transform questionable tap-water, into pure, great
tasting H2O.

GOBIE H2O was established by award winning Industrial Designer Rusty Allen and was founded in 2009. Allen set out to make a positive change for the environment by developing an absolutely essential product that helps eliminate one of the largest negative impacts facing the environment
today--disposable water bottles. GOBIE H2O is free of Bisphenol-A (BPA), a toxic chemical found in many consumer products. GOBIE H2O was designed to be simple and stylish. Product features include a finger loop for easy carrying, wide opening for easy filling, ergonomic mouthpiece for
comfortable sipping, and dust cover which fits into the finger loop so the user doesn't misplace it. The GOBIE Filter is created using a starch-based plastic with no glue and internal carbon filter made of plant-based carbon which equals zero waste.

"The main reason for the more than 60 million disposable water bottles destroying our environment each year is not the complete fault of the consumer. It's the fact that, until now, no one has designed a practical, portable alternative to single-use water bottles people actually want to use," says Rusty Allen, CEO and designer of GOBIE H2O. "We at GOBIE H2O look forward to continuously developing beautifully innovative products that meet the needs and wants of consumers, while providing practical alternatives to environmental problems. We are also pleased
to say that all of our products are, and always will be, designed, developed, and manufactured in the U.S.A."

GOBIE water bottles were designed to meet the ANSI/NSF (National Sanitary Foundation) Standard 42, which ensures the removal of chlorine, chloramines, and particulates from ordinary tap-water, resulting in odor free and purified great tasting water. By kicking the habit of single-use water bottles and switching to a GOBIE, the average consumer could annually save over $1000, eliminating over 800 single use bottles from our environment.

The GOBIE water bottle is currently available online at www.GOBIEH2O.com.

GOBIE bottles plus a filter retail for $29.95. Filters last for 3 months or 100 gallons and replacements retail for $9.95.

For more information, please contact Page Jeter at pjeter@efgpr.com.