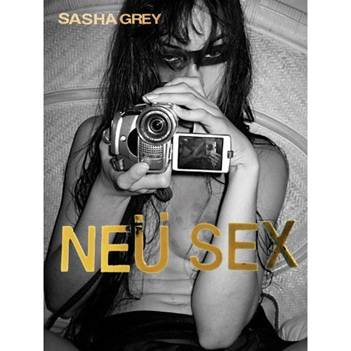 Los Angeles, CA (February 17, 2011) - Sasha Grey announces today that the highly anticipated release of NEÜ SEX, her unrivaled photography book, is set for March 29, 2011. In NEÜ SEX, Sasha, along with partner Ian P. Cinnamon, turns the camera on herself and her environment, producing an extensive catalog of self-reflective images. Coupled with her personal writings on sexuality, identity and personal liberty, the photos form a narrative of Sasha's irrepressible spirit and relentless energy. Funny as it is sexy, as familiar as it is mysterious, the book innovatively combines Sasha's feminine outlook on the human condition along with an unprecedented and unique mosaic narrative of Sasha's life. Through NEÜ SEX, Sasha invites the audience to share her point of view.

"Documenting myself has become almost a necessity," Sasha says of her passion for photography. "I figured if I am on set I might as well take advantage of my surroundings and document my life in an exciting, untraditional manner." Sasha adds, "Some of these photos were staged and some were candid. I find it beautiful that sometimes it is difficult to distinguish the difference between the two."

By drawing inspiration from luminaries like Cindy Sherman and Nan Goldin, NEÜ SEX delivers a unique memoir of Sasha's ascent to cultural icon through her pop art photography. This visual diary, which was shot from March 2006 to December 2009, is both playful and intellectual. NEÜ SEX captures the cynicism and comedy in her personality, through her rise from obscurity into cultural icon.

This is Sasha Grey: honest, unscripted and unfiltered.

For more information on NEÜ SEX, including exclusive video and content, please visit: neusex.viceland.com

High-res scans are available on request; scanning from the book or lifting images from the mechanical file are strictly prohibited.

INFORMATION ON NEÜ SEX
Available at Amazon and select retailers across the US - MSRP $30 | Celebrity / Erotica / Vérité
Hardcover | 6.7 x 9 inches | 192 pages | 150 full-color photographs |ISBN 978-1-57687-556-8

Mandatory credit line: NEÜ SEX by Sasha Grey. Published by VICE Books and distributed by powerHouse books.

For more information, please visit: neusex.viceland.com

FOR MEDIA REQUESTS, PLEASE CONTACT:
Kristin Loretta Rory Ahearn
Entertainment Fusion Group VICE
310.432.0020 718.233.3684
Kloretta@efgpr.com rory@viceland.com

ABOUT THE AUTHOR
Sasha Grey made her breakthrough performance as the star of Steven Soderbergh's The Girlfriend Experience. Since then, Sasha has continued to solidify her talents through various acting roles. At The New Museum in New York City, she took on the character of "Molly Millions" for a stage performance of Brody Condon's Case, a reading of William Gibson's Neüromancer. Later, Sasha starred in Lee Demarbre's Smash Cut, garnered a prominent role as the girlfriend of lead character Vinnie Chase on HBO's Entourage and landed a role in Mark Pellington's I Melt With You. Grey has also moved behind the camera, producing her first feature length film, Modus Operandi. Additionally, Sasha has contributed vocals on albums for Current 93 and Lee "Scratch" Perry. Her band, aTelecine, released their debut A Vigilant Car Park in 2009, and has since released two more full length albums. This is her first book

ABOUT VICE
In 2011 VICE Books will release NEÜ SEX from Sasha Grey, Fashion Cats by Takako Iwasa, and the second DOs & DON'Ts book.

VICE Books in 2010 released Full Bleed the much-anticipated photo book documenting the last 30 years of New York City skateboarding by Alex Corporan, Ivory Serra and Andre Razo.

In Winter 2009, VICE released, Nudity & Nonsense, a compendium of Vice's best articles from 2003 to 2008, as well as published Heavy Metal in Baghdad, the oral history companion to VICE's eponymous award- winning documentary.

In 2008 VICE Books released three critically acclaimed photography collections: True Norwegian Black Metal by Peter Beste, Skins & Punks: Lost Archives, 1978-1985 by Gavin Watson, and the much-lauded, 335-page tome The Vice Photo Book. We like to think of them as the visual.

In 2003 VICE released the bestsellers The Vice Guide to Sex and Drugs and Rock and Roll, the first compilation of Vice magazine's greatest hits through 2002, and their first DOs & DON'Ts book featuring VICE's famously acerbic street-fashion critiques.

VICE Books is a division of VICE Media.