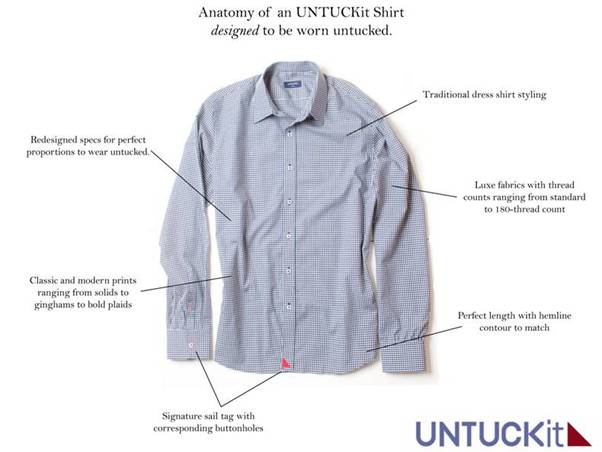 Guys often find themselves stuck when it comes to wearing a dress shirt - to tuck or untuck, that is the question! The answer is easy with UNTUCKit, the first of its kind - a fashion-forward dress shirt designed to be worn untucked. Style is automatically achieved with just one shirt.

The UNTUCKit difference is that the shirts were designed from the bottom up - to be worn untucked. Technical and grading specs were created from scratch, making the brand's fit unparalleled. The shirts are all 100% cotton ranging from casual wovens up to 180-thread-count cotton and will all feature a signature grosgrain sail tag at the bottom of the placket in either navy or red (based on color-coordination).

Available exclusively at www.untuckit.com, the debut collection has something for every guy's wardrobe. Roll up your sleeves and pair with some shorts for a weekend at the beach or layer with your favorite sport coat and pair of jeans for a night out with the guys. Whatever the occasion, UNTUCKit provides the ultimate solution and the perfect fit.

Take a look at the selection of images from the debut collection as well as a diagram further explaining the UNTUCKit difference!