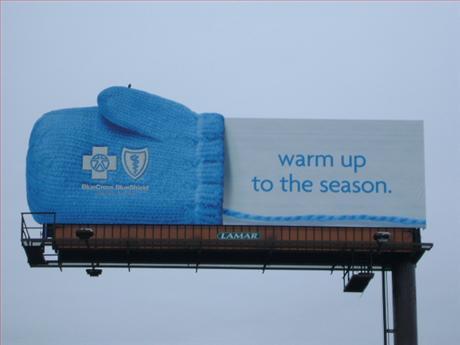 Warm up to the winter season—that's the simple statement boldly conveyed in new billboards created by Eric Mower + Associates for BlueCross BlueShield of Western New York.
The billboards are stuffed inside giant blue mittens throughout Buffalo, N.Y.—which has a reputation for harsh winters—and encourage people to have a positive attitude and warm up to a season that can seem dreadfully long and tiresome. The life-like "mitten"-clad billboards are digitally retouched to emulate the texture and pattern of knit mittens.
"Few things are as healthy as thinking positively. These billboards urge Western New Yorkers to embrace the winters we're so famous for—to "warm to the season," said Gretchen Fierle, chief communications officer at BlueCross BlueShield of Western New York.
The billboards are part of BlueCross BlueShield of Western New York's award-winning Healthy Changes Everything® campaign, created by EMA. The campaign aims to expand the notion of good health beyond eating right and working out; being healthy also means laughing, getting enough sleep; and having a positive attitude. It strives to motivate people with the idea that simple, healthy acts can have a big effect on an individual's wellbeing.
"The visual of the knitted mitten does more than just catch your attention—it takes you back to childhood. These ads were meant to put a smile on your face, and they do just that," said Tom Merrick, senior partner and creative director at EMA.
Up through March 2012, the billboards are supported by digital, radio and TV ads.
Creativity has been at the forefront of the campaign since its launch in the fall of 2010. BlueCross BlueShield of Western New York organized a flash mob with hundreds of dancers and community volunteers who danced, hula-hooped and shimmied to live music to show that being healthy starts with one small act. Many of the ads feature BlueCross BlueShield of Western New York employees and a radio blog chronicles one man's road to a healthier lifestyle.
BlueCross BlueShield of Western New York recently won the BlueCross BlueShield Association's "Campaign of the Year" and "Best of Blue" national awards for the development and execution of Healthy Changes Everything.
About Eric Mower + Associates
EMA is an integrated marketing communications agency with specialized expertise in
business-to-business marketing, public relations and public affairs, consumer
advertising, shopper marketing and digital/direct/relationship marketing. With
offices in Buffalo, Rochester, Syracuse and Albany, N.Y.; Cincinnati;
Charlotte, N.C.; and Atlanta, EMA serves clients throughout the United States.
EMA also serves many of its clients through thenetworkone, the world's largest
independent network of advertising, creative, digital, media and marketing
agencies covering 65 countries. EMA belongs to the American Association of
Advertising Agencies and IPREX, a worldwide partnership of independent public
relations firms. EMA has more than 250 professionals and estimated 2012
capitalized billings approaching $250 million. Visit www.mower.com for more information.