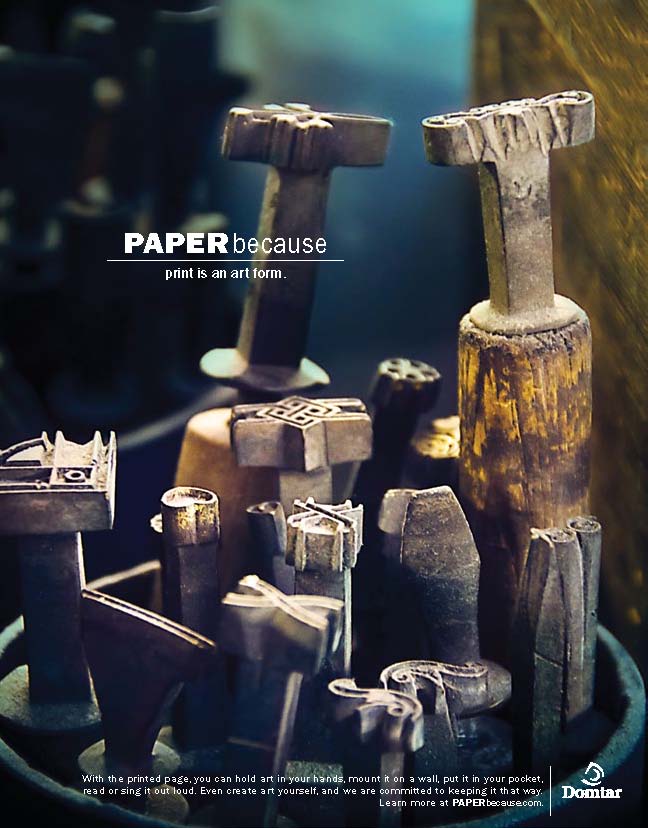 CHARLOTTE, N.C. — Building on the award-winning PAPERbecause campaign, Eric Mower + Associates has designed a series of new print ads for Domtar Corporation that show how paper still plays a vital role in today's business world.
PAPERBecause, winner of several awards last year – including Best of Show from the Business Marketing Association (BMA) of New York City ACE Awards and Best of Category in the BMA's B2 Awards – shows how using paper responsibly makes sense in our homes and professional lives, and how it's also an environmentally sound choice. The print ads will join a series of videos and banner ads appearing on a variety of websites.
The new series of ads will run throughout the year in major print, graphic design and trade publications, including Fast Company, National Geographic, Newsweek and The New York Times.
"The PAPERbecause print campaign gives Domtar a platform to show how paper – a sustainable, renewable and recyclable product – fits so nicely into our lives," said Lewis Fix, vice president of Sustainable Business and Brand Management at Domtar. "Domtar is a leader in sustainable paper production, and we promote the responsible use of paper. PAPERbecause reminds people of why paper is so vital today."
About Eric Mower + Associates
EMA is an integrated marketing communications agency with specialized expertise in
business-to-business marketing, public relations and public affairs, consumer
advertising, shopper marketing and digital/direct/relationship marketing. With
offices in Buffalo, Rochester, Syracuse and Albany, N.Y.; Cincinnati;
Charlotte, N.C.; and Atlanta, EMA serves clients throughout the United States.
EMA also serves many of its clients through thenetworkone, the world's largest
independent network of advertising, creative, digital, media and marketing
agencies covering 65 countries. EMA belongs to the American Association of
Advertising Agencies and IPREX, a worldwide partnership of independent public
relations firms. EMA has 240 professionals and estimated 2012 capitalized
billings approaching $225 million. Visit www.mower.com for
more information.