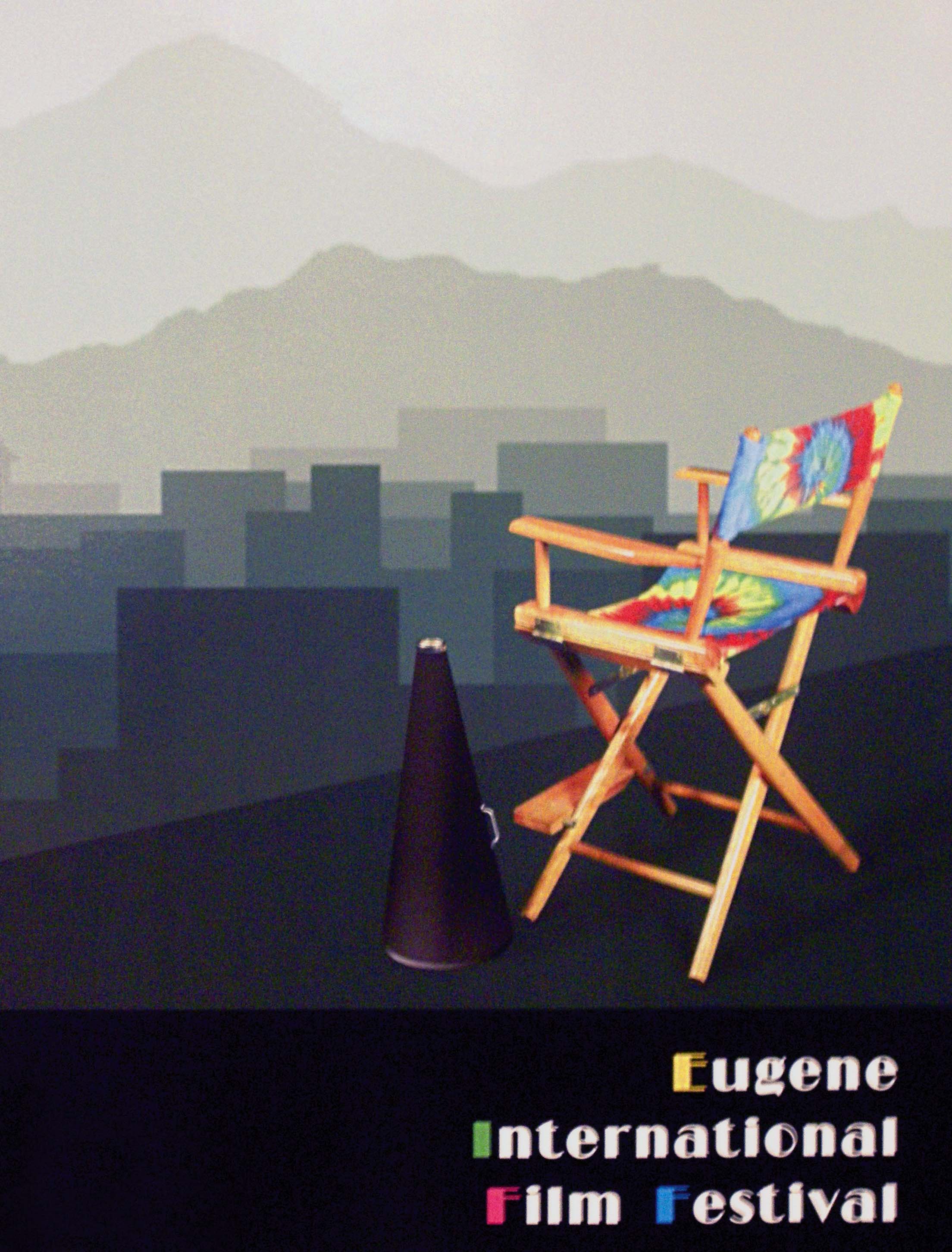 Eugene Mayor Kitty Piercy opens the 2011 Eugene International Film Festival

Eugene Mayor Kitty Piercy opens the 2011 Eugene International Film Festival

Cinematographer Barry Broman (left) and Paris based Director Neil Hollander at the Q&A following the 2011 EIFF screening of "Burma, A Human Tragedy," Produced by Anjelica Huston.

Cinematographer Barry Broman (left) and Paris based Director Neil Hollander at the Q&A following the 2011 EIFF screening of "Burma, A Human Tragedy," Produced by Anjelica Huston.
EUGENE, OR - Please join us in a celebration of outstanding motion pictures by submitting your film to the
Eugene International Film Festival.
The EIFF is now in its 7th year in Eugene, OR, USA.
Click here to submit.
Filmmakers submitting to the festival receive a FREE download copy of the
Showbiz Software Labor Guide
for North America and a free artisan
Copic Marker
Storyboard/Concept Art pen set shipped from Imagination International, Inc.
The festival takes place October 18-21, 2012, with the opening reception Thursday, October 18th, 6:00 PM. Special guests at the reception will include EIFF workshop headliners. Details follow below. Throughout the festival attending filmmakers will have opportunities to "do lunch" or share a beverage of choice with our special guests and other colleagues.
Festival categories—feature length, shorts and short-shorts—include: narrative, documentary, science fiction, animation, young audience (entertainment), best youth theme (educational/family benefit), art/experimental, making of/behind the scenes, comedy, and pilots.
Filmmakers and studios from over 30 countries around the world typically submit. Representative EIFF filmmaker cultures and countries include: Australia, Austria, Belgium, Cambodia, Canada, Croatia, Denmark, Finland, France, Germany, Greece, India, Israel, Italy, Japan, Jordan, Kurdistan, Mexico, Native American Nations, The Netherlands, Norway, Palestinian Territories, Paraguay, Peru, Poland, Romania, Russia, South Korea, Spain, Sweden, Syria, Taiwan, Tunisia, United Kingdom, United States, US Virgin Islands, and the Commonwealth of Puerto Rico.
A unique aspect of the Eugene International Film Festival is the
Screenwriters/Filmmakers Retreat (scroll down for the Retreat schedule)
. Headlining the Retreat will be Hollywood insiders Tom Sawyer (TV Series Showrunner, Screenwriter and Novelist), Ken Sherman (Beverly Hills Literary Agent), Mike Katchman (Film and Video Distributor) and acclaimed feature film Concept Artist Terryl Whitlatch.
Retreat registration information available by clicking here
.
Terryl Whitlatch
will headline her own EIFF workshop on Visual Storytelling and Character Development based on her work with George Lucas creating
Star Wars
creatures. Her workshop will be an extraordinary opportunity to meet one-on-one with a creative professional who has contributed much to the enjoyment of a leading motion picture franchise. Thanks to
Imagination International, Inc./Copic Markers
for making this workshop possible.
Her career has spanned three decades of developing creatures and characters for major feature films, including animation greats such as
The Indian in the Cupboard
. Terryl's workshop will teach the principles of concept illustration and the marriage of story and design. To do so, she will be your guide into the present day creation of a concept world - one with its own ecology, culture and inhabitants, an epic titled
Tales of Amalthea
.
Tom Sawyer
is best known for his work as Head Writer/Showrunner of the classic CBS series,
Murder, She Wrote
- for which he wrote 24 episodes. Edgar and Emmy-nominated, Tom has written 9 network TV pilots, 100 episodes (comedy and drama) and has acted as Head Writer/Showrunner or Story Editor on 15 network TV series programs.
Mike Katchman's
career has embraced many outstanding films from Hollywood's blockbuster history. At Orion Films Mike was responsible for all US and Canadian entertainment sales of Orion's golden era hits including
Dances With Wolves
and
Silence of the Lambs
. When Orion was sold to MGM, he filled a similar role until being drafted by Lionsgate. In his three very productive years with Lionsgate, their revenues rose from $32 million to $100 million. Lured away by First Look Studios Mr. Katchman was central to a dramatic 500% increase in sales from 2004-07.
A leading Beverly Hills Literary Agent for more than twenty years,
Ken Sherman
represents motion picture, television and book writers - and also sells film and television rights to books as well as life rights. Ken's clients include David Guterson, author of
Snow Fallng On Cedars
, Tawni O'Dell, whose screenplay of her international bestselling, Oprah Book Club novel, Back Roads, is about to become a major, Adrian Lyne movie (starring
Spiderman
Andrew Garfield), and the estates of Luis Buñuel, John Hersey and Simon Wiesenthal.
Famed Hollywood producer Roger Corman raves that the EIFF is "already one of America's top film fests...and getting better every year." This is your chance to getaway to the Pacific Northwest and a state-of-the-art venue to screen your film for industry guests.
Submit today!