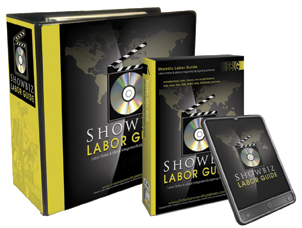 Eugene, OR - Filmmakers are calling the Eugene International Film Festival one of the best in the country as reported in an NPR commentary by John Frohnmayer, former Chairman of the National Endowment for the Arts under the first Bush Administration. Submissions are now being accepted by the 2011 EIFF through Withoutabox.

Showbiz Software has been a leading underwriter of the EIFF, now in its sixth year. The Eugene International Film Festival is giving filmmakers entering films in the 2011 festival a free download copy of the Showbiz Labor Guide for North America, a $59.95 value.

The Showbiz Labor Guide is a comprehensive production tool providing rates and working conditions for over 80 unions, guilds and locals throughout the United States and Canada. Professional and student filmmakers alike will prosper from the "at your fingertips" information provided.

Submission categories unique to the EIFF include "Pilots" and "Making of, Behind the Scenes." "Pilots" has proven to be an exciting high-end category for series internet and television programming. Filmmakers are able to flatter their cast and crew in the "Making of, Behind the Scenes" category.

The "Documentary," "Narrative" and "Comedy" categories are always populated with domestic and international submissions. "Science Fiction," "Animation," "Young Audience," "Art/Experimental" and "Best Youth Theme" subjects are always EIFF audience pleasers.

"Young Audience" is predominantly an entertainment category. "Best Youth Theme" is for youth development titles.

Filmmakers can access the Withoutabox submission portal by visiting www.eugenefilmfest.org and clicking on the Withoutabox button on the home page. The deadline for money saving early birds ends June 25, 2011.