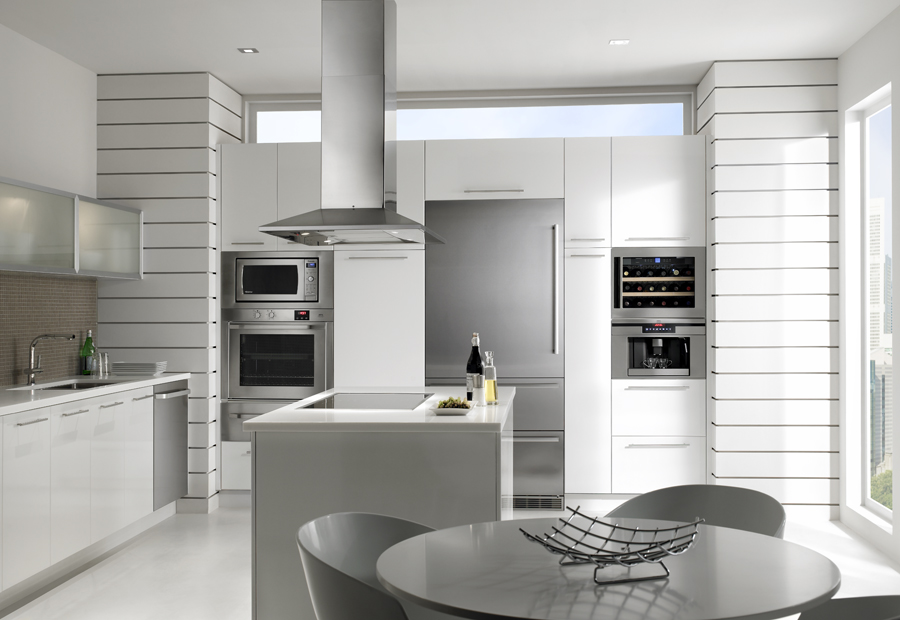 (Oakville) Clean lines, superior performance, and precision engineering? Must be European design. Designers and homeowners with a penchant for continental influences will find a trove of European appliance gems at Booth #819 of the 2011 Interior Design Show in Toronto. Chocked full-with over 40 appliances and accessories-the Euro-Line Appliances Inc. booth showcases appliances from top European manufacturers such as Liebherr, AEG, Porter & Charles and Faber.

AEG
Founded in Germany in 1887, AEG is a pioneer in the appliance industry. Their dishwashers, washers, dryers, ovens, ranges, cooktops, warming drawers, coffee machines and warming drawers are available across Canada. AEG kitchen appliances are known for their sleek lines, stainless steel and black glass finishes, and expansive program options.

2011: What's hot from AEG?
Warming Drawers: AEG offers three size options for built-in warming drawers with stainless steel front panels, or a fully integrated model that can be finished with a custom panel to blend seamlessly into your kitchen cabinetry. Warm plates, prove dough, or keep dinner warm until the kids are home from practice, or your partner's home from work. Versatile, and-once you've lived with one- indispensable.
Induction Cooktops: The word is out on the benefits of induction cooktops. AEG is a leader in induction technology. These cooktops emit less ambient heat and use less energy than their gas and electric counterparts, have ultra-precise and nearly instant heat control, and are easy to clean.

Liebherr
Driven by innovation and characterized by sophisticated, fresh design, Germany-based Liebherr Corporation brings the best of Europe to the refrigeration category in North America. As the worldwide leader in environmentally responsible refrigeration, Liebherr provides outstanding built-in, freestanding, and fully integrated refrigeration and wine storage units.

2011: What's cool from Liebherr?
CS1360: The CS1360 from Liebherr is an excellent choice for those looking for a versatile refrigerator with a small footprint. At only 24" wide, this freestanding unit is a great choice for condos. It has a stainless steel door and sides, and since it's freestanding can be taken along should you move. The fridge is on top, with a lower freezer compartment boasting 3.3 cu. ft. of space and an icemaker. It also comes with features Liebherr is known for like LED lighting, MagicEye digital temperature display and glassline storage shelves.

Porter & Charles
European-made Porter & Charles Appliances employ top design and craftsmanship to create a line of cooking and dishwashing? products created to meet the demands of the North American modern family. Porter & Charles products are built to exceed European industry standards. At every step - from raw materials, to engineering and design, to the finished product - Porter & Charles strives? to go beyond expectations, providing a superior product. Their timeless stainless steel finishes enhance the look of any kitchen.

2011: What's hot from Porter & Charles?
Dual Fuel: Porter & Charles recently launched the FEG 76 Duel Fuel range. At 76cm/30" wide, this stainless steel unit features five gas burners, an electric oven and warming drawer. The oven boasts 105L/3.6 cu. ft. capacity, easy clean enamel interior, and Sabbath mode. Professional look and cooking results for your home.

Faber
Founded in Italy in 1955, Faber has been producing high quality rangehoods since 1955. Faber is the market leader in Italy in the ventilation category, and Canadian designers appreciate their marriage of impactful design and efficient operation. Faber remains on the forefront of technology.

2011: What's cool from Faber?
Cristal: Now you see it, now you don't. The Cristal ventilation hood from Faber slides out when in use, and slides back flush with overhead kitchen cabinets when not in use. Each unit comes with a front trim strip in brushed aluminum, white and black to suit any kitchen. Unobtrusive, it provides an effective and streamlined ventilation solution for small spaces.

To learn more about the latest products available from AEG, Liebherr, Porter & Charles and Faber visit www.euro-line-appliances.com. For high-resolution product images contact Beth Gurney at beth@flyingcamel.com or 519.732.3448.