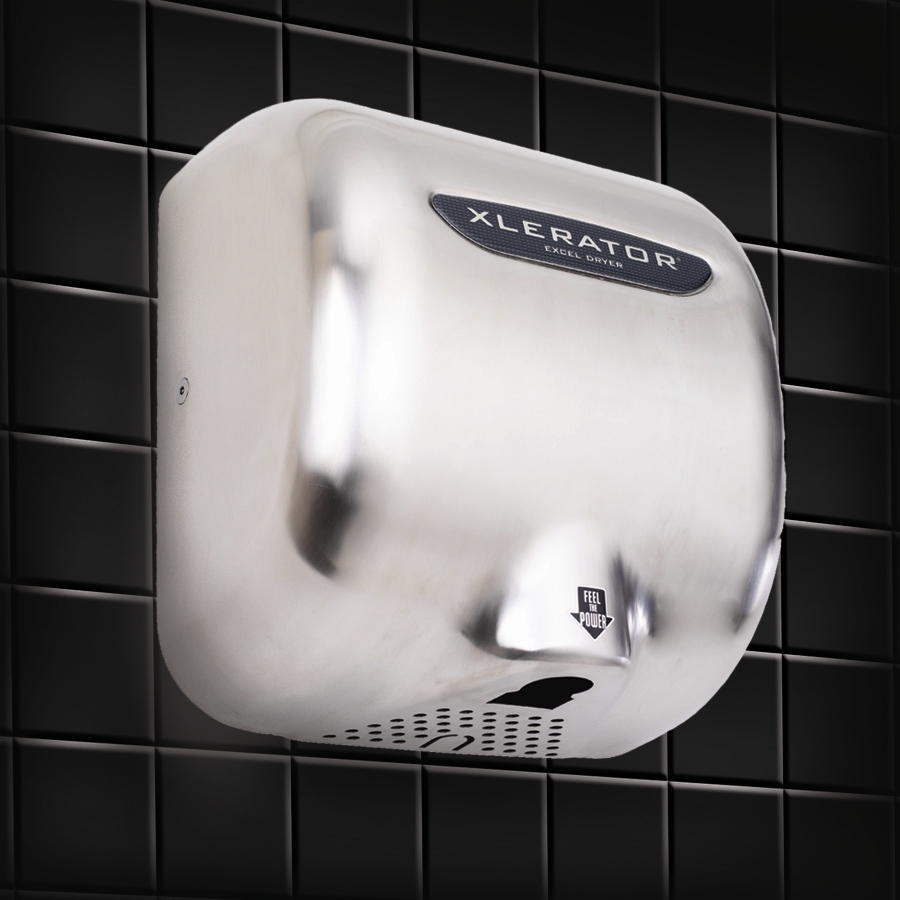 East Longmeadow, Mass. - The recent outbreak of H1N1 flu across the country has captured the attention of the U.S. public. Unfortunately, the H1N1 flu has also provided an opportunity for unscrupulous marketers, using SPAM e-mails and other techniques, to circulate scare tactics in hopes of increasing profits for their products and services. This misinformation and discredited data has been around for years, and has been soundly debunked.

Excel Dryer, Inc. wants our distributors, government agencies and the general public to be confident about the safety and health benefits of our new generation of hygienic, high-speed, energy efficient hand dryers. It is important to us that you know that our products are both reliable and hygienic. Several studies have been published in well-known medical reviews on the health benefits and hygienic superiority of hand dryers. Hand dryers are almost unanimously declared to be more sanitary than other drying techniques.

Blowing Hot Air: debunking hygiene myths about hand dryers

Research indicates that, "irrespective of the hand washing agent used," electric air drying produces "the highest and cloth the lowest reduction in numbers of bacteria and viruses on washed hands (Ansari et al., 1991, American Journal of Infection Control). Researchers Meers and Leong declared, in a 1989 letter to the Journal of Hospital Infection, that there is "no bacteriological reason to exclude [hand dryers] from the clinical areas." The European Cleaning review adds, "unless paper towel waste is regularly cleaned [up], it can be a lasting source of bacteriological infection" (September 1994).

Over the last 40 years, numerous scientific researchers have valued the hygienic safety of warm air as a drying medium. These studies were conducted with careful methodology, at major academic or medical institutions. In 2000, Dr. Franklin R. Cockerill III and his colleagues at the Mayo Clinic in Rochester, Minnesota, reported their results in the journal Mayo Clinic Proceedings (75:705 - 708). In a study of 100 people who volunteered to have their hands contaminated with bacteria, researchers found that hand washing got rid of the same amount of germs regardless of drying style. The subjects dried hands with either cloth towels from a roll dispenser, paper towels from a stack on the sink, a mechanical hand dryer, or old-fashioned air-drying. Drying preference, researchers say, matters little.

Moreover, residual bacteria stay on paper towels that are often thrown on floors. This littering results in unnecessary waste for a custodian or maintenance person to clean up. With electric hand dryers, there's no waste for anyone to handle and no risk for spreading germs.

The new generation of hands-free, high-speed hand dryers proves to be the leader in efficient, hygienic hand drying. In addition, they are the most cost-efficient and environmentally sound drying technique. Whether Excel Dryers are installed in schools, restaurants, shopping centers, hospitals, service stations, stadiums, movie theaters, correctional facilities, factories, hotels, health clubs, etc., each individual who uses our product is guaranteed safety and satisfaction.

We invite you to also consult the resource links, including:

· `Proper Hand Washing Techniques' by the CDC
· Cleaning and Maintenance Magazine, November 2009 - Spotlight article on restroom care.
· Sanitary Maintenance Magazine - Pod casts by the Editor-in-Chief on hand dryer hygiene, environmental benefits and cost savings versus paper towels
· Third-party research and statistics supporting the hygienic benefits of hand dryers

We are confident you will agree that our new generation of hygienic, high-speed, energy efficient hand dryers is clearly the best drying solution for your restroom.

# # #
For more information, please contact Shannon Filippelli at van Schouwen Associates, 413-567-8700 ext. 105, sfilippelli@vsamarketing.com, www.vsamarketing.com

Excel Dryer, Inc. can be reached at P. O. Box 365, 357 Chestnut Street, East Longmeadow, MA 01028 1.800.255.9235 or at www.exceldryer.com.