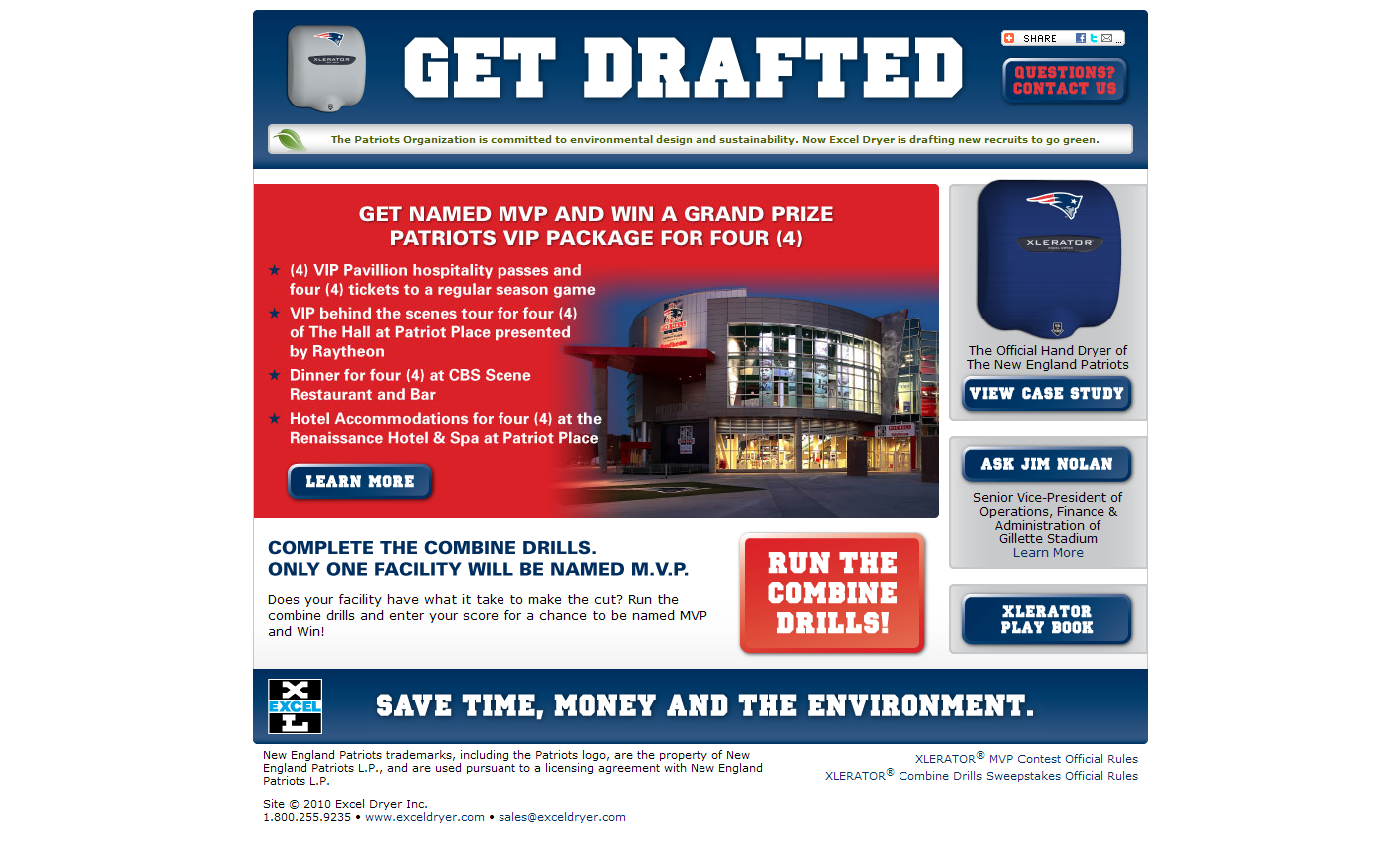 East Longmeadow, Mass. - Today, the New England Patriots organization reached out to its social media universe to encourage business owners to make the call to go green, reduce waste and save money by switching from paper towels to high-speed, energy-efficient hand dryers. According to a Tweet posted @realpatriots, Gillette Stadium has saved six million paper towels since switching to the high-speed dryers a year ago.
The New England Patriots are collaborating with Excel Dryer, manufacturer of the XLERATOR high-speed hand dryer, on
GET DRAFTED
, a web based promotion that allows business owners compare the cost and environmental impact of paper towels to high-speed, energy-efficient hand dryers.
Participants that submit their results
are entered for a chance to win a private, behind-the-scenes tour of Gillette Stadium for four, lunch at CBS Scene Restaurant and Bar for four and an autographed Patriots jersey.
Participants that go on to install at least one trial XLERATOR unit will have an opportunity to be named MVP and entered for a chance to win a
New England Patriots VIP Package
. The web site also features an interactive Q&A with Gillette Stadium's Senior Vice-President of Operations, Finance & Administration and a detailed case study that focuses on Gillette Stadium's environmental and sustainability efforts to date.
"XLERATOR's Get Drafted initiative is designed to encourage business owners and facility managers take a page from the Patriots' sustainability play book," said William Gagnon, Director of Marketing, Excel Dryer, Inc. Last year, Gillette Stadium replaced its paper towel dispensers with over 125 XLERATOR XL-SI custom Patriots logo cover hand dryers as part of the stadium's ongoing efforts to conserve energy and reduce waste. Jim Nolan, Gillette Stadium's Senior Vice-President of Operations, Finance & Administration, said the stadium was using an estimated 6.2 million paper towels per year at a cost of over $50,000 per year for paper, maintenance and waste removal.
"Installation of XLERATOR hand dryers reduces the cost and maintenance associated with paper towels in the stadium's restrooms," said Nolan, "Over time, we plan to install more dryers throughout our other properties, reducing operating costs and supporting our existing sustainability initiatives."
XLERATOR completes the job three times faster, uses 80% less energy than traditional hand dryers and delivers a 95% cost savings vs. paper towels, while creating a more hygienic restroom environment. The XLERATOR is the only hand dryer to be MADE IN USA Certified and the first hand dryer to be GreenSpecr Listed. It also helps facilities qualify for LEEDr (Leadership in Energy and Environmental Design) credits issued by the U.S. Green Building Council. In addition to meeting the demands of today's green initiatives, XLERATOR dryers can help facility managers save time and money by eliminating the cost of paper towels, their maintenance and waste.
XLERATOR XL-SI custom cover hand dryers are installed in New York City public parks, New England Patriots' Gillette Stadium, Six Flags Amusement Parks, Burger King Restaurants, and a range of other environmentally-conscious facilities around the globe.
# # #
About New England Patriots and Gillette Stadium
The Patriots were named the eighth and final charter franchise of the American Football League (AFL) on Nov. 16, 1959. In 1994, Robert Kraft purchased the franchise and vowed to bring New England its first league championship. The Patriots delivered on that promise at the end of the 2001 season and became just the second team in NFL history to win three Super Bowls in a four-year span after winning back-to-back titles in 2003 and 2004. Since 1994, the Patriots have won more games and more often than every other NFL team. The Patriots play their home games in Gillette Stadium, which is also home to Major League Soccer's New England Revolution and is New England's premier sports and entertainment venue. Fans have sold out every Patriots home game since Gillette Stadium opened in 2002, and flock to the stadium to see the New England Revolution, attend world-class concerts and participate in special events that keep it busy year round. For more information, please visit www.patriots.com or www.gillettestadium.com.
Excel Dryer, Inc. can be reached at P.O. Box 365, 357 Chestnut Street, East Longmeadow, MA 01028 1.800.255.9235 or at www.exceldryer.com.