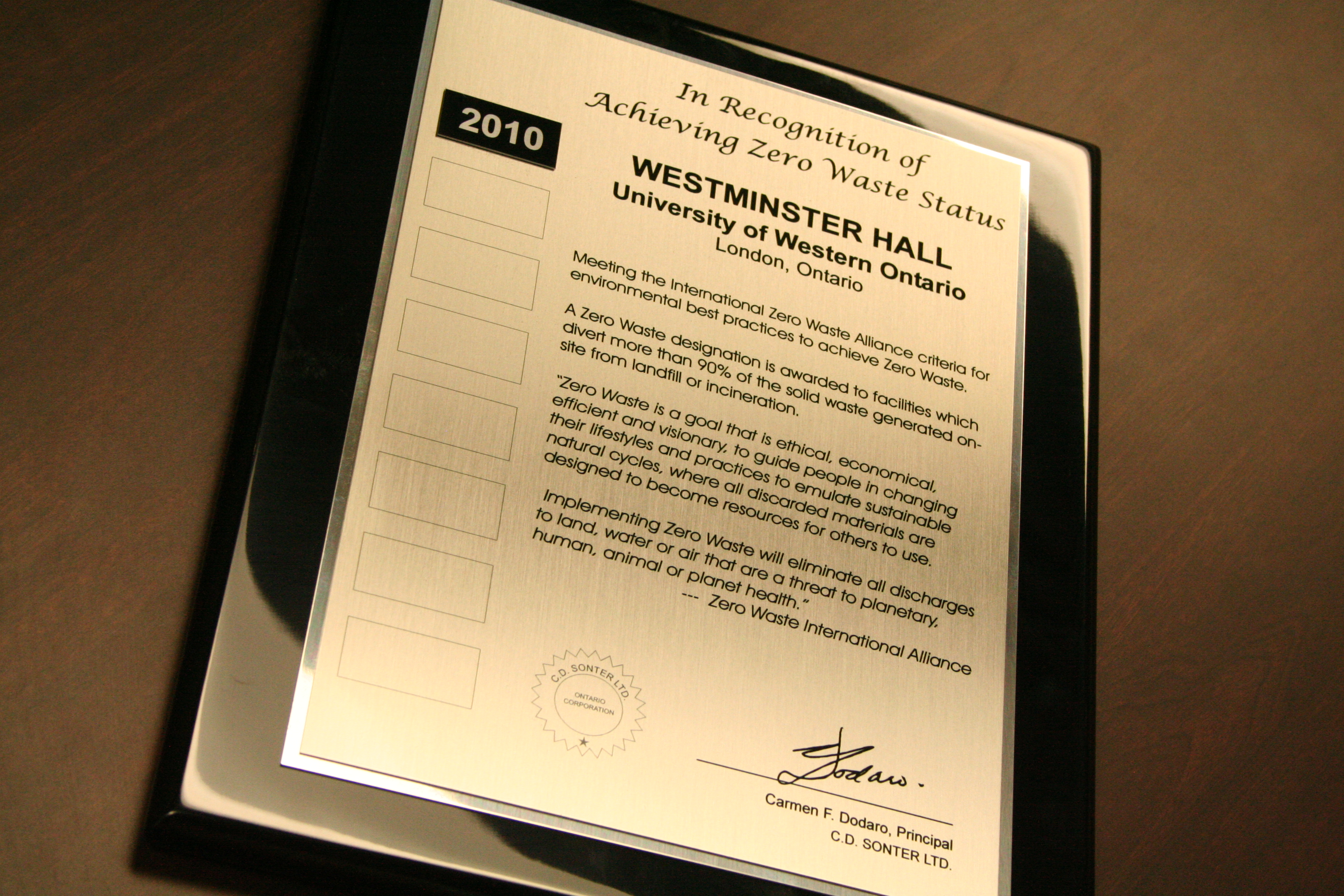 With a strong recycling program and a committed group of occupants, Westminster Hall is The University of Western Ontario's first building to be recognized by the Zero Waste International Alliance for achieving Zero Waste status.
The building was the subject of an extensive audit conducted by environmental consulting group, CD Sonter. The evaluation takes into account both the waste diversion infrastructure, such as recycling bins and user habits. The review found that 93% of Westminster Hall's waste is diverted from the landfill.
The Zero Waste distinction is achieved following an extensive audit and subsequent waste reduction plan. Once the building improves it's diversion rate to 90% or greater an application is submitted to the Zero Waste International Alliance for approval.
In the case of Westminster Hall, the audit demonstrated that a reduction plan was not needed - the occupants took initiative and were responsible in their diversion practices, which were above the mandatory diversion rate.
"I am thrilled, but not surprised to see the immediate success of our recycling program at Westminster Hall," says Associate Vice-President, Roy Langille. "The building occupants have been eager to enhance their diversion program and were one of the first office settings to adopt composting."
Physical Plant has commissioned CD Sonter to complete the audits, reduction plans, and submit their application to the Zero Waste International Alliance on their behalf. The project is a natural extension of the recycling program as it provides recognition to compliant buildings. Physical Plant plans to roll the program out to the rest of the campus' buildings with Perth Hall and the Law Building already under way.
Zero Waste International Alliance (ZWIA) has been established to promote positive alternatives to landfill and incineration. ZWIA raises community awareness of the social and economic benefits of converting waste into a resource. The ZWIA sets the standards for the application of Zero Waste in all sectors of society and operates at the international, national and local level.
More information on Zero Waste International Alliance can be found here;
http://www.zwia.org/joomla
Odds & Ends;
Zero Waste International Alliance defines zero waste as "businesses or communities that achieve over 90% diversion of waste from landfills and incinerators". They are then considered to be successful in achieving Zero Waste
The University of Western Ontario is the first higher learning institute in the World to be recognized by the Zero Waste International Alliance.