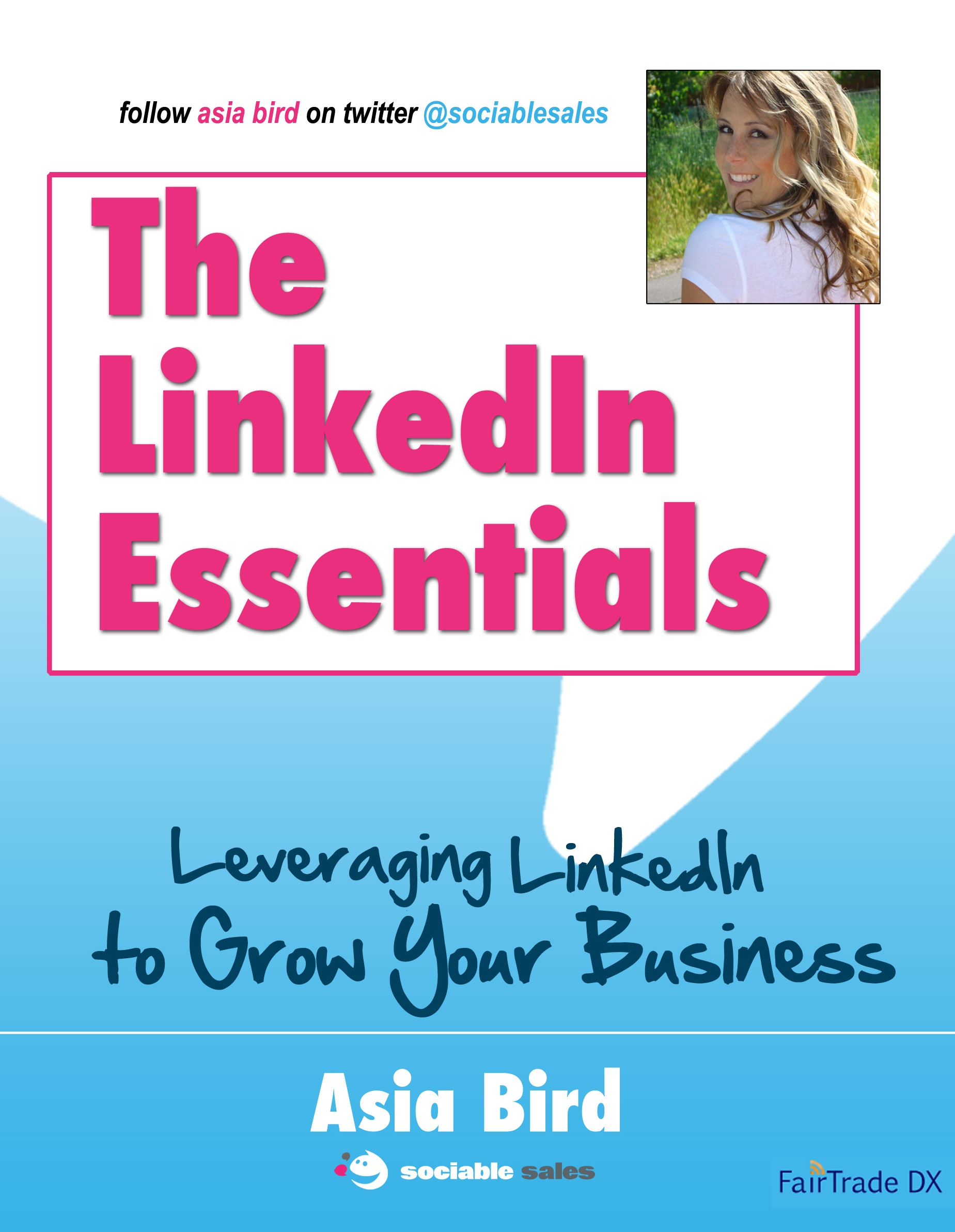 In THE LINKEDIN ESSENTIALS, Asia Bird Offers Expert Expert Advice on How to Grow Your Business with LinkedIn, the World's Largest Business Social Network. Now Available in Print.
Newburyport, MA — June 8, 2012 —
Fair Trade Digital Exchange (
Fair Trade DX
), an innovative publisher that delivers compelling technology information in "digital first" format, has released the print edition of
The LinkedIn Essentials
, a title aimed at business professionals with a mandate to expand their businesses. The title was previously available exclusively in ebook formats.
The LinkedIn Essentials,
by
Asia Bird
, is an indispensable fast-paced guide to exploiting LinkedIn's features to double or triple your business opportunities. The author, founder of the highly popular Sociable Sales LinkedIn group, shares her action plan for building and managing a powerful LinkedIn presence that will provide more customers, leads, and opportunities for your business. In short order, Asia's straightforward advice will have you adding connections, garnering recommendations, managing leads, and building a sales funnel effectively and with confidence.
The LinkedIn Essentials, now available in print from Amazon.com
is the fast track to building your business's customer base and expanding its opportunities.
(ISBN: 978-19384250-3-5)
Cost: $16.95
. (print)
About the Author:
Over the last 5 years,
Asia Bird
, founder of SociableSales.com, has developed bullet-proof techniques for using LinkedIn to build a business sales and marketing strategy for today's socially driven marketplace. Asia's many clients and webinar and seminar attendees can attest to the growth and high profile their businesses have experienced after employing the strategies you'll find in
The LinkedIn Essentials
.
Where to Buy
The print edition of T
he LinkedIn Essentials i
s in stock and available for immediate delivery at Amazon.com,
http://amzn.to/MhQPEe
.
________________________________________
About Fair Trade Digital Exchange
Headquartered in Newburyport, Massachusetts, Fair Trade Digital Exchange is a revolutionary "digital first" publishing company devoted exclusively to technology topics. The Fair Trade DX development model turns content from world-class authors into high-quality books and learning products, at a pace that leaves traditional print publishers in the dust. Unlike other publishers, Fair Trade DX treats authors as full partners, with the shared goal to inform, enlighten, and delight readers.
Fair Trade DX
can be found on the web at
www.fairtradedx.com
.