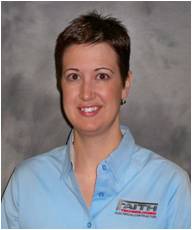 Springfield, Mo. (Jan. 9, 2012) - Courtney Johnson, employee at Faith Technologies, a full-service electrical and technology systems provider, recently won an Outstanding Women in Construction Award from the Southern Missouri chapter of the National Association of Women in Construction (NAWIC). Johnson, a human resources business partner for Faith Technologies, has been with the organization for more than four years, and was chosen much in part to her dedication to community service.
Johnson received the Rosebud Award from NAWIC, which is given to a woman who has been in the construction industry for ten years or less. She was elected treasurer of the association for the 2010-2011 term, and currently serves as a director on the board, as well as the community service chair. Johnson volunteers with a number of local organizations including Big Brothers Big Sisters, Ozarks Literacy Council, ALS Association, Family Violence Center, MS Society, and American Cancer Society.
Award recipients are chosen based on criteria including community service involvement, construction association memberships, participation in continuing education to enhance present job position and achievement or advancement in present job.
The National Association of Women in Construction's core purpose is to enhance the success of women in the construction industry. One of the ways is to honor fellow women at the annual Salute to Construction Banquet. Each year, the Southwest Missouri chapter of NAWIC accepts nominations for an outstanding woman in the construction industry to honor at the banquet.
# # #
About Faith Technologies
Faith Technologies, Inc. is an employee-owned, full-service electrical and technology systems contractor operating in Georgia, Kansas, Missouri, Oklahoma, and Wisconsin. With nearly 1,500 employees, Faith Technologies is one of the largest privately held electrical contractors in the United States. Established in 1972, Faith Technologies is ranked 17th among Electrical Construction and Maintenance magazine's "Top 50 Electrical Contractors" and 51st in Engineering News Record's "Top 600 Specialty Contractors." For more information, visit http://www.faithtechnologies.com, or the blog at http://www.faithtechnologies.com/blog. For information on Faith Technologies' electrical risk management services, visit http://www.faithERM.com.
Find Faith Technologies on social media:
Blog | Twitter | Facebook | LinkedIn | YouTube