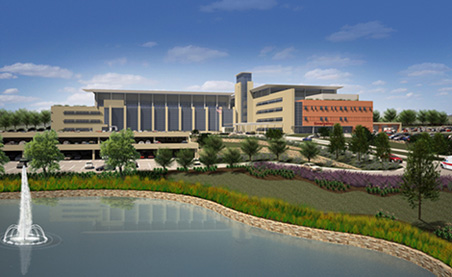 Menasha, Wis. (Jan. 9, 2012) - Faith Technologies, a full-service electrical and technology systems provider, has partnered with Bergelectric in a joint venture to provide the electrical construction services for Irwin Army Community Hospital in Fort Riley, Kan. This new facility is replacing the existing 50-year-old hospital to provide state-of-the-art health care for soldiers and their family members.
"We commend the brave men and women who make sacrifices every day by serving our country," said Jeff Neathery, project manager. "We're proud to work on a project that will return America's heroes to good health and provide their family members a place for comfort and rest."
Faith Technologies is working on the new $334 million, 565,000 square foot hospital under direction of the joint venture team of Balfour Beatty Construction and Walton Construction. The electrical construction includes complete lighting, power systems, central energy plant, emergency generator, automatic transfer switches and paralleling switchgear, as well as low voltage systems.
The 26-month, fast track project was designed utilizing Building Information Modeling (BIM) technology, and is being built to Leadership in Energy and Environmental Design (LEED) Silver specifications. With new open spaces, healing gardens, and water therapy units, it is a stepping-stone for Army medicine and patients will be able to receive the care they deserve.
# # #
About Faith Technologies
Faith Technologies, Inc. is an employee-owned, full-service electrical and technology systems contractor operating in Georgia, Kansas, Missouri, Oklahoma, and Wisconsin. With nearly 1,500 employees, Faith Technologies is one of the largest privately held electrical contractors in the United States. Established in 1972, Faith Technologies is ranked 17th among Electrical Construction and Maintenance magazine's "Top 50 Electrical Contractors" and 51st in Engineering News Record's "Top 600 Specialty Contractors." For more information, visit http://www.faithtechnologies.com, or the blog at http://www.faithtechnologies.com/blog. For information on Faith Technologies' electrical risk management services, visit http://www.faithERM.com.
Find Faith Technologies on social media:
Blog | Twitter | Facebook | LinkedIn | YouTube