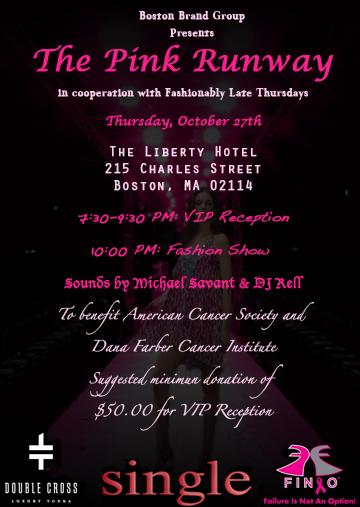 BOSTON, MA (October 3, 2011) - On Thursday, October 27th, Boston Brand Group will collaborate with The Liberty Hotel to present a special "Pink Runway" edition of Fashionably Late Thursday's. The event will showcase designs by Galina Sobolev's Single Dress collection and FINAO'r Pink Ribbon Flipwearr. Guests will be entertained by the sounds of LA's hottest mixologist, DJ RELL. A special VIP reception will be held for ticket holders in the Presidential Suite, complete with pink cocktails courtesy of Double Cross Vodka and a silent auction. All of the proceeds from Pink Runway will be donated to the American Cancer Society and Dana Farber Cancer Institute.

"We chose these two organizations because they are close to my heart and they provide invaluable services and resources to people with cancer year round," explains BBG President, Michelle Mastrobattista. "It is the personal interaction with patients, the human touch and the smallest little details that these organizations provide that can ease a patient's suffering."

As part of the event and Project Pink, FINAOr will be featuring their FINAOr Pink Ribbon Flipwearr from which 100% of the net proceeds will be donated to the American Cancer Society. The shirts will be available through the month of October to demonstrate the company's belief that when it comes to Breast Cancer - Failure Is Not An Option.

Tickets can be purchased online at: http://pinkrunway.eventbrite.com/

About Boston Brand Group:
Boston Brand Group is a full-service entertainment marketing agency. We leverage our relationships with top Hollywood talent agencies, producers and managers to get your brand noticed. What makes us different from other companies is our combination of Los Angeles-based connections and local relationships. This gives us an edge in the New England market and makes the experience more personal for you. Our staff has worked with a who's who of local and national clients on both coasts to provide successful product placements that truly get results.

About FINAO:
FINAOr FlipWearr is a line of personalized casual wear is designed around the theme that if you define what success means to you, then failure is not an option - FINAO! - in a fun, fashionable and deeply engaging way. FINAOr is about celebrating what matters, what's important and what defines you. An now, more than ever, when it comes to breast cancer - Failure is not an Option . . . FINAO!

About Single Dress:
Confident. Sexy. Feminine. Single, the women's collection designed by Galina Sobolev, delivers the latest in forward fashion, combining classic style and luxury with beautiful, exuberant attitude.