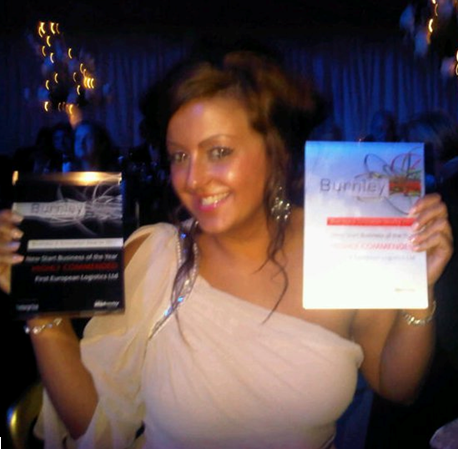 AWARD WINNING haulage company First European Logistics are celebrating their most profitable month in business since their launch in 2009.
The month of June is renowned for being busy in the transport world due to the European driving bans during the Summer months, nevertheless for First European, each month of June continues to be more profitable than the last.
Since their infancy, First European have broken records, raised the bar on targets, gained recognition by winning competitions and made guest appearances in the media. And as a result, after all their hard work and dedication, are being rewarded with a record breaking monthly gross profit.
June 2012 was the most profitable month in their history and was a whopping 10% increase on the previous most profitable month which, coincidentally, was in June 2011. Unsurprisingly, before the new record was set last month, the initial top grossing month was June 2010; so there has been a steady increase in profit year upon year which can only give the team at First European great incentive to continue their efforts and look ahead to breaking new records in the coming months.
When asked what the secret was to building one of the fastest growing
European freight forwarders
, MD Jenna Tattersall explained that a happy staff with a willing to succeed was the secret ingredient:
"All our staff put in 100% effort. Our company policy is to, firstly, ensure that staff are happily within their roles and enjoying the work that they do, before secondly, looking at where we can make inroads on our competition."
She continued: "By having a group of employees that are singing from the same hymn sheet, we can collectively work together to optimise our performance which, as a result, brings in more profit. It takes a lot of hard, hard work and long working hours though, that's for sure! We knew from the first week in June that we were going to have a busy month, so we worked even harder to make sure it was an improvement from last year."
What makes this achieve even more significant is that business in the transport industry is as competitive as ever and the demand to provide an excellent service has seen lots of new companies starting up looking to take their own piece of the pie. Jenna explained that although June was their most profitable month, it only helped to balance the books for the year to date rather than adding to a hugely successful year:
"The beginning of the year was difficult for us. We've found that there is a lot more competition for work these days and other hauliers are really offering great services to customers. We were in danger of becoming uncompetitive before we introduced our First for Business initiative which offers a discount on the first order for new customers. This really helped us maintain our industry leading service and it shows with the records that we continue to break. We had a few bad months at the beginning of the year but have pulled it back on track with our record breaking month in June."
Ever the optimist, Jenna added: "Hopefully every month from now on will be a record breaking month, then we would be in a very good place! But all jokes aside, our aim is for every month to be a record breaking month; that's just the mentality and hard working ethos that we have here at First European. Maybe July will beat June, you never know."
Jenna and the team at First European deserve a lot of credit for their efforts by producing what is the most profitable month of their existence in an industry that has peaked and is at its most competitive.
Let the celebrations begin; although they may have to be put on ice in favour of hard work if they want to continue to improve on their impressive record breaking streak.