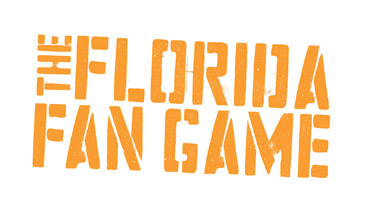 TALLAHASSEE – Oct. 5 Update – Florida State University fans have racked up more than 9,000 points and are closing on the front-runner in the Florida Fan Game, pitting FSU against five other state universities in a contest highlighting football and tourism. Head football coach Jimbo Fisher is leading the charge for the Seminoles, with TV spots and videos airing on TV, at home games, and on websites across Florida. Click here or at left to view
Coach Fisher's video
.
Seminole fans including students, alumni and Boosters are winning tickets to FSU home games via the
Florida Fan Game
Facebook site, with tickets to the Maryland and N.C. State games up for grabs this month. Free tickets to FSU's Homecoming game against Virginia also will be offered soon.
The contest, promoting Florida college football and Florida tourism, has generated more than 33,000 invitations to Florida from the six schools, enticing potential travelers to visit the Sunshine State. University of Florida fans are in the lead, with Florida State University in hot pursuit, followed by Florida A&M, University of Central Florida, University of South Florida, and University of Miami.
In his video, Jimbo Fisher challenges FSU fans to win by inviting everyone they know to visit Florida. He stressed that supporting tourism stengthens Florida's economy and creates job opportunities for Florida graduates.
"This contest will be a win-win for FSU and for Florida tourism," Fisher said. "By winning the Florida Fan Game, we'll prove that FSU has the state's No. 1 fans, and we'll brighten the economic future for our graduates by bringing more tourism to the beautiful Sunshine State."
The school that sends the most travel invitations by Dec. 5 wins. Day to day throughout football season, the
online scoreboard
is tracking the number of invitations sent by each school.
The grand prize for one lucky fan who plays the Florida Fan Game is an 11-day, six-person vacation across Florida, including getaways to Gainesville, Miami, Orlando, Tallahassee and Tampa.
Fans can win other prizes, too, including game tickets and great deals on Florida travel, while helping their university win the title and statewide bragging rights.
The contest, hosted by VISIT FLORIDA, aims to tap the energy of football fans, students, alumni and other university supporters and convert it into support for tourism, the Sunshine State's No. 1 industry and top employer. Fans are asked to invite thousands of friends, relatives and colleagues to visit Florida.
Fans play the Florida Fan Game at
Facebook.com/ShareaLittleSunshine
, where they find Florida travel invitations representing each of the six universities. Fans can customize their invitations and send them to their Facebook friends, adding a point each ime on behalf of the selected school. Recipients will get a personalized invitation to come for a getaway or vacation, accompanied by a $25 coupon for Southwest Airlines flights into Florida and links to deals on hotels, restaurants and attractions.
The Florida Fan Game is an initiative of VISIT FLORIDA's Share A Little Sunshine program, recruiting Floridians to support state tourism by inviting others to visit the Sunshine State.
VISIT FLORIDA, the state's official tourism marketing organization, is hosting the Florida Fan Game, with support from its tourism partners, Southwest Airlines, IMG College, and the six participating universities, led by their head football coaches.
For more information, contact Laura Cassels at VISIT FLORIDA, (850) 205-3839 or (850) 345-9739 or
lcassels@VISITFLORIDA.org
.