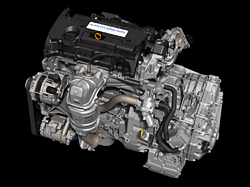 Friendly Honda is excited to report that the, Honda Motor Co., Ltd. announced the outline for a revolutionary next-generation technology for automobiles called "Earth Dreams Technology."
"Earth Dreams Technology" is a next generation set of technological advancements which greatly enhance both driving performance and fuel efficiency at a high level, using as its base advanced environmental technologies to pursue the joy of driving unique to Honda. It is a series of measures in which efficiency of internal combustion components including engine, and transmission, as well as electric-powered motor technology, is further improved.
Through its implementation first in the mini-vehicle N BOX and gradually onto other vehicle models, Honda aims to achieve top-of-industry fuel efficiency for every category within three years, while simultaneously setting a timeline of 2020 to reduce by 30% CO2 emissions for all products sold worldwide, relative to emission figures for 2000.
-Inspiration of the "Earth Dreams Technology" name:
- "Earth Dreams Technology" is an expression for a set of technologies which takes into account both our need to protect the environment and our desire to provide a joy of driving.
Key features of "Earth Dream Technology"
1. A gasoline engine which realizes top level driving performance and fuel efficiency.
2. A compact diesel engine which realized the world's lightest body, top-of-class acceleration performance and fuel efficiency.
3. CVT which combines at a high level the fun of driving and fuel efficiency.
4. A two-motor hybrid system which realized top-of-industry efficiency.
5. A high-efficiency, high output electric SH-AWD hybrid system which combines superior driving and environmental peformance.
6. A compact, high efficiency electric powertrain of EVs.
About Friendly Honda:
Friendly Honda proudly serves the Poughkeepsie, Kingston, Brewster and Newburgh, NY areas with quality Honda vehicles. If you're looking for a used car, they can assist you there as well. ??Friendly Honda provides a full line of services dedicated to their New York customers. From Honda car repairs performed by expert mechanics, to OEM Honda parts and accessories to car loans, Friendly Honda is the smart choice for your automotive needs.??Friendly Honda is located at 1143 Dutchess Turnpike or call (866) 415-7725.
Press Release Powered By Automotive Advertising.