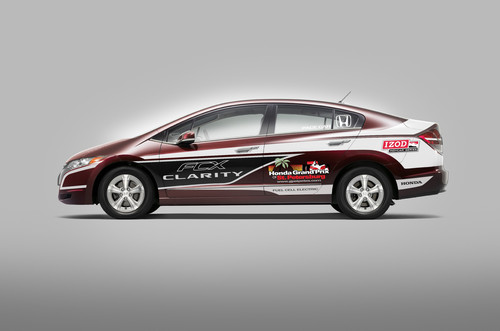 The Honda FCX Clarity is sure to change the way people drive. The folks at Friendly Honda are very excited about this ground breaking vehicle as fuel prices stay at record breaking highs. Right now the Clarity is only available in Southern California but as times change and fuel cost rise this car may travel across the country. Recently, the Honda FCX Clarity fuel cell-electric vehicle served as the pace car for the 2011 Honda Grand Prix of St. Petersburg. This was the first-time a hydrogen-powered vehicle paced an IZOD IndyCar Series race in the United States. As the pace car for the opening race of the 2011 IZOD IndyCar season, the FCX Clarity lead a competitive field through the challenging 1.8-mile waterfront circuit located in downtown St. Petersburg.
The Honda FCX Clarity is a sleekly styled hydrogen fuel cell-powered sedan currently available on a limited retail basis in Southern California. The vehicle is a key part of Honda's efforts to successfully develop, certify and market zero-emissions vehicles. Propelled by an electric motor that runs on electricity generated in a fuel cell, the FCX Clarity's only emission is water, and its fuel efficiency is three times that of a similar-sized gasoline-powered automobile. The FCX Clarity's performance and acceleration are comparable to a 2.4-liter, 4-cylinder engine with an EPA certified range of 240 miles. The compact and powerful Honda V Flow Fuel Cell Stack allows for unprecedented spaciousness and a futuristically stylish, low-slung design and spacious interior.  
The FCX Clarity performed pace car duties at several races including the IZOD IndyCar Series, Firestone Indy Lights events and Acura Sports Car Challenge.
Honda Fuel Cell-Electric Vehicle Firsts:
The original FCX became the first EPA- and CARB-certified fuel cell vehicle in July 2002. The FCX was also the world's first production fuel cell vehicle, introduced to the U.S. and Japan in October 2002.
Additional highlights include:
The FCX was the first fuel cell vehicle to start and operate in sub-freezing temperatures (2003).
The FCX was the first fuel cell vehicle placed in the hands of an individual customer (July 2005).
Honda becomes the first auto manufacturer of a dedicated fuel cell vehicle on a production line specifically for hydrogen-powered fuel cell vehicles (2008).
Honda becomes the first manufacturer to create a fuel cell vehicle dealer network (2008).
Friendly Honda
proudly serves the Poughkeepsie, Kingston, Brewster and Newburgh, NY areas with quality Honda vehicles.
If you're looking for a used car, they can assist you there as well. ??Friendly Honda provides a full line of services dedicated to their New York customers. From Honda car repairs performed by expert mechanics, to OEM Honda parts and accessories to car loans, Friendly Honda is the smart choice for your automotive needs.?
Friendly Honda is located at 1143 Dutchess Turnpike or call (866) 415-7725.