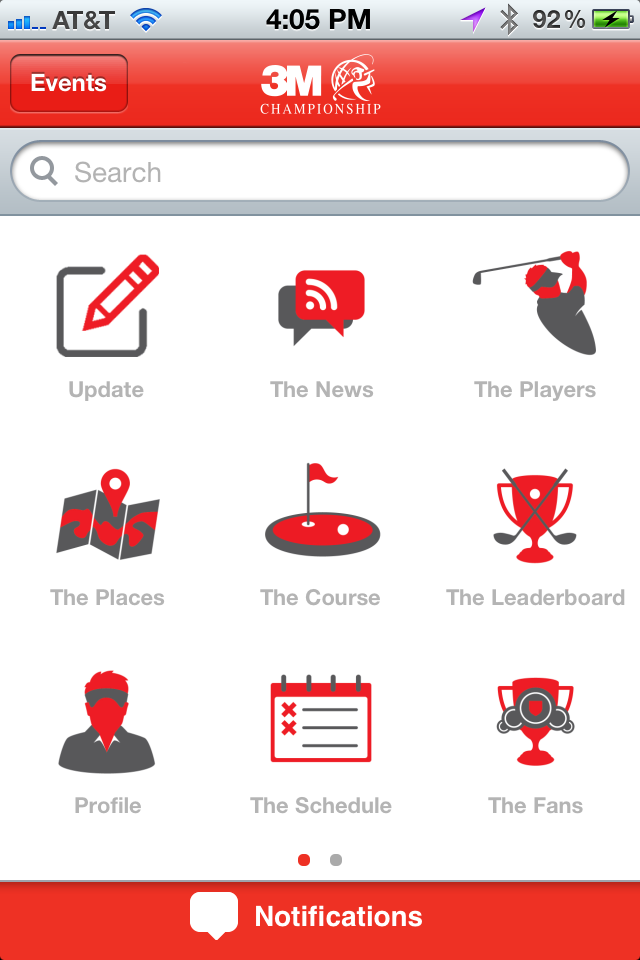 In partnership with the 3M Championship, the Champions Tour and the PGA,
Gage Marketing Group
along with
DoubleDutch
is proud to announce the exclusive 3M Championship mobile app. The 3M Championship in the first PGA-sanctioned event where fans will be encouraged and incented to participate socially via a mobile device. The app is the first of its generation when it comes to fan involvement with social interaction, incenting the viewing public to share their experience via the "second screen" through check-ins, photo uploads, fan commentary both within the app and shared with Facebook and Twitter as well as sponsor engagement by unlocking badges, rewards and offers at the tournament. The app itself is ground breaking for sports and sets the bar at a high level in the golf world. The app can be downloaded at
www.3mchampionship.com
.
In addition, Dell has built a mobile social media listening command center at the 3M Championship to provide real-time monitoring and reporting of social media conversations that occur during the event. This is the first time a PGA event has had this type of a social media integration. By allowing the use of mobile devices on the course during the tournament and by conducting listening reports on the related social media conversations, Gage and the PGA with Dell's support are showcasing how social media can bring fans closer to the experience and extend the conversation to anyone interested in the event.
Gage is leveraging Dell's leadership and practical experience as a social pioneer. Dell has helped its customers to innovate through the use of social media, whether it is in education, humanitarian relief or sporting events and entertainment. Dell is also providing insights and analytics around the championship, fans, players and sponsors. This approach--integrating social within a live sporting event--sets a precedent for providing an "inside the ropes" experience.
The world's premier brands come to Gage for marketing that matters. We help clients grow sales, profits and market share. We spur consumers, customers and partners to take action. We're the technology-savvy, strategically-driven, and results-obsessed, marketing agency. Learn more at
gage.com
.
DoubleDutch is the leader in mobile engagement applications for events and sales teams. DoubleDutch's mobile event app, Flock, provides the most interactive experience possible for event attendees. Learn more at
doubledutch.me
.