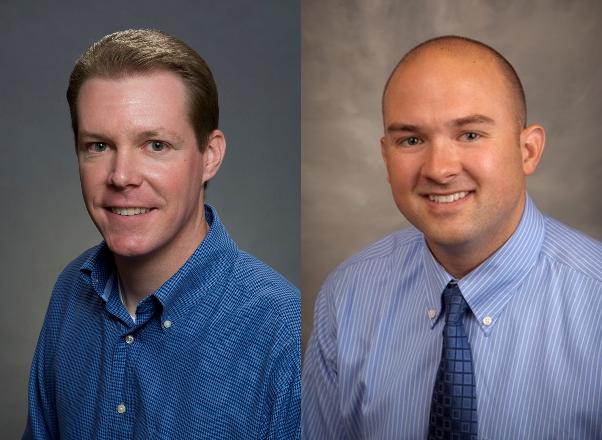 Modesto, California, February 10, 2012- Grimbleby Coleman CPAs, Inc., an accounting and business advisory firm headquartered in Modesto, California, is proud to announce that CPAs Jeff Bowman and Nathan Miller have recently earned their Masters in Taxation from Golden Gate University. The program consists of 30 units covering general and specialized tax subjects such as estate and gift tax, partnerships, C Corporations, LLCs and S Corporations, California and multistate tax, international tax, retirement plans, tax issues for individuals, and tax research.
Golden Gate University has one of the largest and most respectable graduate tax programs in the country. Their curriculum stresses a highly focused, real-world education with emphasis on analytic and communication skills. Graduates of the program achieve thorough and current knowledge of tax law concepts and practices as well as trends of the discipline.
Jeff Bowman has been a Principal at Grimbleby Coleman since 2010. He holds a Master in Business Administration and is a Certified Public Accountant. Jeff's area of expertise is tax, although he holds a special place in his heart for agricultural accounting. He thrives on being able to explain a concept or share information that helps a client as well as gaining tax advantages for clients by a thorough understanding of the clients' operations.
Nate Miller is also a Certified Public Accountant and has been a Principal with Grimbleby Coleman since 2010, where he oversees staff, assists with the evaluation and implementation of practice management tools, and helps clients in the area of taxation. Nate enjoys getting to know the clients he serves, and especially values the bond that forms through working together over time.
Grimbleby Coleman has been serving the Central San Joaquin Valley since 1973 and is known for its focus on not just the numbers, but on the people who give them meaning. The firm encourages and supports its staff members to advance their education and pursue areas of interest to them.
###
About Golden Gate University
Golden Gate University (GGU), a non-profit institution with locations in San Francisco, Los Angeles, Silicon Valley, and Seattle, provides programs catered to the needs of professionals entering or advancing their careers. The top-rated instructors, which are most commonly experts working in their field of expertise, set GGU apart from similar institutions. They bring first-hand experience and knowledge to the classroom, incorporating cutting-edge practices from the business and legal communities. Alumni success is at the core of GGU's mission, as they strive to provide graduates the necessary tools to achieve their professional goals and reach personal ones. www.ggu.edu
About Grimbleby Coleman CPAs, Inc.
Grimbleby Coleman CPAs is an accounting and business advisory firm with headquarters in Modesto, California and a second office in Oakdale, California. Since 1973, the firm has been trusted by the families and businesses of the Central San Joaquin Valley to tackle every challenge with deep skill, insight, and experience. You can count on the people at Grimbleby Coleman to go beyond the numbers to actively support your personal and business success. They know that you, too, have people counting on you. www.grimbleby-coleman.com