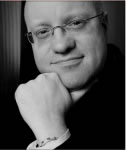 HARTFORD, Conn., September 9 - Geezeo (www.geezeo.com), a diversified online banking provider that offers online financial management (OFM) tools, personal financial management (PFM), social networking and web-based community platforms to financial institutions, announced today that Brett King, author of Bank 2.0, has joined the Geezeo team as an Advisor. He joins Alex Sion, VP, Digital Strategy and Financial Services at SapientNitro, a Geezeo Advisor since 2009. Mr. King is also the founder of the International Academy of Financial Management, one of the fastest growing professional associations and training institutes in the world.

A regular speaker at the top global conferences for financial services, King is an acknowledged expert on wealth management, customer experience and retail channel distribution strategy. He publishes regularly in his role as industry advisor on Huffington Post (Business News), Internet Evolution and his own personal blog here at www.Banking4Tomorrow.com.

Mr. King also runs User Strategy, a boutique consultancy focused on improving customer interaction for leading financial services companies and businesses. King previously ran the Asia division of Modem Media and the E-Business service line for Deloitte. His clients include HSBC, Citigroup, UBS, Standard Chartered, Abu Dhabi Commercial Bank, Emirates NBD, RBS, CSFB, BNP Paribas and many more.

"I'm delighted to be joining the Geezeo Advisory team. I am a firm believer that we're taking the next stage in engaging customers behind the login and via mobile devices and beyond," said Mr. King. "Geezeo's platform offers a capability not only to sell intelligently to customers based on behavior, but also to give customers more control - FIs have to realize that consumers are control freaks these days."

"We look forward to the additional insight that Brett can provide our firm and clients," said Shawn Ward, Geezeo CEO. "He is an engagement banking pioneer that clearly understands how the financial industry needs to reinvent itself."

###

About Geezeo
Founded in 2006, Geezeo offers an integrated suite of Online Financial Management (OFM) tools and services including Personal Financial Management (PFM) software for banks and credit unions. PFM empowers
online customers, giving them a holistic view of their financial assets, liabilities and budgets. Geezeo's unique platforms help financial institutions develop online customer dialog while generating growth through customer acquisition and increased wallet share. For more information on the privately held company, visit www.geezeo.com.