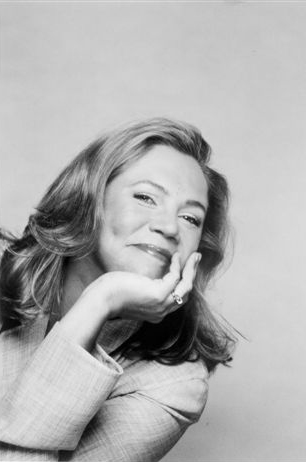 LOS ANGELES, December 6, 2011 – Two-time Tony and Oscar nominee Kathleen Turner sizzles in Red Hot Patriot: The Kick-Ass Wit of Molly Ivins as the brassy Texan reporter whose liberal journalism skyrocketed her to the national stage. From writing Elvis Presley's New York Times obituary to becoming the most widely-read selfproclaimed "pain in the ass to whatever powers come to be," Ivins – often described as a modern-day Mark Twain – made rabid fans and enemies alike with her sharp-tongued humor and unabashed political criticism. Written by twin sisters Margaret Engel and Allison Engel and helmed by acclaimed director and Geffen alum David Esbjornson (Neil Simon's Rose & Walsh and Bill Cain's Equivocation), this acclaimed production captures the red-headed reporter's indomitable character by weaving personal anecdotes with her colorful take on national politics. Red Hot Patriot begins previews on January 3, 2011 with an official opening date of January 11.
Red Hot Patriot: The Kick-Ass Wit of Molly Ivins had its world premiere at the Philadelphia Theatre Company, where Kathleen Turner originated the role. A subsequent production (featuring Barbara Chisholm) was produced by the ZACH Theatre in Austin. The Geffen Playhouse production marks the West Coast premiere.
Special events during the run of Red Hot Patriot include the theater's special Signature Series options for no additional cost. These evenings include an intellectual, thought-provoking post show Q&A at Talk Back Tuesdays; a scintillating, one-of-a kind after-party at Girls Night Out; a cultural happy hour with Lounge Fridays and complimentary wine tastings during Wine Down Sundays. For more information, please view www.geffenplayhouse.com/redhotevents.
RED HOT PATRIOT: THE KICK ASS WIT OF MOLLY IVINS
Written by Margaret Engel and Allison Engel
Directed by David Esbjornson
Preview Performances: Tuesday, January 3 – Tuesday, January 10, 2012
Opening Night: Wednesday, January 11, 2012
Closing Night: Sunday, February 12, 2012
Cast
Kathleen Turner (Molly Ivins)
Helper (TBA)
Production Credits
Set Designer - John Arnone
Costume Designer - Beth Clancy
Lighting Designer - Daniel Ionazzi
Sound Design / Compositionm - Robert Milburn and Michael Bodeen
Projection Designer - Maya Ciarrocchi
Wig Designer - Paul Huntley
Production Stage Manager - Mary Michele Miner
Performance Schedule
Monday No performances
Tuesday – Friday 8:00pm
Saturday 3:00pm; 8:00pm
Sunday 2:00pm; 7:00pm
Ticket Info
Ticket prices currently range from $37 - $57 for preview performances and from $72 - $87 for the regular run. Contact the Geffen Playhouse box office in-person, via phone at 310-208-5454 or online at www.geffenplayhouse.com for updated pricing and seating availability.
BIOGRAPHIES
Kathleen Turner (Molly Ivins)
Screen icon Kathleen Turner has garnered critical acclaim for her performances in various movies including Body Heat, for which she was nominated for a Golden Globe; Romancing The Stone and Prizzi's Honor, which earned her a Golden Globe Award for each; Peggy Sue Got Married, which brought Turner both an Academy Award nomination and a Golden Globe nomination; and War of the Roses, and yet another Golden Globe nomination. Turner's extensive film credits also include The Man with Two Brains, with Steve Martin; Jewel of the Nile, with Michael Douglas; The Accidental Tourist; V.I. Warshawski; John Waters' Serial Mom; Naked in New York; Moonlight and Valentino; The Real Blonde; and Sofia Coppola's The Virgin Suicides. Ms. Turner has also starred on Broadway in Cat On a Hot Tin Roof, for which she received a Tony nomination; Indiscretions; The Graduate; and Who's Afraid of Virginia Woolf, for which she received a second Tony nomination. Ms. Turner had a major recurring role last season playing the role of Sue Collini on Showtime's hit series, Californication. In the spring of 2010 Ms. Turner starred as Molly Ivins in the world premiere of Red Hot Patriot: The Kick Ass Wit of Molly Ivins at Philadelphia Theater Center and immediately following that shot the starring role in an independent film called The Perfect Family. Ms. Turner recently starred on Broadway in High, and in addition to her film and stage credits, Turner wrote of her many accomplishments and life experiences in her 2008 autobiography titled Send Yourself Roses: Thoughts on my Life, Love, and Leading Roles, which secured a position on the New York Times Best-Seller List.
Allison Engel (Playwright)
Allison Engel has been a newspaper reporter for the Des Moines Tribune, San Jose Mercury and Pacific News Service and was a Knight Journalism Fellow at Stanford University. She has also been a political speechwriter and aide for former Iowa governor Tom Vilsack and lieutenant governor Sally Pederson. In Iowa, she was active in the Des Moines Playhouse, serving as president and head of play selection. She has been a food columnist for Saveur, an architecture columnist for Renovation Style, and has written for many other national publications. She recently spent five years as director of communications at USC before becoming the associate director of the Los Angeles Institute for the Humanities at the university. She received an MA in screenwriting from USC in 2009. She is married to Scott Kirkpatrick, and they have two children, Miles and Nora.
Margaret Engel (Playwright)
Margaret Engel was a reporter for the Washington Post, Des Moines Register and Lorain Journal, and was a Nieman fellow at Harvard University. She directs the Alicia Patterson Journalism Foundation and was the managing editor of the Newseum, the museum for news, in Washington, D.C. She co-wrote Food Finds: America's Best Local Foods and the People Who Produce Them with her twin, Allison, and helped turn the book into a show for Food Network, where it ran for seven years. It appears today on the Travel Channel. She serves on the TheatreWashington / Helen Hayes Awards board, the Fund for Investigative Journalism and chairs the Robert F. Kennedy Journalism awards board. She and her husband, Bruce Adams, wrote three editions of a travel guide to America's baseball parks, with the help of their children, Emily and Hugh.
David Esbjornson (Director)
Premieres include: Edward Albee's The Goat or Who is Sylvia? (Broadway) and the Play About the Baby(Century), The Ride Down Mt. Morgan (Broadway) and Resurrection Blues by Arthur Miller (Guthrie), Angels in America: Millenium Approaches and the first staged presentation of Perestroika (Eureka), Homebody/Kabul (London),), Neal Bell's Therese Raquin (CSC), In the Blood by Suzan-Lori Parks (Public), Albom/Hatcher'sTuesdays With Morrie (Minetta Lane) Israel Horowitz' My Old Lady (Promenade), Kathleen Tolan's Memory House (Playwrights), Ariel Dorfman's Purgatorio, and Kevin Kling's How? How? Why? Why? Why? (SRT). Recent work: Measure for Measure (NYSF Delacorte), Moira Buffini's Gabriel and Peter Parnell's Trumpery (Atlantic), Allison and Margaret Engels' Molly Ivins (PTC). Revivals include: Driving Miss Daisy (Broadway and West End), Death of a Salesman (Gate-Dublin), Hamlet (TFNY), A Few Good Men (West End), All My Sons (Huntington), Much Ado About Nothing (NYSF), The Normal Heart (Public), Mud and Drowning (Signature), The Entertainer, The Maids, Endgame, Entertaining Mr. Sloane (CSC), Who's Afraid of Virginia Woolf?, Summer and Smoke (Guthrie), Twelfth Night and Lady From Dubuque,), Farmyard (NYTW). David has served as Artistic Director of NYC Classic Stage Company and Seattle Repertory Theatre and is the current Chair of Theatre at Rutger's University.
ABOUT THE GEFFEN PLAYHOUSE
The Geffen Playhouse has been a hub of the Los Angeles theater scene since opening its doors in 1995. Noted for its intimacy and celebrated for its world-renowned mix of classic and contemporary plays, provocative new works and second productions, the Geffen Playhouse continues to present a body of work that has garnered national recognition. Named in honor of entertainment mogul and philanthropist David Geffen, who made the initial donation to the theater, the company was founded by Gilbert Cates, and is currently helmed by Artistic Director Randall Arney, Managing Director Ken Novice and Chairman of the Board Frank Mancuso. Proudly associated with UCLA, the Geffen Playhouse welcomes an audience of more than 130,000 each year, and maintains an extensive education and outreach program, designed to engage young people and the community at large in the arts. For more information, please visit geffenplayhouse.com