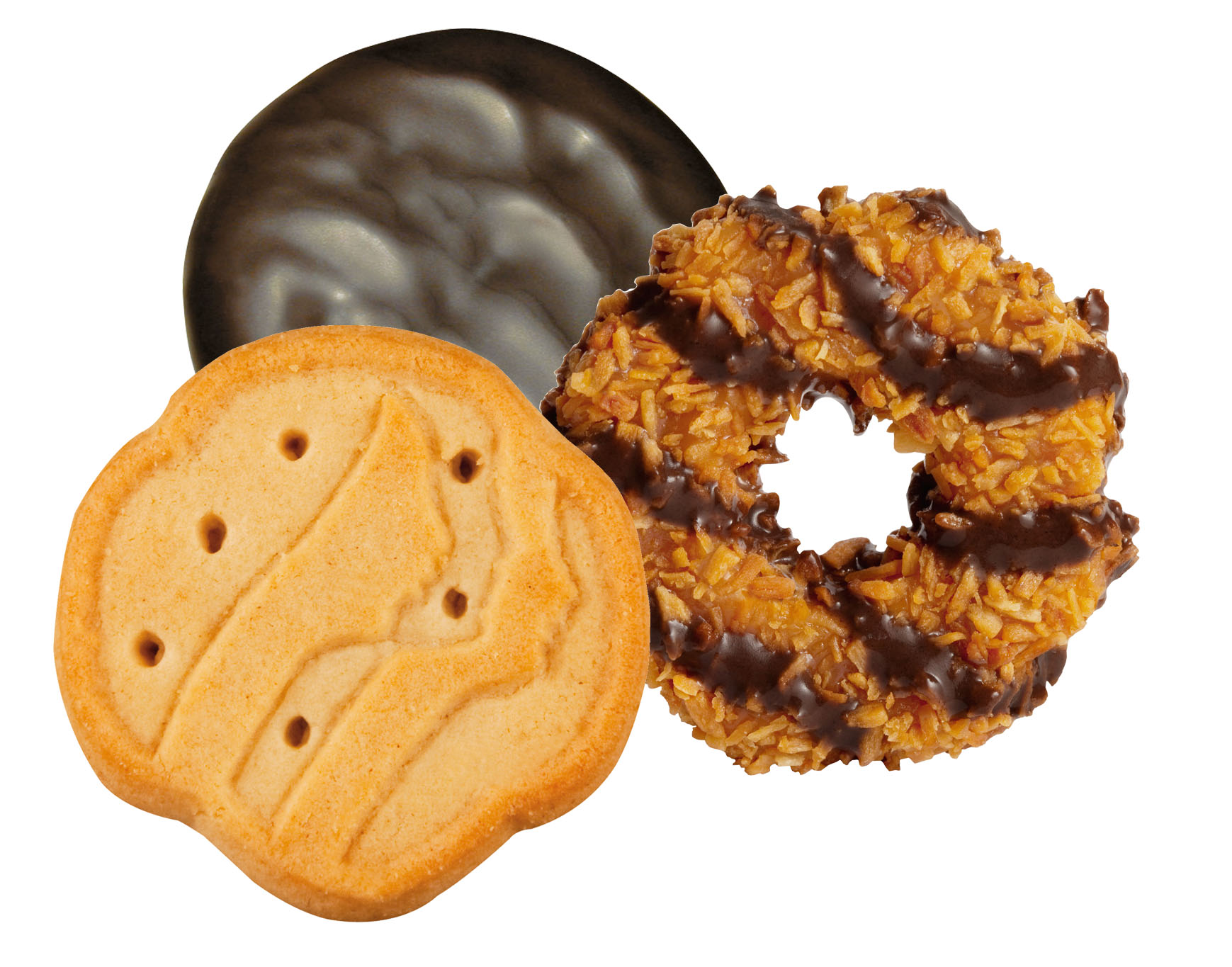 The wait is over! Customers can get those Girl Scout Cookies they've been dreaming about since last year when the annual Girl Scout Cookie Program kicks off Sunday, Jan. 22. Girl Scouts across Colorado will be picking up millions of packages of Girl Scout Cookies the week of Jan. 16, and then will be bringing cookies to customers' doors to sell on-the-spot from Jan. 22 until March 4. (Sales in front of retail locations start Feb. 10.) This year Girl Scouts will also be giving customers the option to pay by credit card if the Girl Scout is participating in the program.
This year marks Girl Scouts' 100th anniversary year, known as "Year of the Girl." While Girl Scouts didn't start selling cookies until 1917, this annual tradition has grown into the largest girl-led business in the country that generates more than $700 million for girls in communities nationwide. In fact, last year in Colorado, girls participating in Girl Scouts earned $2.48 million for their activities, such as service projects or exciting trips. The Girl Scout Cookie Program is also an important ingredient for leadership development and helps girls develop five key skills: goal setting, decision-making, money management, people skills and business ethics. Many Girl Scout alumnae credit programs like the Girl Scout Cookie Program as the place they learned their early business skills.
Girl Scout Cookies cost $3.50 per package, and all money raised supports girls in Girl Scouts of Colorado, with a portion of the profits going directly to the girls participating in Girl Scouts. The eight Girl Scout Cookie varieties are Do-Si-Dos, Dulce de Leche, Samoas, Savannah Smiles, Tagalongs, Thank U Berry Munch, Thin Mints and Trefoils. The new cookie is the Savannah Smiles, which is a lemon cookie that is named after Savannah, Ga., the place where Girl Scouting was founded in 1912 by Juliette Gordon Low. All Girl Scout Cookie varieties contain zero grams of trans fat per serving and the Do-Si-Dos, Dulce de Leche, Savannah Smiles, Thank U Berry Munch and Trefoils have no hydrogenated oils. Further information about the Girl Scout Cookie ingredients can be found at http://www.littlebrownie.com.
"It's a historic year for the Colorado Girl Scout Cookie Program. From celebrating our 100th anniversary to our 'Cookies Now!' sale model, accepting credit cards and other innovative technology tools like the Cookie Locator mobile app, supporting Girl Scouts through the Cookie Program is now easier than ever," said Dorothy Gregory, vice president of product sales for Girl Scouts of Colorado. "But the most valuable component of this annual program is the life skills gained by the girls. I know many of our Girl Scouts have their sights set high on earning money through cookie sales to participate in one of the many programs we offer."
Girl Scouts are encouraged to "ask" family and friends to buy Girl Scout Cookies online through email, social networking (such as Facebook or Twitter) or even text messaging; however, at this time, Girl Scouts cannot collect money online for cookie purchases. In Colorado, Girl Scouts can participate in the online Cookie Club, where they set goals, track their progress and email their family and friends to ask them to make purchases.
Making the world a better place is central to the Girl Scout mission. During the Cookie Program, Girl Scouts honor the non-profit organizations, food banks, military and uniformed personnel who are so important to our community through Girl Scouts' Hometown Heroes/Gift of Caring program. Through this program, customers have the opportunity to purchase a package of cookies to donate to Girl Scouts' heroes – a perfect solution for those who pass on the tempting treats! Girls learn about the invaluable work of their recipients by taking tours, learning about careers in public service and helping with community service projects. All Hometown Heroes/Gift of Caring purchases are eligible to be tax deductible. Last year's statewide program netted 122,000 packages for hundreds of community organizations.
Customers who are looking for cookies can use the "Cookie Locator" online or via mobile app to search for Booth Sale locations where they can make a purchase. Once customers find a location that works for them, they can add it to their calendar and/or sign up to receive email reminders about sale locations. Visit http://www.girlscoutsofcolorado.org to get started or learn more.
About Girl Scouts of Colorado
Girl Scouting builds girls of courage, confidence and character who make the world a better place. Girl Scouts of Colorado makes it easy, meaningful and fun for girls and volunteers to grow as leaders. We provide a safe place for girls to explore their world – from science, technology and the environment to healthy living, anti-bullying and financial literacy. For 100 years, Girl Scouting has been helping each girl develop her personal leadership skills and make friends that last a lifetime. Girl Scouts is also a great place to enhance job skills and give back to your community as an adult volunteer. In fact, we serve 30,000 girl members and 9,000 adult volunteers across Colorado! New to Girl Scouts are the flexible pathways for participation for both girls and adult volunteers. Come learn more about how you can be part of the Girl Scout Leadership Experience during our historic Year of the Girl 100th anniversary by visiting http://www.girlscoutsofcolorado.org, calling 1-877-404-5708 or emailing inquiry@gscolorado.org.
Spanish Translation
Compre sus "Galletas Ahora", y pague con tarjeta de crédito
Girl Scouts of Colorado celebra su Centenario haciendo interesantes cambios a su Programa Anual de Galletas
Oportunidades Visuales y Entrevistas:
Este año será aun más fácil comprar galletas de Girl Scouts, ya que niñas y jóvenes tendrán galletas a la mano y recorrerán puerta por puerta para su venta, desde el 22 de enero al 4 de marzo. No olvide que puede pagar con tarjeta de crédito.
Nuestros voluntarios recogerán millones de cajas de galletas en diferentes lugares alrededor del estado, a partir de la semana del 16 de enero.
Girl Scouts, cumple 100 años durante el 2012, ¡Año histórico llamado "Año de la Niña"! Además de estrenar una nueva galleta con el nombre de Savannah Smiles.
Chefs locales y Niñas Girl Scouts están dispuestos a demostrar cómo hacer deliciosas recetas con las galletas, en preparación al evento "Día de Comer Afuera", en Denver el próximo 2 de febrero. Los restaurantes participantes donarán 20 % de sus ventas a Girl Scouts of Colorado.
La Venta de Galletas está a la vanguardia de la tecnología. Ya que se pueden hacer promociones vía email y las redes sociales. Utilizar el localizador de Galletas a través de la aplicación móvil para celulares y nuestro sitio web, y pagar con tarjeta de crédito. Las galletas de Girl Scouts están al alcance de sus manos virtualmente donde quiera.
Niñas y jóvenes participarán en eventos que les ayudarán a establecer sus metas y a desarrollar sus planes de venta, antes del inicio de la venta de Galletas.
Niñas y jóvenes están listas para animar a sus clientes, a través de canciones para hacer crecer sus ventas.
¡La espera ha terminado! Los clientes pueden obtener las Galletas de Girl Scouts, con las que han soñando por todo un año, a partir del inicio de su venta el día domingo 22 de enero. Niñas y jóvenes Girl Scouts por todo el estado recogerán millones de cajas de galletas, a partir del 16 de enero, las cuales tendrán a la mano y venderán a sus clientes al instante puerta por puerta, desde el 22 de enero al 4 de marzo. (La venta de puestos a las afueras de tiendas y supermercados, comienza el día 10 de febrero). Y solo si las niñas y grupos de Girl Scouts han tomado la opción de trabajar con "pago con tarjeta de crédito" los clientes tendrán esta opción para pagar.
Este año Girl Scouts celebra su Centenario, inaugurado como "El Año de la Niña". Si bien la venta de galletas no se comenzó hasta el año 1917, esta tradición anual ha llegado a convertirse en una de las empresas más grandes dirigidas por niñas en el país, generando más de 700 millones de dólares para niñas en comunidades en los Estados Unidos. De hecho, el año pasado en Colorado, niñas y jóvenes participantes ganaron 2.48 millones de dólares con los cuales costearon participación en actividades, viajes a lugares interesantes y proyectos de servicio a la comunidad. Además el Programa de Galletas de Girl Scouts es uno de los ingredientes importantes en el proceso de liderazgo de nuestra organización, ya que ayuda a las niñas a desarrollar cinco habilidades claves: establecer metas, tomar decisiones, administración de dinero, relacionarse con otros y ética en los negocios. Muchas de las ex-participantes de Girl Scouts dan prestigio al Programa de Galletas ya que fue la primera experiencia donde aprendieron habilidades en los negocios.
El costo por cada caja es de $3.50 y el dinero recaudado apoya a las niñas jóvenes del estado a costearse su participación en programas de Girl Scouts. Las ocho variedades de galletas son: Do-Si-Dos, Dulce de Leche, Samoas, Savannah Smiles, Tagalongs, Thank U Berry Munch, Thin Mints y Trefoils. La nueva galleta de este año 2012, es una galleta de limón que representa a Savannah Georgia, lugar donde la organización fue fundada por Juliette Gordon Low, en el año 1912. Todas las variedades de Galletas contienen cero gramos de grasa transgénica y las variedades de Trefoils, Do-Si-Dos, Savannah Smiles, Thank U Berry Munch y Dulce de Leche no contienen grasa hidrogenada. Más información sobre los ingredientes de las galletas se puede obtener mediante el sitio web http://www.littlebrownie.com.
Este ano es uno histórico para el Programa de Galletas en nuestro estado. Comenzando con la celebración del Centenario, aplicando el modelo de venta "Galletas Ahora", aceptando pago por tarjetas de crédito y utilizando herramientas nuevas en tecnología como la aplicación móvil para localizar galletas.
Apoyar a niñas y jóvenes durante el Programa de Galletas, es ahora más fácil que nunca, dijo "Dorothy Gregory, Vicepresidente de Venta de Productos de Girl Scouts of Colorado, ya que el componente más valioso de este programa, son las habilidades que obtienen las niñas, pues estas les servirán toda su vida. Muchas niñas tienen alturas de mira y altas metas con el dinero porque servirá para costear la participación en muchos de los programas que ofrecemos".
Animamos a niñas y jóvenes a "promocionar" la venta por internet entre sus familiares y amigos, a través de correos electrónicos, las redes sociales (Facebook-Twitter) e incluso por mensaje de texto para que compren galletas, sin embargo por ahora, no esta permitido recibir pagos por este medio.
En Colorado, las niñas pueden participar en el Club de Galletas, una herramienta en línea que les permite establecen metas, hacer seguimientos de su progreso y enviar correos electrónicos a sus familiares y amigos.
Hacer del mundo un lugar mejor es parte importante de la misión de Girl Scouts. Por eso durante la actividad de galletas, nuestra organización continuará honorando a las organizaciones no lucrativas de nuestra comunidad, tales como, bancos de alimentos, personal militar y uniformado, mediante el programa "Don de Interesarse por Otros/Héroes de la Ciudad". Al participar en este programa, los clientes tienen la posibilidad de comprar galletas extras para donar, a los Héroes de la Ciudad – una opción para las personas que no desean comprar galletas para si mismas. Las compras hechas para los Héroes de la Ciudad son deducibles de impuestos y benefician tanto a los grupos como a las organizaciones. El año pasado se reunieron 122.000 cajas de galletas, para cientos de organizaciones en la comunidad.
Los clientes que estén buscando galletas pueden usar el "localizador de Galletas" una aplicación en línea y vía celular para buscar puntos de venta. Una vez que el cliente encuentra un lugar conveniente, puede incluirlo a su calendario o inscribirse para recibir recordatorios sobre los puntos de venta. Para inscribirse o recibir más información visite el sitio http://www.girlscoutsofcolorado.org.
Sobre Girl Scouts of Colorado
La organización Girl Scouts, ayuda a niñas y jóvenes a desarrollar valentía, confianza en sí mismas y carácter para hacer del mundo un lugar mejor. Nuestra organización trabaja, de manera significativa y divertida par a que niñas, jóvenes y voluntarios, crezcan en su papel de líderes. Ofrecemos un lugar seguro para explorar el mundo – desde experimentar con las ciencias, tecnología y el medio ambiente, a como llevar una vida saludable, evitando y no utilizando actitudes agresivas y aprendiendo el manejo de finanzas. Por 100 años, Girl Scouts ha ayudado a niñas y jóvenes a desarrollar sus habilidades de liderazgo personal y hacer amistades duraderas. Además, Girl Scouts es un gran lugar para perfeccionar habilidades profesionales y dar de vuelta a la comunidad, participando como voluntario. En la actualidad servimos a 29,500 niñas y jóvenes, y a 9.500 adultos voluntarios en el estado de Colorado. Para aprender más sobre cómo puede ser parte de la Experiencia de Girl Scouts durante este Año de la Niña, visite el sitio http://www.girlscoutsofcolorado.org, llame al 1-877-404-5708, o por email a paraespanol@gscolorado.org.