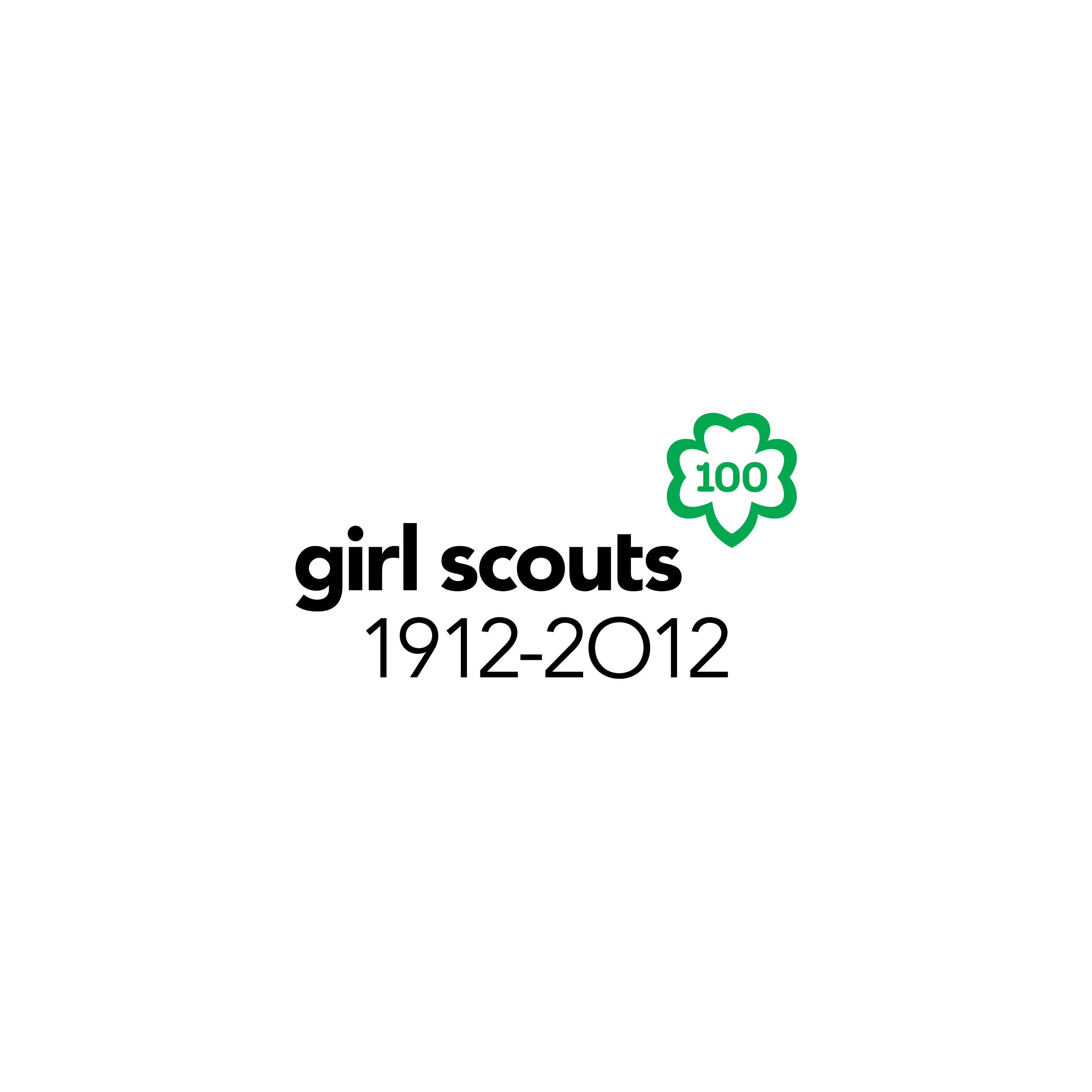 Girl Scouts of Colorado is joining Girl Scouts across the country on Monday, March 12, to celebrate Girl Scouts "official" 100th anniversary date. Girl Scouts of the USA (GSUSA) has declared 2012 the Year of the Girl: a celebration of girls, recognition of their leadership potential, and a commitment to creating a coalition of like-minded organizations and individuals in support of balanced leadership in the workplace and in communities across the country.
A comprehensive new research study, ToGetHerThere: Girls' Insights on Leadership, commissioned by GSUSA in partnership with GfK Roper, reveals that while girls are generally optimistic about their futures, they still see glass ceilings in today's society that will get in the way of achieving their leadership potential. The study, based on a telephone survey of 1,000 girls ages 8–17, found, for example, that close to three in five girls think that a woman can rise up in a company but will rarely be put in a senior leadership role. Additionally, more than one-third of girls say they wouldn't feel comfortable trying to be a leader, and almost 40 percent are not sure they're cut out to be a leader.
Girl Scouts of Colorado has launched a One in a Million philanthropic campaign that will directly benefit girls and fuel this effort to fund opportunities that enable girls to lead. Funds raised will go directly to services and programs for girls to help fill critical talent gaps in finance, science, technology, environmental and global leadership arenas. For more information about anniversary events and how to be part of this important movement, visit girlscoutsofcolorado.org/100th-anniversary.
Photo Opportunities at Colorado 100th anniversary events
March 12 events
AT&T presents Capitol Troop 2012 Celebration Colorado State Capitol, Denver (10 a.m., House floor & noon presentation, 1st floor rotunda)
Troop 2012 at Colorado Hospitals, across the state (times and locations vary)
On March 12 in Colorado, every baby girl born as well as the state's female legislators will be inducted into Honorary Troop 2012. Troop 2012 symbolizes all that is possible for the next generation. These baby girls could grow up to be successful lawmakers, businesswomen, professional athletes or anything they want to be because in their lifetime the leaders of today will show the next generation of leaders that the possibilities are endless.
The morning at the capitol will kick off with Girl Scouts leading the Assembly's Pledge of Allegiance and Flag Ceremony, followed by the signing of a joint resolution from the House and Senate and a proclamation from the Governor. The Troop 2012 induction will take place during the noon luncheon, courtesy of AT&T. Also on March 12, Girl Scout groups throughout the state will visit the hospitals they've adopted to recognize the girls born that day. Babies born on March 12 will receive a Troop 2012 certificate, as well as a care package of baby gifts made by the Girl Scouts.
Honoring 100th anniversary Generation Wow! Girl Scouts, City Hall Auditorium (250 N. 5th St.), Grand Junction (5:30-7:30 p.m.)
Girl Scouts of Colorado named 100 Colorado Girl Scouts as the leaders of tomorrow, the Generation Wow!, in honor of the 100th anniversary. This designation recognizes outstanding girls whose individual achievements in Girl Scouts, their schools and communities set them apart as leaders.
The 11 Girl Scouts from the Western Slope who have been named to this honor will be recognized in a special ceremony by The Honorable Tom Kenyon, Mayor of Grand Junction. The girls who will be recognized include Reese Barry from Grand Junction, Natalie Danielson from Silt, Chiara Degenhardt from Ouray, Daisy Diaz from Austin, Kaci Gulick from Cedaredge, Jessica Hull from Montrose, Julia Jackson from Eckert, Kelsey Knight from Palisade, Riley Owen from Austin, Emily Tullis from Cedaredge and Falynne Weinke from Grand Junction.
Girls who have earned the Generation Wow! honor exhibit a high level of volunteer achievement and make significant contributions to their community. They demonstrate strong leadership skills through service and learning projects. They exhibit achievement in developing a healthy attitude, both mind and body, and demonstrate exceptional interpersonal skills in teamwork, conflict resolution and goal setting. They embody the mission of Girl Scouting. A committee of outside civic and community leaders from throughout Colorado helped select these recipients. For more information on these honorees, see the program booklet on the 100 Colorado Generation Wow! Girl Scouts at http://ow.ly/6qpkN.
Other Colorado 100th anniversary events
Recognition at government entities: Many government entities across the state are helping celebrate 100 years of Girl Scouts at local recognition events during government entities regular scheduled meetings. Check their agendas for more information.
Historical Girl Scout memorabilia exhibits: Several communities, including the Longmont Museum, have put together Girl Scout memorabilia exhibits to demonstrate how the Girl Scout movement has changed but remained true to its core values throughout the years. The Longmont Museum exhibit, Girl Scouts Together for 100 Years, runs March 3 to April 29 and will feature hundreds of objects spanning nearly a century of Girl Scout history. Visit ci.longmont.co.us/museum for more information, including the exhibit programs that will be offered.
Other 100th anniversary events:
Anniversary parties from Durango to Eagle, Longmont, Pueblo, Wray and many points in between will be held in March, as well as dates throughout 2012, to mark this historic Girl Scout occasion.
Girl Scouts' signature project for the 100th anniversary is Girl Scouts Forever Green, and Girl Scouts will hold public Earth Hour events on Saturday, March 31, in Colorado Springs and Fort Collins.
In conjunction with the National Rock the Mall Girl Scout Sing-Along event in Washington, D.C. on June 9, Girl Scouts of Colorado is planning a Sing-Along event at the Colorado State Capitol in Denver.
This summer there will be a Camp S'more – 100th Anniversary Campout event, which is open to alumnae, July 27-29 at three of Girl Scouts of Colorado's summer camp properties.
For more information on Girl Scouts of Colorado's 100th anniversary Year of the Girl celebrations: girlscoutsofcolorado.org/100th-events.
Looking for Girl Scout Alumnae in Colorado
There are more than 50 million Girl Scout alumnae across the nation, and thousands living right here in Colorado. During the 100th anniversary year, Girl Scouts of Colorado is looking forward to the opportunity to learn more about our wonderful statewide alumnae. In particular, Girl Scouts of Colorado is looking to find:
the oldest living Girl Scout alumna in our state
100 distinguished alumnae in Colorado who demonstrate exceptional leadership, a strong commitment and service to their community, embrace diversity and embody Girl Scout values
For more information or to make a nomination, visit girlscoutsofcolorado.org/100th-honor. Please act quickly to nominate someone for one of these awards as the nomination deadlines are soon! Recipients for these awards will be honored at the sing-along event at the State Capitol on Saturday, June 9.
About Girl Scouts
Helping girls discover themselves and how they can impact their communities was something that Juliette Gordon Low, Girl Scouts' founder, had first envisioned when she started the first Girl Scout group in Savannah, Ga. on March 12, 1912. At the time of the organization's founding, when many girls' paths in life were limited to their social standing, Low's vision was to establish an organization where any American girl could expand her personal horizon by having fun, while exploring new interests and contributing to society. Low was determined to help expand opportunities and learning for the average American girl.
More than 3 million girls and volunteers in the United States, including 30,000 girls and 9,000 volunteers in Colorado, are discovering their path to leadership through Girl Scouts, the leading authority and advocate for girls. Girl Scouting inspires girls and women to strive for the highest ideals of courage, confidence and character. Learn more about how you can be part of the Girl Scout Leadership Experience by visiting girlscoutsofcolorado.org, calling 1-877-404-5708 or emailing inquiry@gscolorado.org.