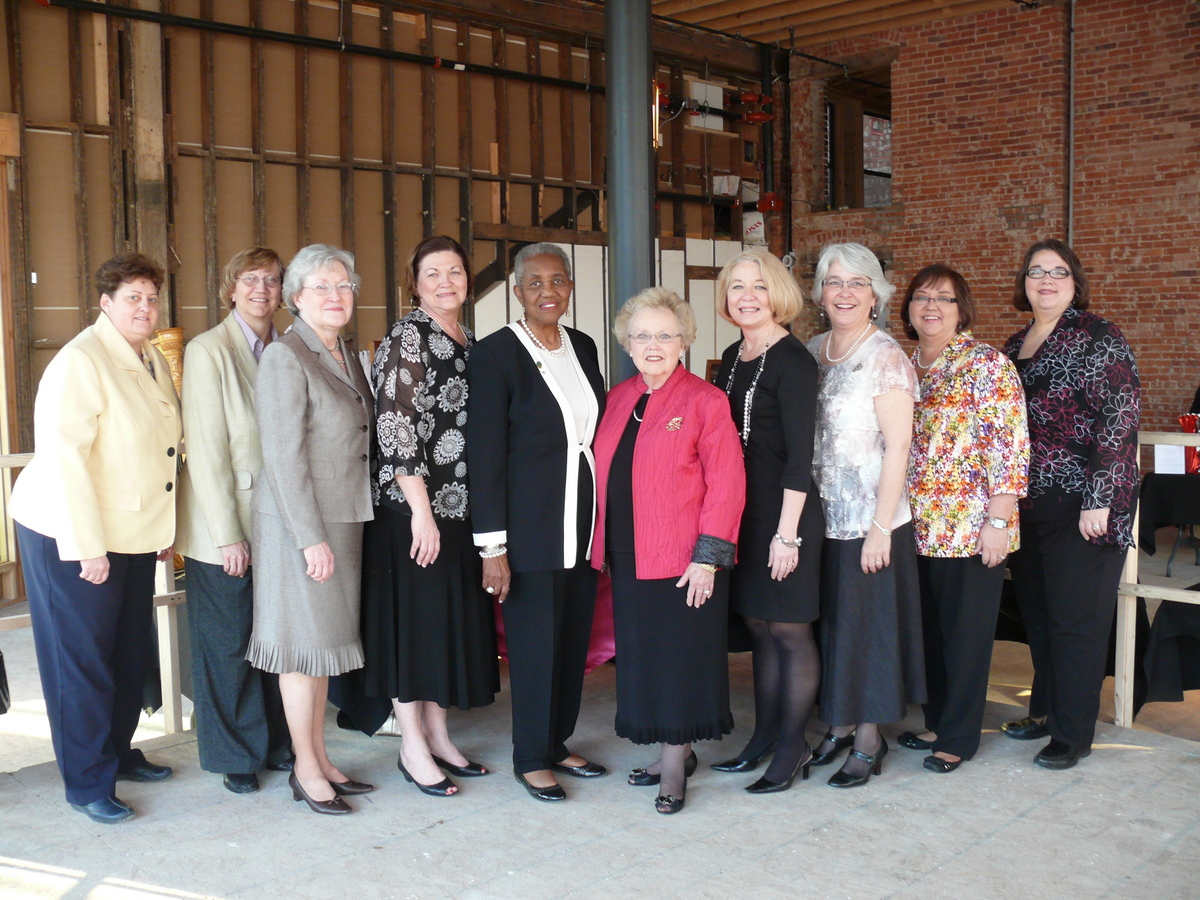 Over 200 guests and Girl Scout supporters joined this month for the inaugural Pearls and Pinot event held in grand celebration of Girl Scouts' 100th anniversary.
Because of the generous support of local donors, Girl Scouts raised over $16,000 to support local programs, including many held at Girl Scout Camp Wah-Shah-She near Bartlesville.
Pearls and Pinot was held in downtown Bartlesville at the historic Johnstone Building, which is currently undergoing a massive renovation.
"We were thrilled when the Sare family agreed to let us hold our event at the Johnstone Building," says Pam Crawford, Committee Chair for Pearls and Pinot. "With Girl Scouting starting a new century and The Johnstone Building being revived, it was a natural pairing and one we were very excited to take part in."
Guests honored Bartlesville community leaders Betty Dalrymple and Bettye Williams for their contributions to Girl Scouting and to the community, and were treated to a wine pull and silent auction featuring exclusive gifts from local businesses: McCoy Jewelers, Spears Travel, Bartlesville Community Center, Bartlesville Symphony Orchestra, Gail's Hairstyling and Spa, and The Pioneer Woman. The Sare Family also asked guests to give feedback on renovations yet to be done at the building.
Pearls and Pinot was made possible by the generous sponsorships of the following guests:
Pearl Sponsor – Pam and Paul Crawford
Gold Sponsors – ConocoPhillips, McCoy Jewelers, and Joan Singleton
Silver Sponsors – Bartlesville Regional United Way, Nowata Road Liquor – Gina Gammon, and Sodexo
Bronze Sponsors – Arvest Bank, Betsy Barnes, Bartlesville Symphony Orchestra, Clyde and Anita Becker Foundation, Ronnie Cox, Keepsake Candles, Clyde Sare and Crystal Sare – The Johnstone Building, and Susan Dick Financial Services, LLC
Friends – Armstrong Bank, Bartlesville Community Center, Gene Bryngelson, Julie Daniels, Janet Drummond, Sheila Evans, Cindy Fooshee, Gail's Hairstyling and Spa, Rosie Graheck, Maria Swindell Gus, Debbie Haskell, Keleher Outdoor Advertising Inc., Cheryl Lindstrom, Kim Lynch, Mary Medlock, The Pioneer Woman – Ree Drummond, Tricia Richards, Suzanne Shiflet, Charlene Spears, Spears Travel, Starbucks Bartlesville, United Linen, and Mary Weare, M.D.