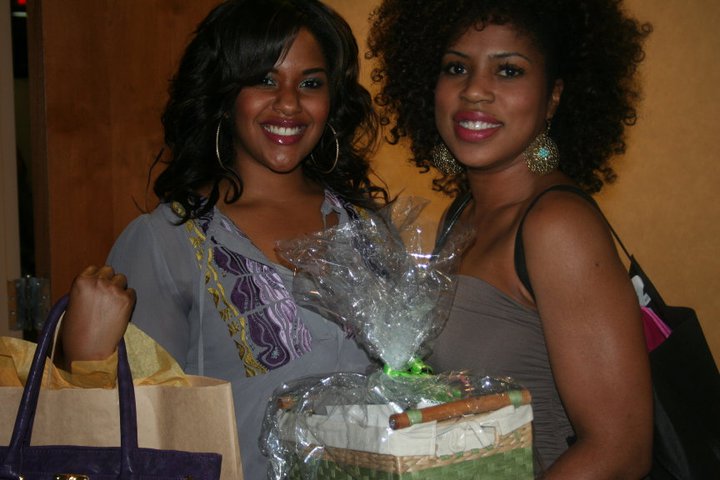 Experts, also known as girlfriends, tell us that retail therapy is a universal cure for aggravation, disappointment, stress, boredom, relationship drama, and all other undesirable emotions, situations, and states of mind. And, girlfriends should know. After all, they have been doing it for years - when the going gets tough, the tough go shopping; and, the really tough call for a girls night out.
Now, girlfriends are usually right but, not always. So, we decided to seek expert opinion. Dr. Conte Terrell is founder of Fresh Spirit Wellness, Inc., an ordained minister, Christian counselor, TV host, and speaker. She has encouraged and counseled thousands of women. We asked Dr. Conte, as she is known, about the retail therapy theory and whether girls night out has any real benefits. She tells us that massages, makeovers, facials, pampering, and shopping (in moderation) are very beneficial - spiritually and emotionally.
She notes that services such as massage, manicures, and facials stimulate the sense of touch and promote healing. "Shopping and makeovers can be uplifting because when you look better, you feel better. Pampering makes you feel special. When you're transformed, you feel like a star. It's liberating and empowering. Transforming the outside can give you the strength you need to deal with any issues that are on the inside. It's a step towards ridding the body of emotional and psychological toxins".
About a night out with the girls, Dr. Conte says, "Always make time for yourself and nurture relationships with your girlfriends. Many times women focus only on family, significant others, and business. And, we neglect ourselves and our girlfriends. Girlfriend relationships are unique. We relate to each other on intellectual and emotional levels. These bonds are critical to our wellbeing because they allow us to feel encouraged and supported"
A girls night out event, such as the Glam Galore Shopping Soiree sponsored by Luster's returns to the Richardson Civic Center April 21. The Ultimate Just for the Girls shopping party is a therapeutic one-stop shop nurturing the relationship between girlfriends, allowing time for self-indulgence, physical makeovers, and spiritual and emotional rejuvenations.
It seems that Navie Hughes, owner of Glam Galore, got the memo. For two years, she has been on a mission to provide Dallas-area women with a glamorously fabulous shopping, beauty, and entertainment experience. She has brought together some of the best local and national personalities, beauty and fashion experts, and designers.
The five-hour long shopping, beauty, and spa retreat will offer mini facials, manicures, makeovers, massages and Date Chat with Robert "The Massage Mogul" Ballatt, a fashion show hosted by Glamo, and the coveted Swag Bags.
On April 21, the Richardson Civic Center in Richardson, Texas will be filled with vendors anxious to primp, pamper, and polish you to glam perfection. Tickets start at $10. Visit www.glamgaloreevents.com for more information. Guest must be at least 21 years old.
About Glam Galore
Based in Dallas, TX, Glam Galore, an IMARA Media Group company, is a women's lifestyle marketing company owned by Navie Hughes. Glam Galore's signature event is the Glam Galore Shopping Soiree, The Ultimate Girls Night Out event featuring celebrity hosts, shopping, beauty treatments, massages, mini makeovers, entertainment, cocktails and Swag Bags. Visit www.glamgaloreevents.com
About Glamo
Glamo is a Celebrity Stylist, Fashion Expert, and TV Personality. He has been a featured expert on The Style Network's "Glam Fairy" and MTV's Made Season 9 Premier. Glamo is the creative force behind The Glamore Deluxe Company (GDC), a New York based fashion agency conquering every fashion possibility. GDC creates high fashion looks for established and emerging industry talents. The company's product offerings include professional wardrobe styling, runway coaching, image consulting, personal shopping, and creative direction. Visit www.simplyglamo.com
About Dr. Conte Terrell, PhD.
Dr. Conte Terrell is founder and CEO of Fresh Spirit Wellness for Women, Inc, an organization dedicated to assisting victims of domestic violence and sexual abuse and their families, through counseling, empowerment coaching, educational classes, group therapy and workshops, and financial assistance. Visit www.freshspirit.org. To book Dr. Conte for speaking engagements, visit www.drcontespeaks.com.
About Robert "The Massage Mogul" Ballatt
Robert "The Massage Mogul" Ballatt is owner of Just 1 Touch mobile spa. During his decade-long career, Ballatt has touched over 10,000 women at events ranging from pamper parties to national conferences, including the Black Enterprise Entrepreneurs Conference, Mocha Moms National Conference, and Radio One Women's Empowerment Conference, to name a few. He is a graduate of Advanced Christian Training School of Ministry. His unique blend of Mogul and Minister has made him the number one go-to man on relationships. He is a motivational speaker and author of #DateChat: The Book, The Dating Survival Guide. Visit www.themassagemogul.com
###