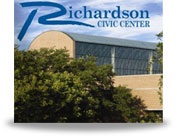 Dallas, Texas - March 15, 2012 - Glam Galore announces location and celebrity host for its premier shopping and entertainment extravaganza, the Glam Galore Shopping Soiree. The location is hot and the host is hauter.
Situated in the heart of North Dallas, the Richardson Civic Center is a prime location. The venue's Grand Hall will accommodate the event's thirty-plus fabulous vendors. DFW area women will converge for this fun-filled "Just for the Girls" evening of fabulous shopping, relaxing beauty treatments, complimentary drinks, and entertainment. Fashion expert and TV Personality Glamo will host the event. Glamo is known for lending his fashion expertise to celebrities, The Style Network's Glam Fairy, and MTV's Made Season 9 Premier.
An exceptional entertainment value, the general admission price is $10.00. Admission plus Swag Bag is $15.00. All guests must be at least 21 years old. Tickets are on sale now on the Glam Galore Events website. Partial proceeds benefit Starlight Children's Foundation Texas.
Glam Galore Shopping Soiree
Hosted by Fashion Expert and TV Personality Glamo
Saturday, April 21, 2012
5:00 PM - 10:00 PM
The Grand Hall at the Richardson Civic Center
411 W. Arapaho Road
Richardson, TX 75080
Admission: $10.00 - $15.00
About Glam Galore
Based in Dallas, TX, Glam Galore, an IMARA Media Group company, is a women's lifestyle marketing company owned by Navie Hughes. Glam Galore's signature event is the Glam Galore Shopping Soiree, a "Just for the Girls" event featuring celebrity hosts, shopping, beauty treatments, massages, mini makeovers, entertainment, cocktails and Swag Bags.
About Glamo
Glamo is a Celebrity Stylist, Fashion Expert, and TV Personality. He has been a featured expert on The Style Network's "Glam Fairy" and MTV's Made Season 9 Premier. Glamo is the creative force behind The Glamore Deluxe Company (GDC), a New York based fashion agency conquering every fashion possibility. GDC creates high fashion looks for established and emerging industry talents. The company's product offerings include professional wardrobe styling, runway coaching, image consulting, personal shopping, and creative direction.