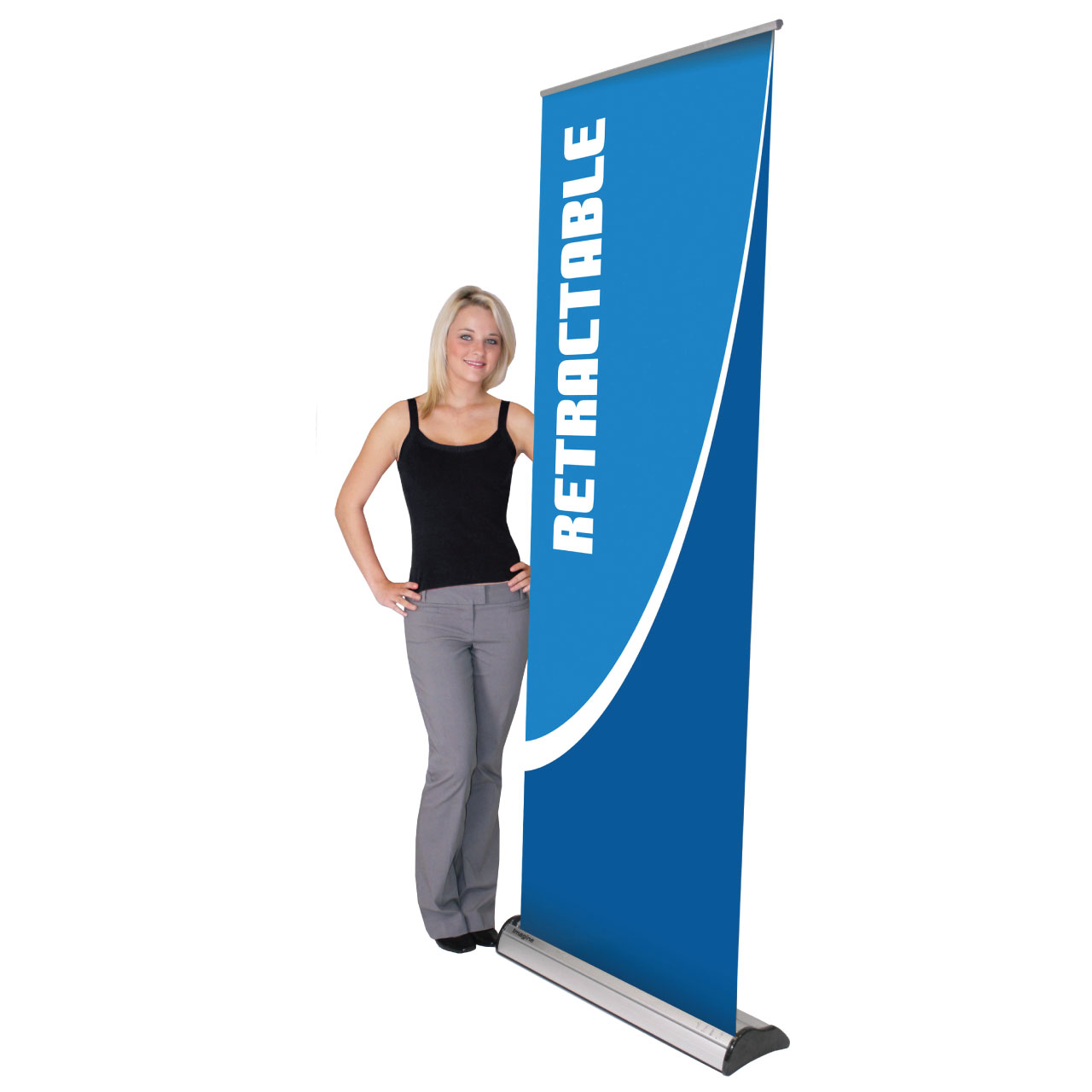 At GLM Displays, we offer a wide variety of retractable banner stands. Customers frequently ask what the difference is between the different types. I thought I would write out some points our clients have found helpful in the past. Hopefully this will help you choose the right banner stand for your needs and budget.
What is a Retractable Banner Stand? With a "retractable" banner stand, the graphic is housed inside the base of the display by tension much like a window shade. They set up in seconds and are easy and cheap to transport. You simply pull the banner up from the base and hang the top bar on a pole to display your graphic. There are two main types of poles used with retractable banner stands, either a telescopic or a 3-piece pole. Some 3-piece poles are separate pieces and some are held together by a bungee strap like a tent pole.
When choosing the right banner stand, there are four main aspects you will want to consider; durability, size, weight and cost. I recommend ranking these four from most important to least. Doing so will quickly point you to the right stand for your needs and budget.
Durability: Like most products, durability directly affects cost. But you need to ask yourself, if you purchase a less durable banner stand and it only last a few years, are you really saving money? Do you have multiple people who will be using the display and no matter what you seem to buy, they find new and creative ways to destroy it? Maybe it would be worth purchasing a durable banner stand like our Barracuda with a lifetime warranty. On the other hand, if you will use the banner stand only a few times, save some money with our Freedom 800. Priced at $175 including the graphic, it's hard to go wrong.
Size: Retractable banner stands come in different widths and height. We offer banner stands up to 59" wide like our Blade Lite 1500 banner stand. Many of our clients will also use 3 standard width banner stands and line them up for an inexpensive back wall, much like our Quickwall 10ft display. This might be less expensive than a Hop Up or Pop Up back wall display. We also offer narrower banner stands like the Contender Mini. At 24", you can fit it just about anywhere.
Height can also be a factor to consider. Want to get some attention? The Elevate banner stand reaches up to 95" tall. Be careful though that there is not a height limitation at your exhibit. Some clients have been using our banner stands with telescopic poles like the Imagine & Barracuda to display a 30" to 50" high banner for a quick and easy tabletop display too.
Weight: For some, the weight of the banner stand really matters. If you need lightweight for easy transportation and quick set up, take a look at the Contender, Freedom or Mosquito banner stands. If you prefer a beefy solid display, the Imagine, Barracuda or Blok banner stands might be a better fit.
Cost: Sometimes cost is really the driving factor. Tight budgets may not leave enough funds for the display you want. Where all of our banner stands are affordable, we offer many affordable banner stands under $250 which includes the graphic and free shipping. Initial cost is important but long term cost should be considered in some situations. If your company sells multiple products or services you might want to consider the Imagine retractable banner stand with an interchangeable cassette. Although the initial cost is a little higher, the ability to "swap" out graphics in a few seconds might save you money in the long run.
Bottom line, there are many factors to look at when choosing the right retractable banner stand and it may be a little overwhelming. At GLM Displays, we are ready to assist you in finding the right banner stand display. You can contact us through our website or call direct at (888) 743-4564. We'll be happy to discuss your needs and point you in the right direction.
Matthew Lunser
Owner