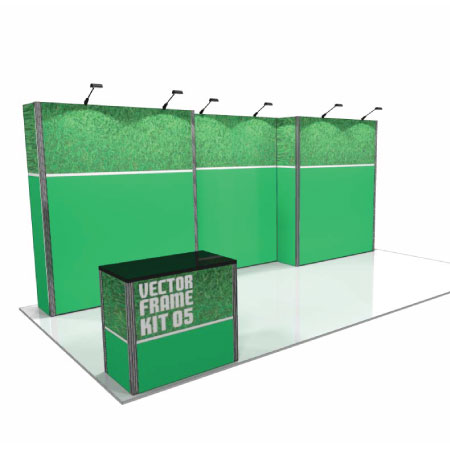 Looking for a sleek backwall display for your next trade show? Look no further. GLM Displays is proud to announce the new Vector Trade Show Display Backwall System.
Stand apart from the competition with a clean, sophisticated Vector Frame Backwall Display for your next trade show or exhibit. The Vector Backwall Display series is a collection of extrusion-based frames with dye-sublimated fabric mural graphics.
GLM Displays offers 16 "off the shelf" options, both as backwall display kits and simple display frames that can have either single or double sided graphic. If you don't see the configuration that best fits your needs, just contact us for a free estimate and rendering for a custom display.
Vector trade show displays easily set up and tear down with simple hand tightened locks. The frame breaks down for easy compact storage also. All backwall kits come complete with lighting and shipping cases. These rugged displays also come with a lifetime warranty.
Visit GLM Displays for more informtion and feel free to contact us with any questions. We would be happy to help!