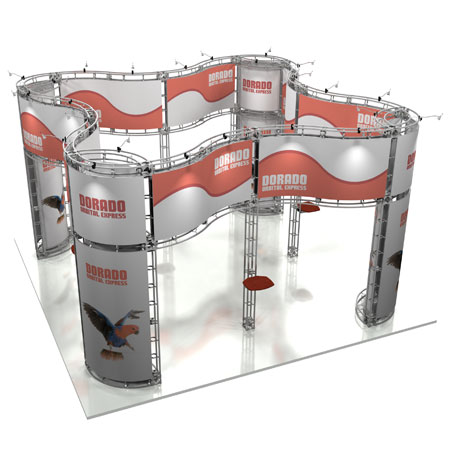 GLM Displays, a leading provider of trade show displays, converted their online presence to a complete E-commerce website last September. Enabled with product images, specifications, graphic templates and videos, shoppers are now able to research which trade show display is best for their needs. The change as directly and drastically increased website visits and sales.

"I was always apprehensive to an e-commerce store", stated Matthew Lunser, owner of GLM Displays. "I've always been about building relationships with my clients. I was afraid a web store would be less personable. It turns out that's not the case at all. The phone rings more and I'm building a better and stronger client base."

Having larger items that require custom printing is not a deterrent for most shoppers these days either. GLM displays makes the shopping and checkout process easy. Product options can be adjusted easily with drop down menus which automatically adjust the price. Customers can also upload digital files for graphic printing through their web browser.

"Bottom line, I wish I would have made the change years ago. Sales are up 66% this year to date compared to last year at this time, especially for items like our modular truss displays and banner stands. Rather than slowly growing my client base locally, I'm gaining clients from coast to coast. All other forms of print advertising fall drastically short to having a well designed and SEO friendly e-commerce website in my experience."

When designing his new website, Matthew focused on 3 main things; easy navigation, clean and easy to read product information and shopper security. "I did a lot of research and testing before picking an e-commerce platform. Ultimately I decided on BigCommerce to host the site and am very happy with their services." Shopper security was added with a SSL license from GoDaddy for checkout encryption and also by embedding a "Better Business Bureau" badge. These important elements help shoppers feel comfortable with their purchase.

Creating an effective ec-ommerce store that attracts visitors and increases conversions takes a lot of time but as in the case GLM Displays, its well worth it.