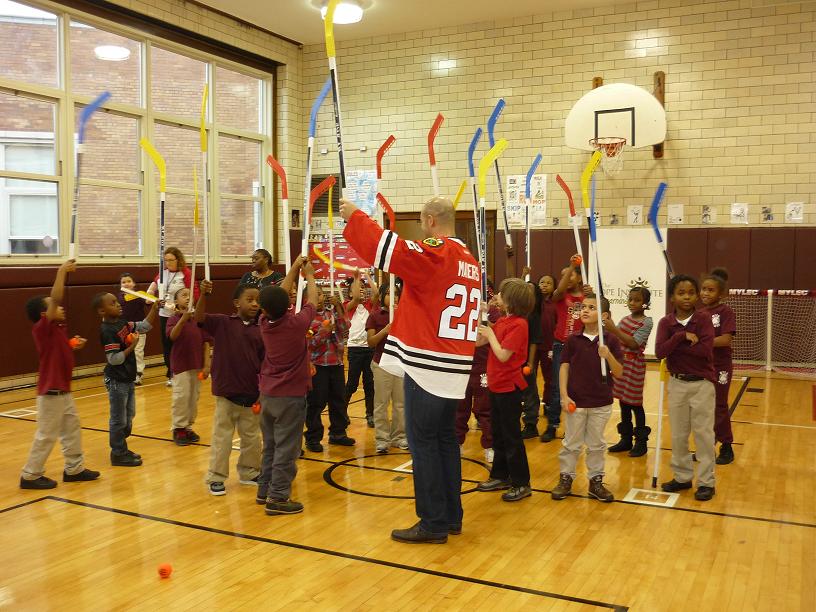 Chicago, IL - On Monday, January 23, Good Sports and the Chicago Blackhawks teamed up once again to make a positive impact on the youth of Chicago. A donation of fitness and volleyball equipment was made to students as well as a brand new sensory gym. Chicago Blackhawks President and CEO John McDonough and Right Wing and 14-year National Hockey League veteran, Jamal Mayers, were in attendance at this event.
The mission of The Hope Institute Learning Academy is to create a learning environment that supports students to achieve optimally, regardless of socioeconomic background, learning style, or disability. Clint Paul, Interim President & CEO of The Hope Institute commented, "we appreciate Good Sports for providing quality sports equipment to our children and giving them the opportunity to participate in all sports on a regular basis."
Good Sports, a national nonprofit organization, helps to lay the foundation for healthy, active lifestyles by providing athletic equipment, footwear, and apparel to disadvantaged young people nationwide. This is the third year of a partnership with The Chicago Blackhawks and together, they have impacted over 1,000 youth in the Chicago area.
For more information on Good Sports, please visit www.goodsports.org.