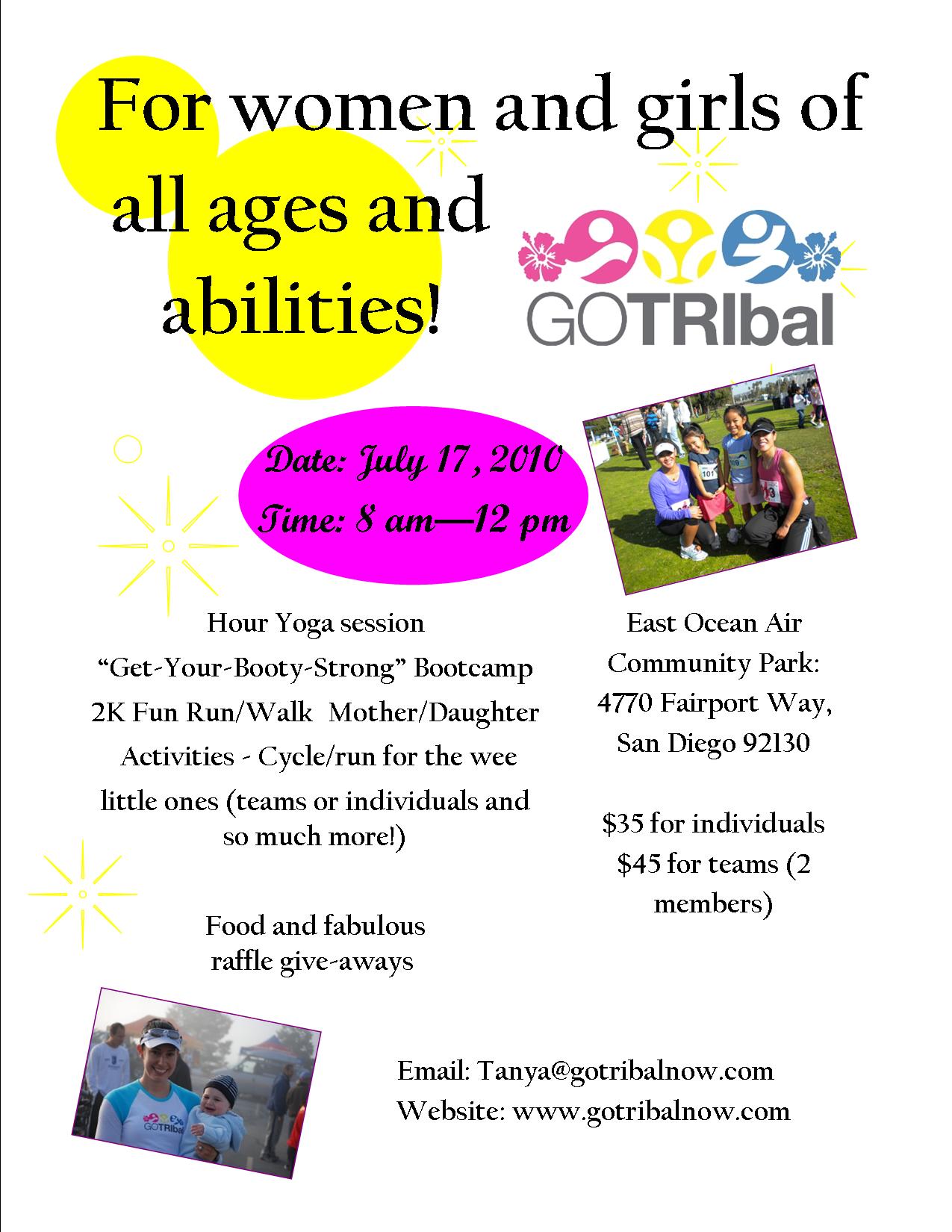 SAN DIEGO, CA - June 30, 2010 - GOTRIbalr, an emerging international online network for women passionate about endurance sports, today announced a new fitness event called GOTRIbal In the Park, a festive celebration aimed at bringing women and girls of all ages and abilities together to promote health and fitness. GOTRIbal is pleased to offer GOTRIbal In the Park attendees 4 separate workouts and races in which women and mother-daughter teams will compete, giveaways and raffle prizes will be given, and nutritious food and beverages are offered.

The event will be held on Saturday, July 17 from 8:00 a.m. - 12:00 p.m. PST at the Ocean Air Recreation Center. For those interested in participating in GOTRIbal In the Park, please visit: www.gotribalnow.com/events/gotribal-park.

In the spirit of promoting camaraderie amongst women, GOTRIbal has joined with local women-owned businesses that support GOTRIbal In the Park. Included in the half-day event, women and girls are invited to participate in one or all of the following:

Yoga: Local yoga expert in Vinyasa Flow, Maria Camacho, Founder of the Little Yoga Studio (www.thelittleyogastudiosd.com) will be providing a one-hour session for all levels and ages, including kid-friendly yoga instruction. Some yoga mats will be provided, but it is recommended to bring your own.
Bootcamp: Native San Diegan, Rene Manatt is the Founder and a Master Trainer of Bay Park Fitness (www.bayparkfitness.com). Rene provides a heart-pumping cardio and strength-training workout at each station pushing you at your own level and pace. Whether your muscles are burning in a modified plank or you are sweating it out with mountain climbers, this workout is fun, safe and challenging.
2K Fun Run/Walk: Whether you are an experienced runner or first-time walker, this fun run is designed to get you out with your friends and family, stretching out those legs and feeling good about doing something healthy for yourself.
Mother & Daughter Bike/Run: What better way to have fun and bond as mother and daughter through a friendly tag team competition? The race is simple: daughters on tricycles, bikes or scooters will race half way down the path as fast as they can to tag their mothers to run the rest of the way. The first three mother/daughter teams will win a prize.

"It's amazing how many women do endurance sports now, yet so few have the forum to safely connect and network in a meaningful way outside of a race," commented GOTRIbal founder and CEO, Tanya Maslach. "I'm excited for the event because it allows us to do that in a spirit of unconditional support and fun and model that spirit for the next generation of women athletes."

The Spirit of GOTRIbal
San Diego is home to a large and growing triathlon and endurance sports community, and GOTRIbal In the Park is designed to bring the spirit of GOTRIbal to more women in the area. GOTRIbal connects and empowers women of all abilities, levels and backgrounds who share a desire to stay fit, fast and strong through endurance sports, such as swimming, cycling, running, triathlon, and duathlon. It is fast becoming the most comprehensive women's resource with more than 35 TRIbes globally for the 60 million-plus female athletes who play, train and race in endurance sports, offering safe online and in-person, intimate forums around training, coaching, races and travel.

Mary S. of the San Diego TRIbe explains her involvement this way: "Since joining GOTRIbal, I feel like I have found the most amazing group of women anywhere and everywhere on the planet. For me, the decision to GOTRIbal was very easy. It brings women together to inspire, empower, and mentor one another. Everyone can do really amazing things, especially through sport, but many people just need someone to believe in them and give them guidance. GOTRIbal does both of those things."

About GOTRIbalr
GOTRIbalr women are in over 36 regional "TRIbes" in 44 US states and 15 countries. The organization exists to provide the resources, tools and means to connect women around the world together so that they, through the power of sport, can accomplish anything they dream of doing; finishing a triathlon, asking for a promotion, starting a business or even leaving a destructive relationship.