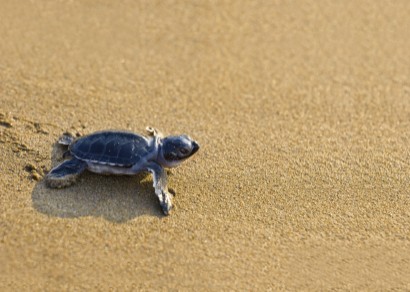 Help baby turtles all over the world with GoVoluntouring

Help baby turtles all over the world with GoVoluntouring

Measuring Leatherback turtles with the Kido Foundation

Measuring Leatherback turtles with the Kido Foundation
VANCOUVER, BRITISH COLUMBIA, May 8, 2012 – Turtles, the easy going "dudes" of the ocean, have fascinated us for generations, in turn becoming symbols of patience and wisdom. We are in love with turtles, each of them with a unique story underneath that hard shell. Historically they were the slow and steady characters of children's literature, and as of late, take on the hero role in cartoons such as Finding Nemo and the Teenage Mutant Ninja Turtles. Today these same heroes need our help. GoVoluntouring connects volunteers with hundreds of projects all over the world, and is host to a growing number of turtle specific volunteer vacations.
Pollution, industrial fishing, and habitat loss are the main forces pushing turtles evermore towards endangered status. The American Tortoise Rescue established World Turtle Day in 2000; with its aim is to highlight the conservation efforts needed to help these placid and endearing animals. This May 23, celebrate and explore the oceans with a guide that's been around for more than 200 million years. Here's a sample of volunteer action projects for the turtle lovers amongst us:
Turtle Research in Baja, Mexico: http://goo.gl/zaSZp
Join Baja Expeditions and RED Sustainable Travel, on a unique whale watching and turtle research excursion to Magdalena Bay. Volunteers will have the unique opportunity to participate in hands-on green sea turtle research with local conservationists. SEE Turtle founder, Brad Nahill, has this to say about volunteering with turtles, "Volunteering with a sea turtle conservation project is very rewarding with benefits including personal satisfaction, resume material, lots of exercise, new friends from around the world, and great stories to tell. It should not be taken lightly though; it is hard work and the local organizations that run the turtle programs expect volunteers to fulfill their obligations."
Monitoring Nesting Sea Turtles in the Grenadines Archipelago: http://goo.gl/dS1pO
As the Kido Foundation (part of the WIDECAST family) points out, they survived the glacial era, yet today they may not survive the destruction of their species and habitat by humans, unless we actively protect them. Helping mother turtles to nest safely and protecting their nests and hatchlings is essential for their population to survive the odds against them and for maintaining the balance of the marine ecosystem. Volunteers will make a difference not only for sea turtles, but also for the local communities. This project trains and employs guides from the nearby villages and promotes turtle conservation awareness in local schools.
Tagging the Terrapins of the Jersey Shore: http://goo.gl/pFh5b
The New Jersey Pine Barrens is a protected Biosphere Reserve designated by the United Nations Educational, Scientific, and Cultural Organization (UNESCO) and covers nearly one quarter of the state of New Jersey. Volunteers will be integrated into teams to locate nesting female terrapins, will set and check traps, track terrapins with radio-telemetry equipment, mark and tag them whilst taking and recording measurements of body size and weight. During late summer, volunteers will assist with nest monitoring and determination of hatchling success. They will then get to assist in marking and releasing hatchlings that emerge from nests.
Sea Turtle Conservation in Sri Lanka: http://goo.gl/XtfOi
In Sri Lanka, the paradise island, five species of sea turtles come ashore to lay their eggs. Volunteers help to ensure these eggs hatch and that the baby turtles make it to a safe place in the ocean. The LEO Project Foundation sea turtle volunteer program not only takes care of the eggs, baby turtles and wounded turtles, but also educates tourists and locals on sea turtles and their endangered status.
GoVoluntouring is an online community for volunteers, overseas teachers, and learners' abroad that allow users to perform detailed searches from a huge database of projects and programs. With thousands of programs to choose from, GoVoluntouring offers pre-checked charities and non-profits the chance to connect with the volunteers they desperately need, with no added cost to the user or the volunteer organization. For more information visit www.govoluntouring.com.
-30-