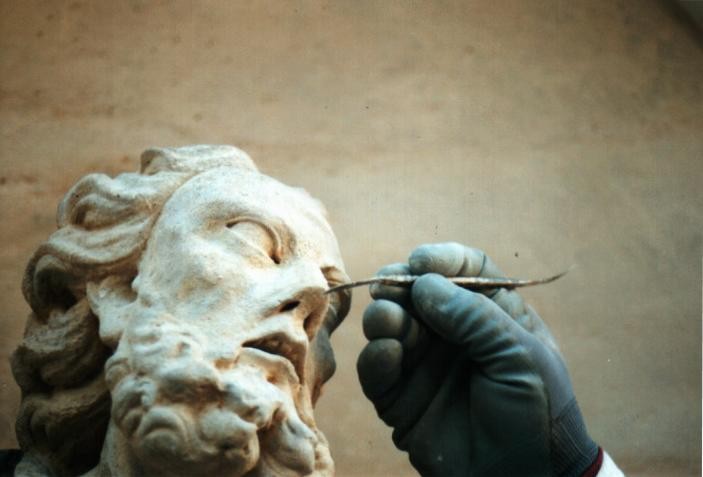 Restoration art workshops with Messors through GoVoluntouring

Restoration art workshops with Messors through GoVoluntouring
VANCOUVER, BRITISH COLUMBIA, May 1, 2012 – Does the idea of Italian art and culture make you want to jump on a plane? Do you dream of vineyards, painting, and pasta? Take a volunteer vacation immersed in the art, culture, and culinary mastery that makes the Mediterranean more myth than reality. GoVoluntouring promotes authentic and immersive projects all over the world by encouraging travellers to look into the wealth of volunteer projects that allow them to delve deeper into the world's wonders and cultures. Course dates are June 13-30, and July 4-21, 2012 and cost $2650 CAD including the course, accommodation and meals. For more information visit: ww.govoluntouring.com/art-restoration-puglia-italy
Founder of Messors workshops, Tonio Creanza, has over 20-years experience in art restoration and archeology; even helping Francis Ford Coppola restore decorative features of his boutique hotel in Bernalda, Italy. Since he started the workshops in 1995, they have hosted over 700 volunteers from all over the world, intrigued by the historical importance of the art.
Located in the heel of Italy, in a land made up of stonewall labyrinths, groves of olive trees, and the subterranean world of Byzantine frescos, lies the sundrenched region of Puglia. Since childhood Creanza has explored the underground caves and Hellenic burial sites, his passion for history ever growing. With a "to do is to learn" philosophy his team of leaders and contributors share their skills and knowledge with small groups of visitors who join them on volunteer vacations throughout the year.
No prerequisites are required to participate in any of the Messors workshops. The program lasts for three weeks and have a practical focus, allowing participants ample opportunity for participation in restoration technique and creation. These include the practices of fresco, canvas, wood, stone and decorative paintings, and plaster. Each session begins with an introduction, practical "hands on" experience, excursions and lectures. The frescoes the volunteers work on are part of the underground settlements located in the Alta Murgia area. Local churches and private collections provide wood statue and canvases, while decorative study focus on natural materials and traditional techniques to create reliefs in lime plaster, or plaster wall painting. Volunteers will have the chance to explore different sites, including Sassi of Matera (a UNESCO World Heritage site), the Rupestral Churches Park, and several museums and art exhibitions. The workshops are complimented by seminars in art history, geomorphological studies, and religious iconography and rituals.
Volunteers stay at the "Masseria La Selva" a hunting lodge built in the 18th century by the Roman Orsini Family. It is now a working farm growing durum wheat, barley and hay. Arched ceilings, stone fireplaces, and a maze of bedrooms and sitting rooms make up this Italian haven, set in 500 acres of private lands and woods. Gentle rolling hills are home to sheep, pigs, geese and cows. Meals are included with crusty bread and olive oil becoming a staple of every volunteers diet.
For more information visit: http://govoluntouring.com/art-restoration-puglia-italy.
About GoVoluntouring: www.govoluntouring.com
Flight Centre's responsible travel division, GoVoluntouring, is a leading online community for volunteers, overseas teachers, and learners abroad. Its unique search filters allow users to perform detailed and customizable searches from a huge database of projects and programs in over 80 countries around the world.
-30-