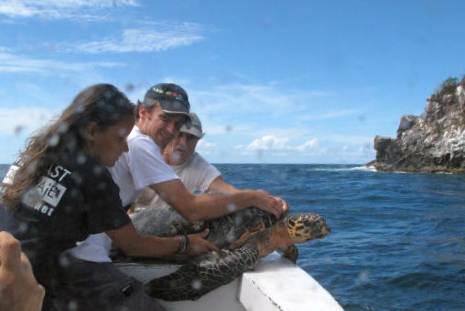 VANCOUVER, BRITISH COLUMBIA, January 25 2011 – Stuck in the throes of winter and freezing cold temperatures, the annual pilgrimage of sun seekers heading south to thaw out on Caribbean beaches has begun. For some, lounging in the sun just doesn't cut it anymore. As people seek to combine travel with personal enrichment and authentic experiences, combining beach vacations with volunteer projects is the perfect opportunity. Travellers looking to immerse themselves in a new culture and learn something can visit GoVoluntouring.com to see how they can have a volunteer vacation full of sun and sea, whilst helping out at the same time. GoVoluntouring connects volunteers with project options all over the world. Below are some of the hottest destinations on offer:
Expedition Leader Training in Belize: http://goo.gl/DP7Pg
With one foot planted in the Central American jungles, and the other dipped in the Caribbean Sea, Belize blends the best of both worlds. Offshore, kayakers glide from one sandy, palm-dotted islet to another, while snorkelers swim through translucent seas, gazing at a kaleidoscope of coral, fish, dolphins and turtles. Inland, explorers investigate ruins of ancient civilizations, and birders aim their binoculars at some 570 species. Between national parks, wildlife sanctuaries and marine reserves, more than 40% of the country's area is protected in one form or another, creating a haven for countless creatures of land, sea and sky. This Trekforce expedition lasts for 16 weeks and some of the skills volunteers will learn include: Leadership and Jungle Training, Survival Training, Day and Night Navigation Training, River Crossing and River Rescue, Trek Planning, Rescue Training, Professional Medical Training, Incident Management and Assessment, and so much more.
Dig Your Way Through a Caribbean Holiday: http://goo.gl/VIUnS
This Caribbean Island is known for its luxurious hotels and yachting scene but there's so much more to St. Vincent & the Grenadines. The SVG Public Archaeology Program provides volunteers with an opportunity to be an archaeologist. This program was created out of the desire to rescue and record significant archaeological sites from being destroyed during construction of the new Argyle International Airport. Prior to 2009, no large-scale excavations had taken place in St. Vincent and, to date, there is no local archaeological presence on the island. The work of this organization raises awareness for archaeology both locally and abroad, and helps give Vincentians a fuller understanding of their prehistoric past. At the same time, volunteers are provided with an unforgettable experience, doing work that many people only dream of.
Caribbean Conservation in St. Lucia: http://goo.gl/a1a47
St. Lucia is not all about celebrity spotting. Volunteers with People & Places Responsible Volunteering will work with the highly respected Saint Lucia National Trust and help with their vital work to conserve and preserve this Caribbean island's rich environmental and cultural heritage. History, beautiful beaches, tropical fauna and fauna - what a great place to work. The volunteer program is based at the Trust's headquarters in Pigeon Island National Park, a living museum within a natural setting of 44 acres. Pigeon Island was originally surrounded by the sea but is now linked to the mainland by a causeway.
Monitor Nesting Sea Turtles on Carriacou: http://goo.gl/Z6R9x
Carriacou is a 13 square miles island, part of The Grenadines, a mecca for sailing and diving. Volunteers will be hosted at Kido Ecological Station, two and half miles from the main sea turtle nesting beach, located within the High North Nature Park. Volunteers reach the nesting sites either by walking, cycling or jeep, depending on weather and trail conditions. The longest nesting beach is over half a mile long, to be patrolled for 5 nights a week, from 8pm to 5am. A close encounter with sea turtles is an amazing experience, like meeting a prehistoric animal. Volunteers will have hands on experience with these magnificent creatures.
GoVoluntouring is an online community for volunteers, overseas teachers, and learners' abroad that allow users to perform detailed searches from a huge database of projects and programs. With thousands of programs to choose from, GoVoluntouring offers pre-checked charities and non-profits the chance to connect with the volunteers they desperately need, with no added cost to the user or the volunteer organization. For more information visit www.govoluntouring.com.
Dee Raffo, GoVoluntouring
Ph: (604) 905-0933 Fax: (604) 932-0328
Email: dee@kicommunications.ca
-30-