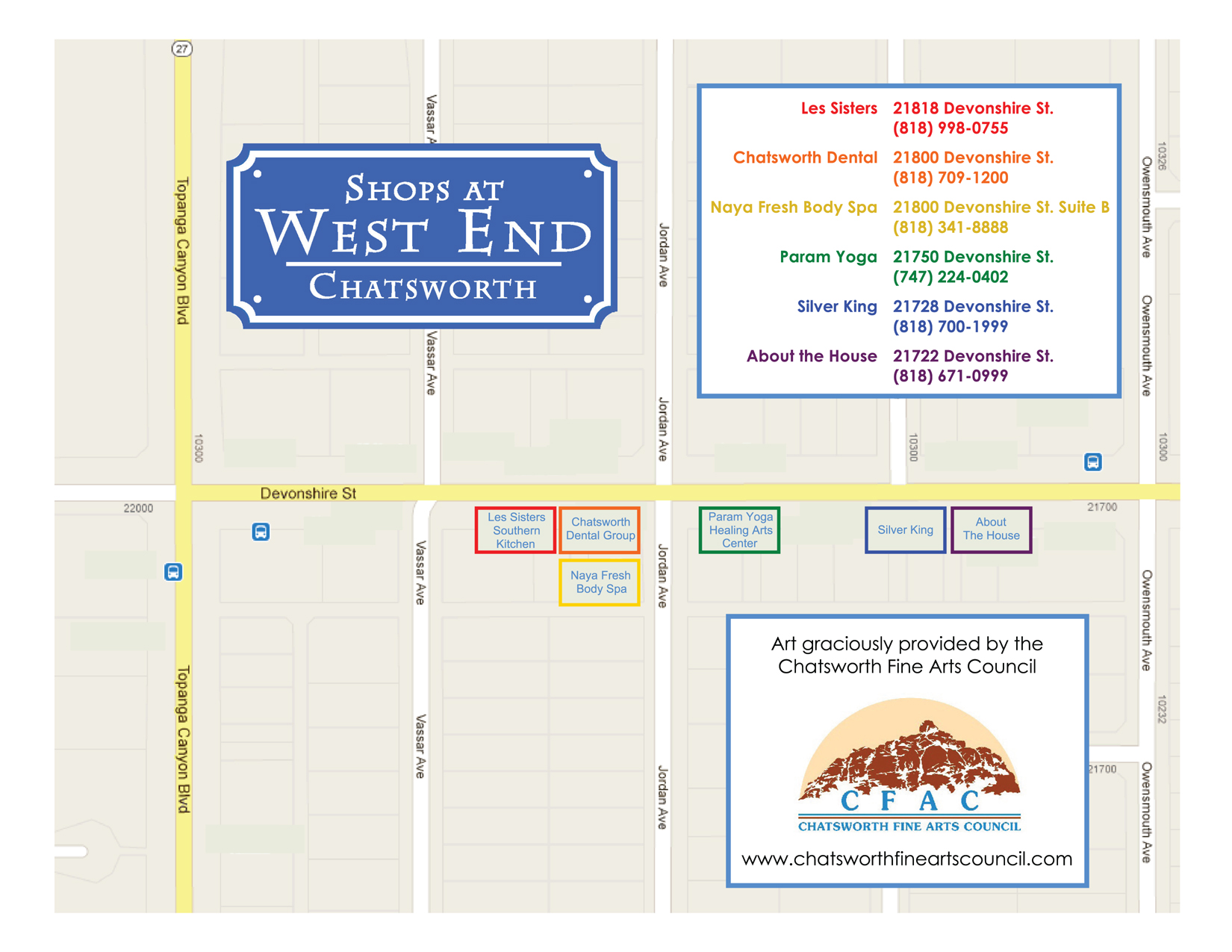 CHATSWORTH, Calif. (June 2012) – A group of Chatsworth business owners on Devonshire Street organize as the Shops at West End and host their first event: Summer Art Walk. The community is invited for a summer night stroll into businesses on the west side of Devonshire Street for refreshments, door prizes and to enjoy artwork from local artists from 5:30 to 9 p.m. Friday, July 27 and August 31.
"We decided an Art Walk was a great way to kick off the summer and showcase what our community and businesses have to offer," said Marydale Pecora, owner of Param Yoga Healing Art Center. "Chatsworth is filled with talented people and services that many aren't aware of."
Businesses participating include locations between Topanga and Owensmouth Avenues:
About the House, 21722 Devonshire Street
Chatsworth Dental, 21800 Devonshire Street, Suite A, www.chatsworthdental.com
Les Sisters Restaurant, 21818 Devonshire Street, www.lessisters.com
Naya Fresh Body Spa, 21800 Devonshire Street, Suite B, www.nayafresh.com
Param Yoga, 21750 Devonshire Street, www.Param-Yoga.com
Silver King , 21728 Devonshire Street, www.silverkingusa.com
Valley Chiropractic, 21740 Devonshire Street, www.asmt.net
Sponsors include
Featured artists for July 27 Art Walk include Laila Asgari, Jim Govea, Teresa Griffin, Bunny Levine, Cindy Medlynn, Carole Raschella and Mary Violette. For background on the artists, go to
www.nayafresh.com/west-end-art-walk
.
Guests will have a chance to win door prizes at each location and enter a drawing to win a grand prize for two select concerts at the Hollywood Bowl.
About Shops at West End Chatsworth
A group of boutique businesses and services located on Devonshire Street in Chatsworth between Topanga Canyon Boulevard and Owensmouth Avenue in the San Fernando Valley. Shops at West End was designed to build awareness for small businesses in Chatsworth through meaningful and value-added interactions with the community. For more information email info@shopsatwestendchatsworth.com or visit our site at
www.shopsatwestendchatsworth.com
. Like on
Facebook
and follow on
Twitter
.
# # #