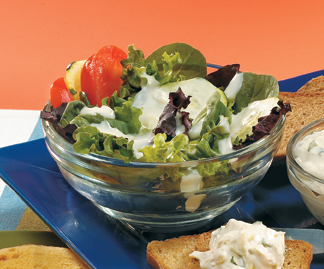 LOMIRA, Wis. – Grande Custom Ingredients Group will exhibit two of its most popular dairy ingredients – Grande Bravo® and Grande® Grade A Yogurt Powder – April 29 to May 1 at the Association of Dressings and Sauces Technical Meeting in Las Vegas.
Grande CIG, an industry leader in creating functional dairy ingredients for the food and beverage industry, will showcase how these ingredients can be used by producers to deliver reduced fat applications while maintaining taste and texture demanded by consumers.
Grande Technical Service Managers Darian Fuselier, Sal Kemper and Britta Campton will demonstrate the functionality and effectiveness of Grande ingredients using two recent test applications: a creamy low-fat Italian salad dressing made with Grande Bravo® and a fat-free yogurt ranch dressing made with Grande® Yogurt Powder.
To create the creamy Italian salad dressing, the food scientists at GCIG used Grande Bravo® 550 to improve the creamy texture and mouthfeel in the dressing and maintain the viscosity while also reducing the amount of starch used. Bravo can achieve or surpass the thick creamy textures most often obtained through the use of cooked starch pastes, but in a cold processed system, allowing for manufacturing and formulation flexibility. Opacity and whiteness were also improved.
By using Grande® Yogurt Powder to create a fat free yogurt ranch dressing, GCIG created a dressing with a creamy texture and a fuller, more rounded flavor profile. While adding a rich yogurt flavor, producers will also be able to reduce the starches and gums needed, resulting in a cleaner label for the finished product.
"The use of Bravo and Yogurt Powder in the formulation of dressings, sauces and condiments offers many advantages for the improvement and stability of these products," Jeff Banes, GCIG applied technology manager, said. "Bravo and Yogurt Powder both contribute a very creamy texture and aid in emulsification, giving low fat products a mouthfeel much closer to their regular fat counterparts, and overall improving upon a low fat formula made without Bravo or Yogurt Powder"
GCIG's whey ingredients originate with the company's own Grade A milk and proceed through a proprietary cold filtration process. The results are consistent whey products that meet the world's highest quality standards - USPH Grade A, Kosher Dairy, USDA, and EU compliant - that can be used by food manufacturers to improve taste and performance of a myriad of products.
The Association for Dressings and Sauces (ADS) was founded in 1926 and represents manufacturers of salad dressing, mayonnaise and condiment sauces and suppliers of raw materials, packaging and equipment to this segment of the food industry.
###
About Grande Custom Ingredients Group
Grande Custom Ingredients Group manufactures and markets proprietary whey proteins used by food and beverage manufactures worldwide in a variety of applications. Grande Custom Ingredients Group operates an extensive technology center and test kitchen to develop new products and support customer applications. Based in Lomira, Wis., Grande Custom Ingredients Group is a division of Grande Cheese Company, a dairy industry leader since 1941. For more information about Grande Custom Ingredients Group, visit www.grandecig.com or call 800-772-3210.