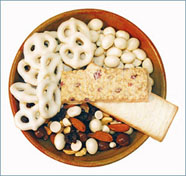 LOMIRA, Wis.
-
Grande Custom Ingredients Group
has introduced
Grander Yogurt Powder
, a new addition to its line of functional dairy ingredients. Grander Yogurt Powder provides a more pronounced yogurt flavor and creamier mouthfeel and texture than current yogurt powders on the market today.
Grander Grade A Yogurt Powder is ideal for use in coatings, dips, candies, snacks, smoothies, nutrition bars and cereal inclusions and provides a rich, full yogurt flavor profile. The Grande system includes a strict chain of custody that extends from the Grade A dairy farm through the production of natural white Italian cheese and Grade A products.
The upgraded product also has a high viscosity and water binding and the ability to reduce starches and gums.
"Through our proprietary process, we are able to deliver an ingredient that provides a truer, fresher yogurt flavor profile than we can find in the market today," said Jeff Banes, applied technology manager at Grande Custom Ingredients Group. "In addition, it also has the ability to create a thick creamy texture when mixed with cold liquids, which makes it ideal for smoothie and dip mixes, where no heat is applied."
For more information on Grander Grade A Yogurt Powder or any other unique proprietary products from Grande Custom Ingredients Groupr visit
www.grandecig.com
or call 920.269.7200.
###