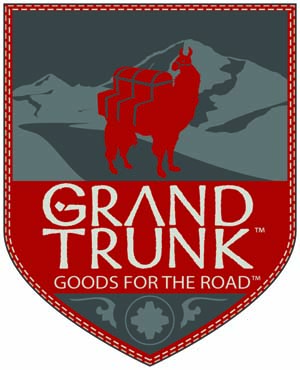 Skokie, Ill. (March 7, 2012) – The growth at Grand Trunk is continuing with the launch of several unique new items, including a hooded neck pillow, a down blanket, a mini-stool, a hammock compatible sleeping bag, and more. Like all Grand Trunk products, the new items are carefully designed to deliver enhanced comfort and convenience to adventure travelers and others who frequently hit the road.
"As our company continues to grow, we're really focusing on extending our product offering with a unique array of items that can be utilized before, during, or after any adventure," said Kevin Kaiser, co-founder and president of Grand Trunk. "Our ultimate goal, as always, is to help make travel more enjoyable for anyone who shares Grand Trunk's passion for adventure and thirst for new experiences. Because we believe that once you're on the road…anything is possible."
The company's new product lineup for 2012 is highlighted by the following:
Hooded Neck Pillow – This unique memory foam travel pillow has an integrated hood with drawstrings to stay properly positioned on a user's head. The hood also helps block out sunlight and other disturbances to enhance sleeping conditions for anyone on-the-go.
Mini-Stool – One of the smallest and lightest seats available, this stool measures just 11 inches by 4 inches and weighs less than a single pound. Despite its low profile, the Mini-Stool is extremely comfortable and it helps keep users low to the ground, which is ideal when sitting around a campfire, playing cards in a tent, or fishing from the shore.
Down Blanket – Measuring 40 inches by 76 inches, this new-look blanket includes a convenient stuff sack and features a rip-stop nylon outer shell filled with duck feathers for a perfect combination of durability and warmth. The size and comfort provided by this blanket make it an ideal option for travel as well as home use.
Hammock Compatible Sleeping Bag – This unique sleeping bag wraps around a hammock to provide 360 degrees of protection against the elements. Traditional sleeping bags have never worked well in a hammock because the underside of the bag always compresses down under the weight of the user. But, with Grand Trunk's Hammock Compatible Sleeping Bag, a hammock can pass seamlessly through the hood and foot box of the bag to deliver a whole new level of warmth and comfort.
"All of our new products were developed for travelers by travelers, and most of them were uncovered in the field," Kaiser continued. "For example, we discovered the Mini-Stool while traveling in Korea. And, the idea for the Hooded Neck Pillow came to us on a recent flight when we noticed how many passengers were wearing sweatshirts with hoods to help block out the sun while resting. All of our new items really reflect Grand Trunk's commitment to understanding today's traveler and then working to develop fresh solutions that meet their specific needs."
For additional details about any of Grand Trunk's new products, please call 877-365-2965. Of course, more company and product information can also be obtained online at www.GrandTrunkGoods.com.
Grand Trunk is an adventure travel gear company offering well-crafted hammocks, travel accessories and related products. Founded in 2002 as The Travel Hammock, the company was rebranded as Grand Trunk in 2008. The company's products are readily available online as well as at leading outdoor, adventure and travel retailers nationwide.
# # #
Media Contact:
Bill Bussler
Celtic PR for Grand Trunk
(262) 789-7630, ext. 131