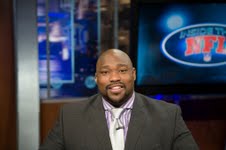 BEVERLY HILLS CA - Warren Sapp, Super Bowl champion and Twitter star, has been announced as the recipient of the Gravity Summit 'Excellence in Social Media – Sports' Award. The award will be presented to Sapp in-person at the 4th Annual Gravity Summit on February 22, 2012 at the UCLA Covel Conference Center.
As a legendary icon in sports culture, Warren Sapp, aka @QBKilla, is one of only eight defensive players in NFL history to make the Pro Bowl, be named Defensive Player of the Year, and win a Super Bowl or NFL title. The others are Joe Greene, Jack Lambert, Lawrence Taylor, Reggie White, Ray Lewis, Troy Polamalu and Sapp's former teammate, Derrick Brooks. He is now reckoned as the prototype three-technique defensive tackle; ever since his retirement NFL teams scouting defensive tackles have reportedly been looking for a "Baby Sapp."
In 2008, Sapp came in 2nd place on Season 7 of Dancing With The Stars. He was paired with professional dancer Kym Johnson. As a Twitter and social media 'star' with close to 1 million followers, Sapp attributes his popularity to his savvy use of these new tools.
"The Gravity Summit Excellence in Social Media Marketing awards are designed to highlight innovators in this important new communications platform," says Beverly Macy, CEO of Gravity Summit. "We are delighted Warren has agreed to appear at the event and accept the Gravity Summit Excellence in Social Media Award in the Sports Category. We're equally delighted that Warren will add his remarks on social media and sports to the event."
The Gravity Summit Excellence in Social Media Marketing Awards launched in 2009 to recognize the superior understanding and use of social media marketing tools by well known brands, businesses and individuals. Previous Awards Recipients included:
Hip-Hop legend MC Hammer, Eastman Kodak, actress Felicia Day, and Domino Foods/DEI Worldwide.
Gravity Summit events seek to help educate, inform and empower marketing professionals, small business owners, advertisers, c-Level executives, and others, about real-time social media marketing as it evolves.
For more information, please visit: http://www.gravitysummit.com/
For press inquiries, please contact Mark Francis: amfrancis@hotmail.com or call 310-860-4788
1994 Lombardi Award Winner at U of Miami - Nation's top Lineman or linebacker
1994 Bronko Nagurski Trophy Winner - Top defensive player in NCAA
1995 1st Round Pick of Tampa Bay Buccaneers (1995-2003)
Oakland Raiders 2004 - 2007
7x Pro Bowl Selections
4x 1st Team All-Pro Selections
2003 Super Bowl Champion
Selected to All-Decade team for both the 1990's and 2000's
1 of only 8 players in NFL History to win a Super Bowl, Defensive Player of the Year and Selected to Pro Bowl
Currently an analyst for the NFL Network (4th year) on NFL Total Access and NFL Gameday Morning
Also an expert analyst on Showtime's "Inside the NFL" along with James "JB" Brown, Phil Sims and Chris Collinsworth.