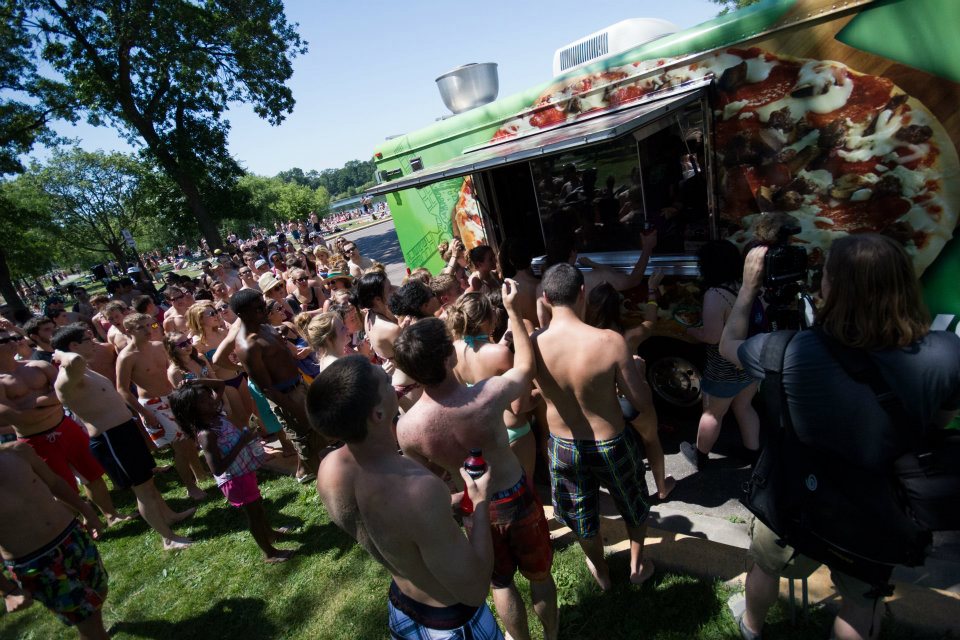 What
: Green Mill hosted a Pop-Up Pizza Party Flashmob
When
: Saturday, June 9th, 2012 | 2:30pm
Where
: Thomas Beach – Lake Calhoun – Minneapolis, MN
Why
: For FUN!
Details
:
• 50 Pizzas / 200 slices + Bottles of water and Powerade given away for free
• Delivered by the Green Mill Food Truck (aka 40ft of Pizza-Powered Pleasure)
• Hosted in the Thomas Beach parking lot/Shaded adjacent grass lot
• Food & beverage was gone 10-15 minutes
• Music by DJ Slandunkapher
• 90+ degrees outside
To promote the event, we started a stealth social media campaign the day before. We tipped local influencers, and provided clues for our fans and followers to try and figure out what was going on Saturday afternoon.
Now What?
Green Mill Restaurants wants to keep being social and make it into the Top 8 in the Social Madness competition Large Company category. But…we need your help! If you think our Pop-Up Pizza Party was a cool campaign, please vote for us in Social Madness -
http://bit.ly/VOTE4greenmill
(Find us in the 'Large Company – 500+ Employees category). Thanks!
Social Media Sweepstakes
- For those who did not attend, don't fear, you can still win Free Pizza & Beer for a Year! Sign up here -
http://a.pgtb.me/c2hk
For more information about Green Mill Restaurants, visit:
greenmill.com
and
https://www.facebook.com/greenmill001