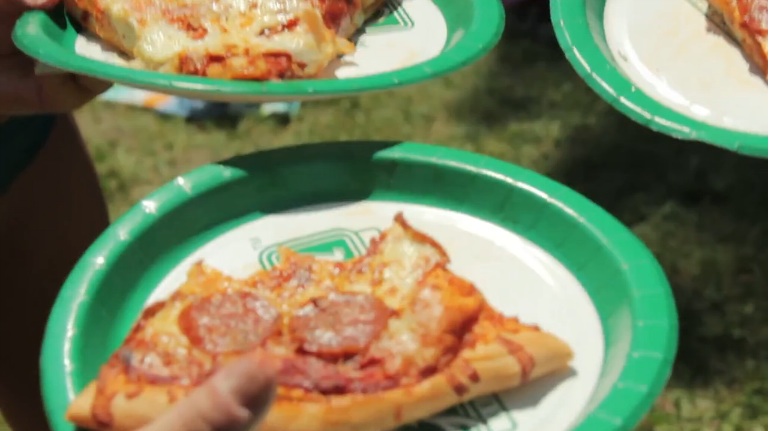 The only thing tastier than Green Mill Pizza? Free Green Mill Pizza!

The only thing tastier than Green Mill Pizza? Free Green Mill Pizza!

Well worth the wait! 200 slices gone in 10 minutes!

Well worth the wait! 200 slices gone in 10 minutes!
Green Mill is busy this month catering graduation parties, weddings and company picnics. On Saturday morning, the Green Mill for Good food truck (also known as 40ft of Pizza Powered Pleasure) was headed to set up for Billy's high school graduation party. Billy's backyard was decked out with balloons, streamers and tablecloths featuring his school colors. Dangling from the spruce tree in the middle of the yard was a giant piñata in the shape of a graduation cap.
Then Billy's mother Sandra, her face displaying a mix of emotions ranging from anger to disbelief to sorrow, approached the Green Mill team with some very sad news. Sandra told the team that the party had been cancelled and there was no longer a need for 50 pizzas and 40ft of Pizza Powered Pleasure.
The party had not been cancelled due to inclement weather or illness, rather Sandra found out that morning that Billy did not, in fact, graduate from high school. Upon further investigation, Sandra discovered that Billy had not even attended one class the past year. Instead, he's been training cats—his first step in pursuing his dream of starting a traveling cat circus. He was hoping to put on a cat show during the party to showcase the unique talents of his feline friends.
Bummer for Billy, but big surprise for those spending their Saturday afternoon in the sun at Lake Calhoun's Thomas Beach! The pizza truck pulled up and dispersed bottles of water, Powerade, and still-hot slices of pizza to the crowd of people – for free! What turned out to be a sad occasion (for Sandra and Billy), turned into an epic flashmob pop-up pizza party. It seemed everyone wanted slice of the action and was in the mood to #GetMilled!*
For more information about Green Mill Restaurants, visit
:
Website
:
http://greenmill.com/
Facebook
:
https://www.facebook.com/greenmill001
Twitter
:
https://twitter.com/greenmill
LinkedIn
:
http://www.linkedin.com/company/1034551?trk=tyah
Social Madness Vote
:
http://bit.ly/VOTE4greenmill
Social Media Sweepstakes
- For those who did not attend, don't fear, you can still win Free Pizza & Beer for a Year! Sign up here -
http://a.pgtb.me/c2hk
This story may not be 100% factual. If you would like the official Fact Sheet, please email social@greenmill.com, and we'd be happy to provide you with the matierals you need!