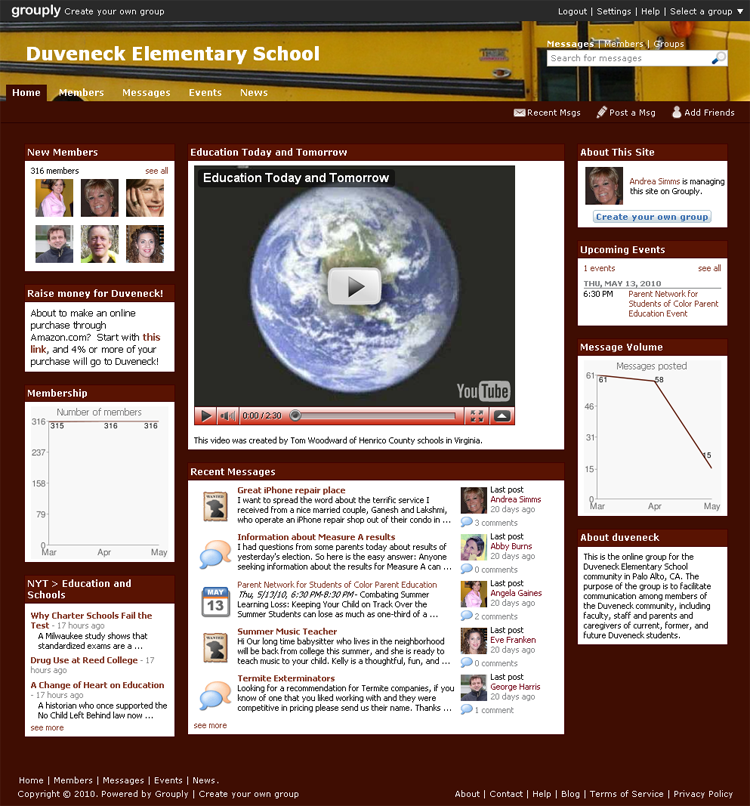 REDWOOD CITY, Calif.:
Grouply
- the company that helps you create, manage, promote and monetize a social group - today announced
Grouply for Education
, a bundle of premium services offered for free to qualifying education groups such as schools, classrooms, and parent-teacher associations.
Classrooms around the world have begun to adopt online technology to enable collaboration and communication between teachers, students, and parents. With education budgets under pressure, teachers are seeking free solutions that they can configure and maintain themselves without support from technology departments. These online solutions must be ad-free to ensure an appropriate, commercial-free learning environment.
Ning recently announced Ning Mini, a limited version, free for K-12 classrooms. Ning Mini offers a reduced set of features and customization, and may be inadequate for many classroom uses. For instance, it will have no support for custom pages, events, subgroups, or Facebook integration. Grouply for Education, by contrast, delivers a free, comprehensive package for education groups. It includes no advertising; unlimited custom pages; support for events, subgroups and Facebook integration; and access to Grouply Analytics and all premium Grouply applications.
"We designed Grouply for Education to meet the needs of teachers and educators," said Mark Robins, CEO and co-founder of Grouply. "Grouply provides a rich feature set with dozens of applications to help parents, teachers, and students communicate and collaborate online, yet is remarkably simple to configure and use."
"Grouply provides a great platform to enable collaboration and communication in the classroom. Grouply allows us to host discussion forums and share photos, files, and videos with students and parents," said Diana Pettis, owner of a Ning Network called 'Title I Literacy Teachers of Sanford, Maine.' "With the free Education Package from Grouply, I can also ensure that no ads are shown to students. As a former Ning Creator, I found Grouply to be the best free alternative to Ning."
For more information and to request Grouply for Education for your group, please visit the
Grouply for Education information page
.
Grouply is perfect for small businesses, education groups, non-profits, and clubs
With no programming required, anyone can use Grouply to:
· Provide their group with a professional-looking website using pre-built themes that can be easily customized;
· Make a group engaging with rich media, powerful applications, social activity feeds, and dynamic lists and charts;
· Save time managing the group and gain useful insights into group dynamics via analytics;
· Monetize groups by running ads and collecting membership fees, donations and event fees.
Where to find Grouply around the Web:
Grouply
website
,
blog
,
YouTube
,
Facebook
,
LinkedIn
,
Twitter
--
@grouply
About Grouply
Grouply is pioneering the "social group" -- a new type of online community that combines the best features of social networks and online groups. Social groups offer the social interactivity, media sharing, and modern design of social networking sites like Facebook; and the rich discussions, popular email interface, and people-discovery opportunities found in traditional online group systems like Yahoo! Groups. With Grouply, you can create a new social group about anything you like or join a social group and connect with others who share your interests and passions. Existing Google and Yahoo! Groups get an "extreme makeover" on Grouply; each gets a modern, professional, fully customizable website that automatically interoperates with Google and Yahoo! Groups. Grouply was founded in 2006 and is funded by O'Reilly AlphaTech Ventures, SoftTech VC, and other prominent angel investors, including Reid Hoffman.
www.grouply.com
@grouply