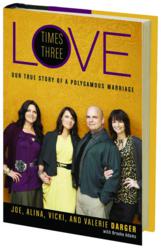 San Francisco, CA (PRWEB) September 06, 2011
For decades, polygamous families have been forced to hide their lifestyle. Men risk prosecution and economic blacklisting, and women face social scorn and isolation. LOVE TIMES THREE, the first-ever positive memoir of a polygamous family, is a riveting inside look at a world most of us can hardly imagine. The Dargers defy lurid headlines torn from the news by revealing the extraordinary workings of their day-to-day life.
Independent Fundamentalist Mormons, the Dargers grew up in polygamous families, and by the time they were in high school, they knew they wanted to live the Principle themselves. The Dargers move the conversation away from child brides, Warren Jeffs, and the FLDS to more mainstream polygamists who don't follow a modern-day prophet and who willingly enter into plural relationships as adults. Rather than living in isolated communities, Independent Fundamentalist Mormons are similar to an average American family—except for their family structure.
In this intimate, inside story, the Dargers explain why they chose the polygamous path. They speak candidly about the pressure of keeping their relationships a secret, the jealousy and personal challenges that arise and the faith that sustains them. Written in the voices of the four parents, LOVE TIMES THREE (HarperOne; September 13, 2011; Hardcover; $26.99; ISBN 9780062074041) is the story of one man, his three wives, and their twenty-four children as they live out their faith in a world of prejudice, misconception, and fear. The book features chapters that illustrate the sister wife dynamic, how Joe juggles his three distinct romantic relationships, and words from three of their children, who shed light on "My Three Moms."
Despite the risk of legal action, the Dargers know that it's time to counteract the often sensational interpretation and general public's misunderstanding of polygamy with the truth. Ultimately, they hope that by publically revealing their way of life, polygamy will step closer to being an accepted lifestyle and the laws that criminalize their way of life might change. Now, for the first time, Joe, Alina, Vicki, and Valerie Darger lift the veil on their so-called taboo way of life.
About the Authors
Joe, Alina, Vicki, and Valerie Darger are a grounded, devout, and forthright family, who live in a large home in suburban Salt Lake County with twenty of their twenty-four children.
Brooke Adams covers polygamy for The Salt Lake Tribune and has been a reporter for more than 25 years. She spent four months in Texas in 2008 after authorities raided the FLDS ranch in Eldorado, has covered many polygamists and polygamous groups including Winston Blackmore in Canada, the Kingston and Allred groups in Utah, and has a blog called "The Polygamy File" that is consistently the newspaper's top blog in readership.
"Aided by the best journalist writing about polygamy today, the Dargers tell their story with candor and an aching authenticity."—Mark V. Olsen and Will Scheffer,
Creators of HBO's Big Love
"Eye opening and courageous." —Kirkus Reviews
LOVE TIMES THREE: Our True Story of a Polygamous Marriage
By Joe Darger, Alina Darger, Vicki Darger, and Valerie Darger with Brooke Adams
HarperOne, an Imprint of HarperCollinsPublishers
September 13, 2011 | Hardcover | ISBN 9780062074041